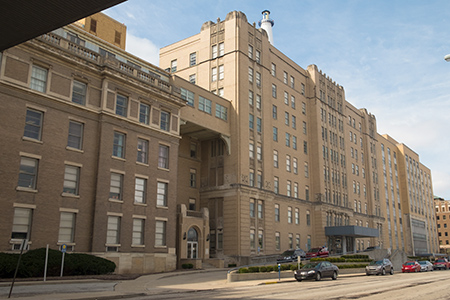 It was built in another age—before penicillin, insulin, organ transplants or open-heart surgery.
When Methodist Hospital opened its doors in 1908, Theodore Roosevelt was in the White House, Henry Ford was producing his first Model T, and Ernest Shackleton was setting sail for Antarctica.
Now, a century later, the hospital—and surrounding buildings on the massive campus at 16th Street and Capitol Avenue—are getting a top-to-bottom inspection to see what can be saved and what should be knocked down.
By the end of the year, parent Indiana University Health expects to unveil its master plan to transform Methodist, the state's largest hospital, into a much different place: one with more modern amenities, greater flexibility and more efficiency.
The huge transformation also is likely to change how IU Health delivers health care in time of rapid change, when insurers are demanding lower prices, less overhead and more care delivered outside of hospitals.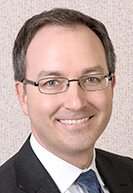 Nagy
The $1 billion project, announced three years ago, calls for closing University Hospital, about two miles away, and consolidating clinical operations into expanded facilities at Methodist and Riley Hospital for Children.
At the time of the announcement, Dan Evans, then CEO of IU Health, called it "gigantic … a major public works project" and said it would take five to seven years to complete. But the health system has revealed little about the project since then.
Behind the scenes, however, officials say they have spent thousands of hours studying the buildings and analyzing the hospital's options. They say the project is still on course and they plan to unveil a basic design by the end of the year.
"We are absolutely arriving at a set of options which we will be able to articulate in a more defined master plan late this year," said Dr. Ryan Nagy, president of Methodist and University hospitals.
The Methodist campus is likely the most challenging piece of the puzzle. It is a hodgepodge of buildings that have been stitched together over the decades, with mismatched floor plates, uneven ceilings, and a conglomeration of electrical, mechanical and plumbing systems.
Officials say they're not ready to reveal where they might swing a wrecking ball. But in several interviews and a walking tour of the hospital, they provided clues as to what the future could hold.
The newest buildings—those that went up in the 1990s, including a 10-story patient tower known as A-Building East—are still in good shape mechanically and architecturally, and are likely to stay.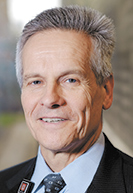 Mladucky
"It has a lot of life left in it," said Jim Mladucky, IU Health's vice president for design and construction.
"The use of existing assets, particularly our newest buildings on the Methodist site, will continue to be utilized," Nagy added.
But the oldest parts of Methodist—several buildings along Capitol Avenue that went up a century ago, known as the B Building and C Building—face longer odds for survival.
The wings include the original cornerstone, a historic board room, a pharmacy and some eateries. The patient wings were built in another generation, in the early 20th century, when up to eight beds were squeezed into a ward.
The initial hospital that opened in April 1908 featured 65 beds—barely 10 percent of its current number—as well as four large wards, three smaller wards and some private rooms. The plumbing was equipped with pedal action, and dumbwaiters were operated by push buttons. The entire project cost $225,000.
Two years later, the Methodist board voted to add two pavilions at a cost of $250,000, according to the Encyclopedia of Indianapolis.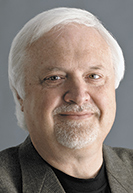 Frank
Those buildings have been updated over the decades. But the low ceilings, narrow halls and aging building systems do not convey the impression of 21st century medicine.
"What we're doing now is evaluating whether these buildings in B and C are worth the investment," Mladucky said, pointing to ceilings with dropped ductwork, offering clearance of only about seven feet. "We're making them work [for now]. But functionally, they're not ideal."
Complications abound
Some experts in hospital design and construction say they understand the huge task at hand. It's far easier, they say, to build a brand-new hospital, as Eskenazi Health did in 2013 and IU Health is now doing in Bloomington. Both projects replaced hospitals that studies showed would be more expensive to update.
"It's very complicated to renovate an old hospital, and often not worth the effort," said Timothy Frank, a partner at Artekna, an Indianapolis-based design and architecture firm specializing in health care that has done work for Riley, Riverview, Franciscan and other hospitals.
He added: "Just fighting with the infrastructure is always a challenge. Trying to accommodate new technology, new equipment, new code requirements into a building of any significant age is tough. You're trying to shoehorn operations and utilities. … It becomes a spaghetti bowl."
Monte Hoover, senior director of health care planning and former chairman of BSA LifeStructures, an Indianapolis-based design and engineering firm, said trying to save Methodist Hospital "in its entirety would be a massive undertaking."
He estimated that one-third of the campus could be saved and updated. Much of that consists of the newer buildings and wings west of old Senate Avenue, which was closed decades ago as part of an expansion. Some of those buildings are younger than 40 years old.
"We update nursing units that are that old all the time to make them usable and modern," said Hoover, who was involved in drawing up a master plan for Methodist Hospital in the 1970s.
Shifting health care landscape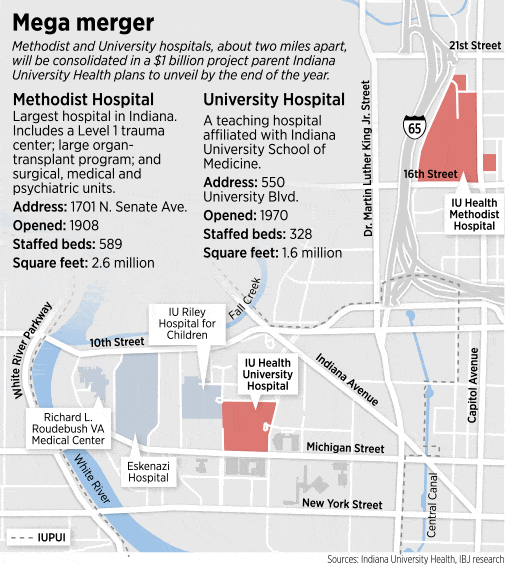 Another huge challenge for IU Health is how the new design will meet the needs of a rapidly changing health care system.
Forty years ago, the average hospital delivered the bulk of its care—up to 90 percent—on an inpatient basis. Today, most hospitals deliver less than one-quarter of care to inpatients. Even once-tricky procedures, such as complete hip replacements, are done on an outpatient basis, sometimes in an ambulatory surgical center.
Much of that has come about under pressure from insurance companies and the federal government, which is demanding greater value for the money spent.
The United States spends more on health care per capita than any other country but has lower life expectancy than Britain, Italy and many other developed nations.
So hospitals have been trying to reduce their overhead and shrink their costs. Many systems have been slashing the number of inpatient beds and building an assortment of free-standing facilities, such as emergency rooms and urgent care centers, which provide much lower-cost care.
Nagy said a major goal of the Methodist transformation is to deliver care more effectively, providing more value to patients. Combining the two hospitals, for one, will eliminate many duplicated functions, from administration and back office to in-house pharmacies and supply operations.
But on top of that, a new design, if done right, could build in flexibility for whatever major changes in health care might pop up decades from now.
"This was always meant to be a campus structure in which we could build new and renovate and update accordingly," he said.
Some hospital consultants say flexibility is key to remaining competitive—but a huge challenge in such a fast-changing environment.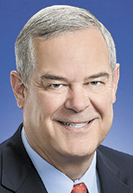 Abel
"Just think of all the changes we've seen in the past 20 years," said Ed Abel, director of health care practice at Indianapolis-based Blue & Co., an accounting and consulting firm. "We have no idea where health care is going to be in 50 years."
Filling beds
IU Health is still struggling to fill beds at its 15 hospitals across the state. Its occupancy rate was just 67.6 percent last year.
Methodist Hospital now has 589 beds, and University Hospital has 328. By moving all its clinical operations from University to Methodist, the system says it plans "a slight increase" in total beds on the Methodist campus.
"Right now, what we have planned in the modeling is roughly on par, and slightly more staffed beds than what we have at the Methodist and University hospital currently," Mladucky said.
But the health system has been taking steps recently to shift operations out of its hospitals and into smaller, less-expensive clinics. In the past two years, it has opened six urgent care centers—in Greenwood, Brownsburg, Lawrence, Plainfield, Broad Ripple and Noblesville.
Meanwhile, it is starting to rearrange the pieces of its downtown network. In 2014, the emergency room at University Hospital on the IUPUI campus closed and merged into the ER at Methodist.
Last December, the IU Health board gave approval for Riley Hospital for Children to begin work on a $142 million project to renovate four floors of its downtown hospital into a new maternity and newborn health unit. The project is set to be completed by 2020.
The project will centralize all maternity and neonatal care offered at IU Health's three downtown campuses. Currently, many of the services are offered at the system's Methodist Hospital, where more than 3,000 babies a year are born. Four floors at Riley will be renovated to house inpatient services, including a labor and delivery unit, a Level 3 neonatal intensive care unit, and a postpartum unit.
Andrews
Next will come the unveiling of its new master plan for the Methodist campus. The goal is to begin construction and renovation within a few years. During that time, University Hospital will continue to operate. When the consolidation at Methodist is complete, patients, doctors and staff will move into their new or renovated buildings in phases, with the first patient moving in 2026, Mladucky said.
And that will present another huge logistical challenge: getting everyone to the right place with minimal disruptions.
"The planning process for something like that is massive," said John Andrews, vice president at Shiel Sexton, an Indianapolis construction management firm that has participated in major renovations, including the Birch Bayh Federal Building and Courthouse and the new Eskenazi Hospital. "Moving around those patients, those docs, all those sensitive areas, it's going to be quite a challenge. Methodist is gigantic."
Yet IU Health officials say they are approaching the challenge in a systematic way, trying to come up with the best plan, and roll it out in a logical sequence.
"This is a 50-year plan for IU Health with this project. It will transcend generations," Nagy said. "That's why it's taking a long period of time to do the planning."•
Please enable JavaScript to view this content.