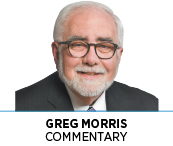 Last October, IBJ and Gleaners Food Bank partnered for our first Hunger and Health event to discuss the urgency of hunger and related issues. My column recapping that event, "Leading the fight against hunger," can be found at ibj.com.
Gleaners CEO John Elliott recently gave a midyear update to a select group of invested partners. Ivy Tech Community College President Sue Ellspermann and Dave Miner, retired Eli Lilly and Co. executive and founding leader of Indy Hunger Network, gave inspirational remarks.
Here is an edited digest of John Elliott's remarks:
"As we reflect with appropriate pride and a sense of accomplishment on the economic success of our Hoosier state, I find myself questioning how those same indicators might lead to a sense of discouragement if viewed from a different perspective—the perspective of our neighbors struggling with poverty—the one out of 6.63 million or 15 percent of Hoosiers who are food-insecure every day. When achieving success, it is worth pausing to reflect on who has been left out of that success.
"Gleaners' mission focuses not only on 'feeding the line,' but also 'reducing the line' through collaboration and communication with other organizations. We are very mindful of the complexity of simultaneous, interconnected issues related to hunger … .
"If we focus on health indicators as just one example, 34 percent of our food-insecure neighbors have diabetes, 58 percent have heart disease, 79 percent purchase the cheapest food regardless of associated health concerns. Food insecurity is more predictive than income of the 10 most prevalent chronic diseases. Food insecurity limits children's performance in school today and their physical, intellectual and emotional growth over a lifetime of missed opportunities.
"In 2017, Gleaners distributed 31.2 million pounds, or 24.3 million meals, across 21 counties, and we must grow significantly in 2018 because we still have a meal gap in every county. Across Indiana, our neighbors still miss 170 million meals a year—6 million meals in Marion County alone. Gleaners supports 236 local food pantries across our region, serving clients at 260 mobile pantry locations, 53 school-based pantries and 248 BackSack schools.
"Among the hungry neighbors Gleaners serves: Nearly half are children or senior citizens, one in five is a veteran or active-duty military, 70 percent are living at or under the poverty level, 53 percent are in deep poverty with an annual income under $10,000, 29 percent of households include grandparents raising their grandchildren, 81 percent choose between food and transportation, 78 percent choose between paying for food and medical care, 77 percent choose between paying for food and utilities.
"A very distracting reality hovering over us every day is that 82 percent of all hunger-relief meals in Indiana are provided by four federal programs—SNAP, 58 percent; WIC, 3 percent; The Emergency Food Assistance Program, 2 percent; and school lunch programs, 19 percent. By comparison, Gleaners' share of meals is 8 percent. The most frightening possibility … is our federal government proceeding with threatened massive cuts to SNAP and other food programs."
Elliott closed with a question to ponder: Is a rank of 31st in the U.S. for food insecurity the best Hoosiers can do?
I know how deeply we all care, and you may already be doing a lot to help. But we all need to do more. Please visit gleaners.org to find out how you can become personally involved in leading the fight against hunger.•
__________
Morris is publisher of IBJ. To comment, send email to gmorris@ibj.com.
Please enable JavaScript to view this content.