The region's political elite lined up against him.

There were the mayors: Carmel's Jim Brainard, Zionsville's Tim Haak, Fishers' Scott Fadness and Noblesville's John Ditslear—in addition to former Indianapolis Mayor Greg Ballard.

There was the Indy Chamber, whose political action committee poured at least $76,000 into his opponent's campaign, most of that in the three weeks or so before primary Election Day.

And there were business folks, too: Irwin R. Rose & Co. President Doug Rose, IBJ co-owner Mickey Maurer, former Wellpoint CEO Angela Braly and former Salesforce exec Scott McCorkle, who all donated to his opponent's campaign.

But none of it mattered.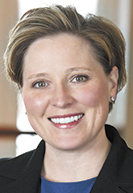 Meyer
Incumbent state Sen. Mike Delph—an outsider despite his 13 years in the office—didn't just win the Republican primary against challenger Corrie Meyer, a business owner and former executive director of the Carmel Redevelopment Commission.

Delph won big, taking nearly 58 percent of the vote—winning in every city whose mayor endorsed his opponent—a fact that he relished on Twitter, perhaps his favorite social media platform.

"Great team! Great plan! Great execution!" he tweeted the day after the primary. "It was never close. Complete liberal media fiction."

In beating Meyer, Delph, 48, also defeated a more moderate wing of the GOP.

He did it with hard work, a staunchly conservative record and a willingness to thumb his nose at the Republican establishment.

"Voters know I fearlessly fight for their interests above any protected special interest," Delph told IBJ.

Democrat J.D. Ford will be the next to try to unseat Delph, taking him on in the general election in November. Ford unsuccessfully ran against Delph in 2014, but the Democrat gained 46 percent of the vote in that race, more than Meyer won in this month's GOP primary.

Still, Delph—general counsel at senior housing company CarDon & Associates—remains the front-runner. District 29—which includes northwest Indianapolis and large parts of Zionsville and Carmel—has had a Republican senator for years, although Delph points out that Barack Obama won it in 2012 and Hillary Clinton won it in 2016.
No clout with voters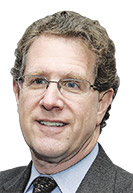 Feigenbaum
In Meyer, mainstream Republicans thought they'd found a strong challenger. An urban planner and landscape architect, Meyer had helped guide growth in Carmel's central district, worked on efforts to reconnect the region with its waterways, and designed projects throughout the region.

She emphasized economic development and said the district needed a representative with a vision.

Elected officials—some frustrated by Delph's emphasis on social issues and his brash interactions with opponents—climbed on board.

But Delph's win shows endorsements don't make a race, especially in Hamilton County, said Ed Feigenbaum, publisher of the politics newsletter Indiana Legislative Insight.

"It's not necessarily going to be a determining factor for voters," he said.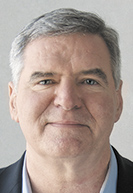 Smith
Curt Smith, president of the Indiana Family Institute, a faith-based public-policy advocacy group, said endorsements don't typically carry weight unless they come from a group with a special credential or high credibility on a specific issue, such as the National Rifle Association.

"If the NRA says someone is pro-gun, the general public will believe that," he said. "That will drive votes."

But mayors, he said, don't have that clout.

Delph said he's never met Haak nor Fadness, or if he did, he doesn't remember.

And Delph said he and Brainard, who declined to comment for this story, have a good professional relationship.

"He once told me he wanted to build a statue of me and put it in a roundabout because of cost concerns I raised publicly," Delph told IBJ in an email. "We both have a good sense of humor about our differences."

Voters are less concerned with endorsements and more concerned with having direct contact with a candidate, he said.

And Feigenbaum said Delph and his wife, Beth, are active in the district. Delph views meeting with constituents and listening to their concerns as just as important as being on the Senate floor to vote, he said.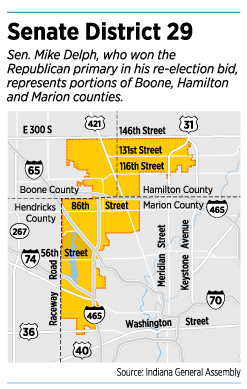 "Like him or not, a lot of people respect him for showing up everywhere and defending his position," he said. "You will see Mike and Beth virtually at every community meeting in the district, whether it's in Zionsville or Pike Township. He makes it a real point to work that district, and not just during election years."

Staunch conservative

Feigenbaum said it's not unusual for voters to ignore recommendations from other leaders when they choose elected officials.

Last September, a Republican caucus picked Victoria Spartz to succeed retiring state Sen. Luke Kenley in District 20, even though Kenley backed Megan Wiles, a Noblesville Common Council member.

This month, Hamilton County Republicans chose Chuck Goodrich to represent them in a race to succeed outgoing state Rep. Kathy Richardson in House District 29. Goodrich's opponents included Greg O'Connor, a Noblesville Common Council member who garnered endorsements from Noblesville's city clerk and Kenley.

And in the U.S. Senate primary, voters picked Mike Braun, who labeled himself an outsider in his battle against congressmen Todd Rokita and Luke Messer, the latter an establishment candidate with endorsements from a long list of current and former party officials.

Delph joined the Legislature in 2005, when he was picked by a Republican caucus to complete the last year of former Sen. Murray Clark's term.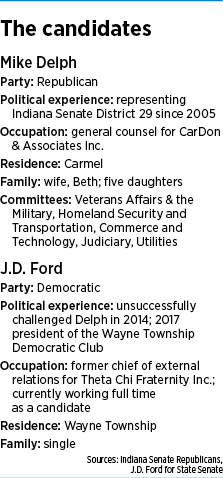 Party leaders at the time, including then-Gov. Mitch Daniels, supported Indianapolis firefighter Isaac Randolph in the caucus, but Delph still came out on top.

For the past 13 years, he's been a strong conservative voice in the General Assembly and never faced a primary challenger until this year.

Delph—who started his career as an aide to then-U.S. Rep. Dan Burton—leads with his Christian values, continuing to push for a ban on same-sex marriage, for example, even as the GOP as a whole appeared to soften on the issue. A major in the U.S. Army Reserve, Delph is pro-military with a focus on veterans' issues.

"A lot of people are conservative," said the Indiana Family Institute's Smith. Delph "is a man of faith who is not embarrassed by it."

And he's not afraid to defend it, either.

In 2014, when Republicans in the Indiana Senate decided to nix a proposed constitutional amendment to ban same-sex marriage, Delph tweeted about it from the closed-door caucus where conversations—by rule—are supposed to be kept private. Senate President Pro Tem David Long disciplined Delph for his actions, taking away a leadership post and moving his seat from the GOP side of the chamber to the Democratic side.

Delph also criticized churches at that time, saying some should be "ashamed" for failing to push harder for a same-sex marriage ban. "I'm attacking the culture and the hypocrisy of modern political correctness. It sickens me!" he tweeted.

He once told a home-school critic on Twitter that he needed his "ass kicked."

And earlier this year, Maurer wrote a column in IBJ that called some of Delph's Christian beliefs "unscientific blather" and said he would host a fundraiser for Meyer. Delph used Twitter to call on supporters to cancel their IBJ subscriptions.

Plenty of money

Political observers say the push to defeat Delph this year just never took hold, even as Meyer's supporters gave her the money she needed to be competitive.

As of April 13, the end of the pre-primary financing period, Delph had $249,700 on hand, much of it left from previous years. He had raised $78,600 this year and spent $36,300.

Meyer had $107,200 in cash on hand for the last weeks of the campaign season, records show.

She had raised more than $66,000 since Jan. 1 and spent $19,700, according to the pre-primary report.

But Meyer raised another $110,000 in the three weeks leading up to the primary, Indiana Election Division filings show.

Almost half of that came from the Indy Chamber's PAC. Mark Fisher, the treasurer of the PAC and the chamber's chief policy officer, did not respond to requests for comment.

The filings show another $25,000 came from Doug Rose, president at apartment developer Irwin R. Rose & Co. And $11,000 came from Accelerate Indy, a political action committee run by Larry Gigerich, executive managing director of site-selection firm Ginovus.

Hamilton and Boone county elected officials backed her campaign through their own political action committees, filings show. Tim Haak for Mayor, Ditslear for Mayor and the Committee to Elect Kevin Woody Rider, a Carmel City Council member, gave her a combined $2,000.

Haak told IBJ he supported Meyer because she was focused on the right issues, including infrastructure and business. He believed her experience working for Carmel would translate well at the state level.

Zionsville hasn't had a strong working relationship with Delph, he said.

"He is not very active in the Zionsville community and seems very disinterested in working with us," Haak said.

In the hours after the polls closed on primary day, Indiana Republican Chairman Jim Merritt—who is also a state senator—said Meyer's performance "demonstrates a weak candidacy, with all the money that was spent."

One key, Merritt said, was that Delph went on the attack at the end of his campaign and that Meyer hadn't done enough to define her own candidacy in advance.

"That was one of the catalysts for [Delph's] victory," Merritt said.

Meyer declined to comment on the factors she believes affected the race's outcome, but she thanked the people who supported her.

"We ran a great race, and I'm very proud of everything that we achieved," she said. "It was a great challenge, it was an adventure, and I learned something new every day. I have no regrets."•