It's a good time to be searching for a high-level position at Indianapolis-area not-for-profits.

Local organizations have recently seen a spike in leadership turnover, with at least 80 organizations advertising for a new CEO, executive director or president since the beginning of 2017.

And that number might be a significant underestimation, because no research exists on the topic. IBJ compiled job announcements and postings for top-level jobs, but many not-for-profits quietly fill openings or promote from within without advertising.
Orander
"I think it could be double that," said Bryan Orander, president of Indianapolis-based Charitable Advisors, which assists not-for-profits in job searches.

The organizations that have seen a top-level executive departure range in size, scope and mission. The list includes groups like Dress for Success Indianapolis, Noblesville Main Street, Local Initiatives Support Corporation of Indianapolis, Girls Inc. of Indianapolis and Carmel Symphony Orchestra.

One of the most recent to join the list is the Athenaeum Foundation Inc., which announced June 4 that President Cassie Stockamp would leave at the end of the year.

Some of the turnover stems from demographics—many baby boomers heading Indianapolis not-for-profits are reaching retirement age. Other causes run the gamut. In some cases, leaders have moved on to new jobs. In others, the board has decided it's time for someone new.

Stockamp? She's leaving to travel the world.

While general not-for-profit turnover research is readily available, research specifically on top executive departures is limited. But a 2016 North Carolina State University survey of 40 U.S. not-for-profits found voluntary retirements accounted for nearly 24 percent of top executive departures. The survey found 21 percent of departures were dismissals related to performance, and nearly 16 percent were by mutual agreement between the executive and board.

According to the survey, 10.5 percent of executives left for another job in the not-for-profit sector, 2.6 percent left for a job in the for-profit sector, and 13 percent reported a personal reason as a factor in their departure.

Orander said the local deluge of turnover is caused by a mix of retirements—leaders who delayed retiring once the Great Recession hit and those who already planned to retire now—and younger leaders not staying with an organization as long as their predecessors did.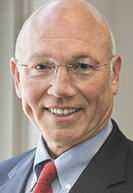 Tempel
Gene Tempel, professor and founding dean emeritus at the Indiana University Lilly Family School of Philanthropy, sees low salaries and a wave of retirements as the biggest causes.

"There's not a good supply of talent available," Tempel said. "And the salaries are low."

He said the same pattern is unfolding nationally, and it's creating a situation where leaders are moving from one organization to another, which then creates more openings.

For example, Indianapolis Symphony Orchestra CEO Gary Ginstling left Indianapolis after being offered the executive director position at the Washington, D.C.-based National Symphony Orchestra.

"Someone leaves an organization and it might affect three," Tempel said. "There's a whole cascading that's going on even if it's not as noticeable to any one city."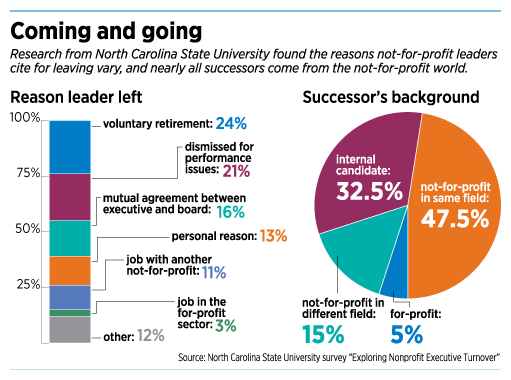 What's next?

So, how does a leaderless not-for-profit proceed?

If the outgoing CEO or executive director has left or will be departing before a successor is found, often the first step is naming an interim leader.

"You want to make sure that things are continuing," Orander said "The payroll is still getting out … the rent is still being paid."

Orander said this can be tricky, because employees chosen to fill interim roles sometimes start to see themselves as landing the permanent job, which might not be in sync with the board's plans.

Or that person could end up overwhelmed with responsibility from having to manage two roles.

"If it's three weeks, that's great," Orander said. "If it's two or three months, most people can't do two jobs."

If a board member assumes the duties, it could create an awkward dynamic between that individual and the rest of the board.

Or an organization can bring someone temporary on board. That's what the Boys & Girls Club of Indianapolis did when it hired Edie Olson, the former CEO of Families First, after Executive Director Rick Whitten left last fall "to pursue new opportunities."

"We were lucky we found Edie in a relatively short time frame," Board Chairman Rob Hofinger said.

When top not-for-profit jobs come open, boards typically create a search committee. They also often hire an outside firm to help with the process—or at least that's what experts recommend.

"The boards don't really know what to look for," said Laurie Woodhouse, an associate with search consulting firm RLBenson & Associates who specializes in helping not-for-profits in the Midwest. "It's interesting because many of them run their own businesses, but when they come to be a board member for a nonprofit, their business sense disappears."

Outside firms can help identify candidates, and the search committee typically conducts interviews and makes a recommendation to the board.

The survey from North Carolina State found that 63 percent of successors came from another not-for-profit, while 33 percent were internal candidates.

Woodhouse said the competition from so many not-for-profits searching at the same time has made it more difficult for organizations to find the right hire.

"There's a small pool of talent in the area, and everybody competes for that talent," Woodhouse said. "Which is why I think you should open it up both in terms of where you're looking for people and also who you're willing to look at."

It took the Boys & Girls Club about six months to find Whitten's replacement. The organization announced in May that it had picked Indianapolis City-County Councilor Maggie Lewis as the new CEO and executive director.

"It's an interesting process, certainly not one that any organization wants to go through," Hofinger said. "One I hope we don't have to go through for quite some time … because you're still running the organization."



Tricky times

The turnover can ignite several challenges for an organization—those high-level executives typically courted donors, oversaw new programming initiatives and managed the staff day-to-day, so their absence is significant.

"Anytime there's uncertainty introduced, people feel that uncertainty," Tempel said.

The situation has been particularly rocky for the Westside Community Development Corp. After a year-long process that involved rewriting the organization's bylaws and reviewing financials, the board voted to make leadership changes and removed Phil Votaw from the executive director position in February.

Since then, Board Chairman Sean Smith has been serving in the position on a voluntary basis and has had to quickly learn about low-income housing and how to work with the U.S. Department of Housing and Urban Development.

"I think a lot of boards don't realize their responsibilities," Smith said. "If you're not willing to be responsible, don't come on the board. … That's probably the biggest takeaway for me."

Westside Community Development is working with Orander of Charitable Advisors to find a new leader, and a search committee has been established.

Smith is not on the search committee.

"I'm trying to not be involved in everything so I won't be seen as the king, if you will," he said. "They are doing their thing … if it takes one month or six months, that's OK. We don't want to have to do it twice."

The impact of the transitional period can vary depending on the size of the not-for-profit and how prepared the board was for the gap.

"I think the board of directors are the biggest point of stability in any organization," Tempel said.

But, according to Nonprofit HR's 2016 employment practices survey of 443 not-for-profits in the United States and Canada, nearly 60 percent of not-for-profits do not have a succession plan.
"We did not have a formal plan in place," Hofinger said. "We had discussed at a high level what we would do … but it was obviously accelerated upon [Whitten's] departure."

Smoothing the path

Girl Scouts of Central Indiana, which hired a new CEO at the end of last year, was more prepared when CEO Deborah Hearn Smith retired after more than 10 years in the position and nearly 50 years with the organization.

Board Chairwoman Diana Sullivan said she knew about two years ago that Smith likely would retire soon.

Smith officially told Sullivan her plans in April 2017, and the full board was informed the following month. By that time, Sullivan had plans in place to hire a search firm and move forward.

But even if an organization prepares for the loss of a founder or longtime executive, the transition can be bumpy, Orander said.

"There's a lot to take into account when you have a long-term leader," he said. "That's a different dynamic than if you have a leader that's only been there for three years."

One of the most significant struggles during the transition can be keeping longtime donors on board.

Orander said it's not unheard of for leaders to put off their departure until after the end of a capital campaign or after a grant announcement. He also has a client who plans to continue to help with fundraising to ease the transition to his successor.

"His concern is, if he just sailed into the sunset and handed everything off to his number two, then that relationship wouldn't be as strong anymore," Orander said.

Sullivan said she kept donors informed during the search, and even though they were sad to lose Smith, the transition was smooth.

"I did not look forward to the search and screen process at all," Sullivan said. "Your first thought when you get a resignation from a person like Debbie is, 'Oh my God, how can I ever replace her?'"

Smith continued in the role through 2017, and the board voted in November to hire Danielle Shockey, former deputy superintendent of public instruction for the Indiana Department of Education.

The overlap allowed Smith to introduce Shockey to key community leaders and donors.

Hofinger said the Boys & Girls Club tried to be transparent with donors during the transition to Olson—whom, fortunately, many already know.

"All of them were supportive of us going through the process the right way to find the right leader," Hofinger said. "We think we're in a great place now."•