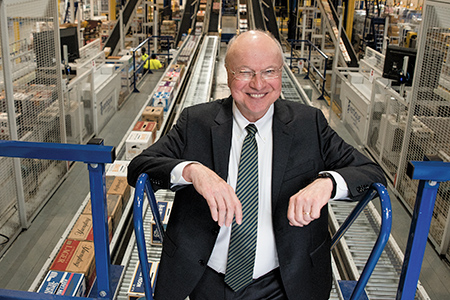 Phil Terry
Monarch Beverage Co. CEO
Monarch Beverage Co. has had its share of ups and downs over the past couple of years.
Bringing Yuengling to Hoosiers in 2017 was a win for the Indianapolis-based company, but failing to get state lawmakers to allow the beer and wine distributor to also distribute liquor led a major supplier to end its relationship with Monarch.
CEO Phil Terry, 67, isn't happy about the situation, but he hopes restructuring over the next six months will result in a stronger (and possibly growing) company next year.
Monarch recently announced it will close its wine division by Sept. 1. What went into making that call?
The reason for that decision is that our principal wine supplier, which is the E. & J. Gallo Winery in California, had told us that they were going to end their relationship with us effective Sept. 1.
The reason they are ending the relationship with us is because, under Indiana law, we may not sell liquor. And that creates a problem for Gallo, because they are developing a number of great liquor brands that are growing, but we can't service their needs, and so they have decided they need to move their brands to a wholesaler that can sell wine and liquor.
The practical effect for us is that, because Gallo was such a large part of our wine operation—they're about 80-plus percent of all our wine sales—our wine operation becomes unsustainable. It just becomes hugely unprofitable if we were to attempt to continue it.
You will have to lay off 100 employ-ees. How is Monarch handling that?
It's still a work in progress. … We're hoping that the successor wholesaler for Gallo [St. Paul, Minnesota-based Johnson Brothers Liquor Co.] will pick up most of those employees.
This goes back to Monarch's long fight to distribute liquor. Do you have any hope that could change?
It will change someday. It's just an archaic, anti-competitive rule that someday will change. The unfortunate thing is, I'm not sure it's going to matter much to us later. Once we disassemble that wine division, it's going to be very difficult to reconstruct it, because, to have a viable wine and liquor operation, you need large suppliers. That means, even if we were able to sell liquor next year, we would have no suppliers. Or no suppliers of sufficient mass that would make the operation viable.
I'm not happy about it, but so be it.
It sounds like, even if the law changes, it's too late to matter?
Yeah, absolutely. It's very sad. For 10 years, our legislative leaders and our governors have had an attitude that has ranged from ambivalence to hostility, and the result is this.
So, will you continue fighting for this change?
We may. We don't have any plans to do that as we speak.
One win for Hoosier beer drinkers was in 2017 when Yuengling reached agreements with Monarch and two other distributors to come to Indiana. What did that mean for Monarch?
It was all good news. Yuengling captured a very large market share out of the box. Now, that has eroded, but that was expected. Initially, it's the shiny new thing and everyone wants to try it and then it declines. But it's still a very large brand and it will continue to be a large brand.
What else is on your radar? What's next for Monarch?
Right now, we're going to be focused on this transition of our company from beer-wine wholesaler to beer wholesaler.
The first phase of that is dealing with the closing of the wine division. But then we will be looking at how we structure ourselves going forward, and it probably will create other changes inside the company. Right now, it's kind of crisis management. And we're hoping to put ourselves in a position next year to be thinking about growth.•
Please enable JavaScript to view this content.