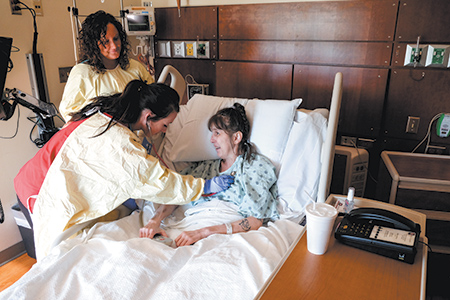 Over the past 15 years, Indiana University Health has built hospitals in Avon, Carmel and Fishers, at a cost of hundreds of millions of dollars. It has opened dozens of physicians' clinics and urgent-care centers from Noblesville to Greenwood.
But that might all be only a prelude to its next big push into Indianapolis' suburbs.
The state's largest health system said in June that it has formed a dedicated management group to oversee the existing Indianapolis suburban hospitals and "any future expansion of services that might be considered in the south and east areas of suburban Indianapolis."
IU Health, which operates 16 hospitals across the state, has none in Johnson, Hancock or Shelby counties. The system says it has no immediate plans to build new hospitals in central Indiana, but it doesn't rule it out, either.
Officials point out that the region—home to more than two dozen hospitals—still has plenty of opportunity for new services and facilities.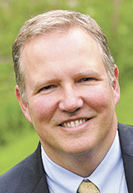 Puckett
"It is the single largest opportunity for growth in a very competitive market for IU Health," said Doug Puckett, who was named president of the suburban region. "This gives us a chance to really define our geographic scope."
Any major steps by IU Health to push hard into the suburbs—especially if they involve huge capital projects for hospitals or clinics—could put pressure on other health systems to follow suit.
That would almost certainly raise the cost of health care in Indiana, which is already the 13th-highest in the nation on a per-person basis, according to a report from the National Care Cost Institute, an independent, nonpartisan research group based in Washington, D.C.
An expansion would also mark the latest in a long, gradual shift by the health care industry to follow high-income patients with private health insurance as they migrate to bedroom communities.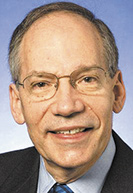 Ginsburg
"This is where the privately insured patients live, and to some extent, work," said Paul B. Ginsburg, professor of health policy at the University of Southern California.
Nearly two-thirds of the roughly 230 U.S. hospitals opened since 2000 are in wealthier, often suburban areas—not in poor city neighborhoods, according to an analysis by the Pittsburgh Post-Gazette and Milwaukee Journal Sentinel in 2014.
In central Indiana, health systems have spent tens of millions of dollars in the last two years to build full-service hospitals in the suburbs, from Brownsburg to Shelbyville. Health systems are also building new wings or free-standing clinics and emergency rooms, in an effort to upgrade facilities or provide more convenient patient care.
In Franklin, Johnson Memorial Health is spending $42 million to add a new emergency and outpatient building and rehabilitation center to its 71-year-old campus.
In Hamilton County, Riverview Health is building four combination emergency rooms and urgent care centers in north Carmel, west Carmel, Fishers and the Nora area of Indianapolis at an undisclosed cost.
And in one of the most noteworthy trends, St. Vincent Health is in the process of building eight micro-hospitals—with emergency rooms, laboratories, pharmacies, imaging centers and eight overnight beds—that will ring central Indiana. Each hospital will cost about $10 million to build and equip. St. Vincent has opened five, including the newest this month just a few blocks from Franciscan Health Indianapolis' huge hospital on the south side.
Coverage gap?
Some observers say IU Health's lack of hospitals on the southern and eastern sides of central Indiana could keep it from winning contracts with big employers. Those agreements, known as "direct-to-employer contracts" usually offer discounts to companies if they agree to have all their employees treated at the system's hospitals under self-funded insurance plans.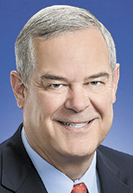 Abel
"If you're a big employer, with workers all over town, you're probably going to want to do these deals only with health systems that have hospitals all over the city," said Ed Abel, director of health care practice at Indianapolis-based Blue & Co., an accounting and consulting firm. "That could be a problem for IU Health."
For its part, IU Health says it is too early to provide details on its suburban plans. Puckett, who previously served as president of IU Health West Hospital in Avon, pointed out he has been in his new role as regional president only a few weeks and is still in the preliminary stages of drawing up a strategy.
"We are putting this regional structure together to give us a platform to create a comprehensive Indianapolis strategy and system of care," Puckett said. "Beyond that, I have no other details of what that will look like—north, south, east or west."
But IU Health senior administrators acknowledge they have a huge opportunity in central Indiana's doughnut counties, which are some of the fastest-growing in the state and have higher-than-average incomes.
Kitchell
"We want to be serving folks close to their homes," said Ryan Kitchell, the system's executive vice president and chief administrative officer, "and homes are popping up in the suburbs at a rapid pace."
IU Health's new suburban region carves out a huge swath of Indiana's population growth and patient demand. For the first four months of this year, the suburban Indianapolis region, as it's now configured, would represent 18 percent of IU Health's inpatient discharges statewide, Kitchell said.
That would make it the system's second-largest market in Indiana, behind only its downtown adult-care market, which is made up of Methodist and University hospitals.
Feeder system
Some industry observers look at IU Health's structure, with a huge medical center downtown, and note that a suburban push might have another benefit. Suburban hospitals help provide a steady stream of referrals to those downtown facilities, which, besides Methodist and University, also includes Riley Hospital for Children.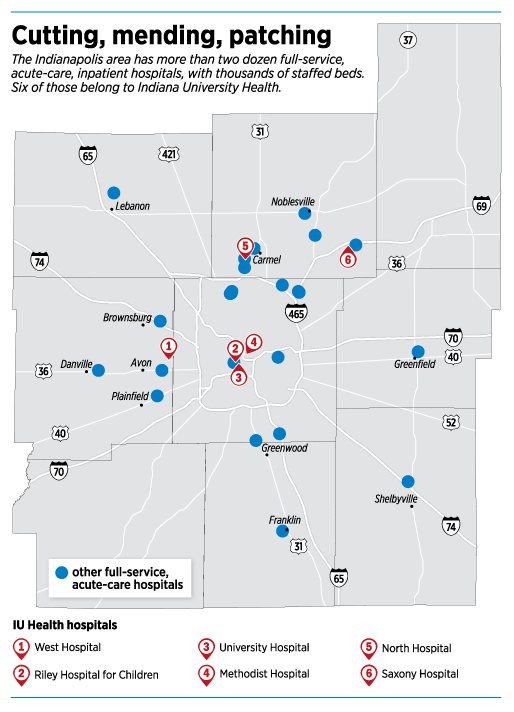 "The concept is, you have an academic medical center in the city that does all kinds of specialty work," said Joshua Nemzoff, president of Nemzoff & Co., a hospital consultant in Philadelphia. "And that the smaller hospitals in the suburbs would feed into the larger medical centers. You need those constant referrals to support all the overhead downtown."
In addition to its suburban focus, IU Health has huge projects on its hands elsewhere. It is just months away from unveiling the design of its revamped downtown campus, a $1 billion project that aims to upgrade the 100-year-old Methodist Hospital and consolidate all the clinical functions from University Hospital onto the Methodist campus.
Meanwhile, it is also building a $340 million hospital and teaching center in Bloomington and a $55 million cancer center on its Carmel campus.
Still, for all the activity and expansion, IU Health could use the additional business.
Revenue growth is slowing after decades of robust expansion. In recent years, IU Health even has shed some properties, including two hospitals in northern Indiana. It also shut down the inpatient services at Morgan Hospital in Martinsville in 2015, converting it into an outpatient facility with an emergency room.
Last year, IU Health rang up operating revenue of $6.29 billion, up just 0.9 percent from 2016.
That's a big shift from its early years, when the organization was building or buying hospitals at a rapid clip. The system, founded as Clarian Health in 1997, strung together a series of hospitals from Monticello to Paoli, and built an impressive statewide system of feeder hospitals. In the process, it also became one of the state's largest institutions, with 33,000 employees.
But even with the slowdown, IU Health remains the dominant health care player. In central Indiana, it holds the top spot for inpatient care, with 28 percent of the market in Marion, Hamilton, Hancock, Shelby, Johnson, Morgan, Hendricks, Boone, Madison, Brown and Putnam counties, based on 2017 patient discharges, according to Decision Resources Group, a market research firm.
Holding smaller market shares are St. Vincent Health and Community Health Network, each with 22 percent; Franciscan Health, with 10 percent; and Eskenazi Health, with 8 percent.
All the other health systems—mostly county-owned organizations with one or two hospitals—account for the remaining 10 percent.
Delicate dance
IU Health might not have hospitals in the eastern and southern suburbs of Indianapolis, but it does have partnership agreements with other health systems.
For example, IU Health physicians run Johnson Memorial Hospital's cardiovascular health programs. And IU Health has a partnership with Community Health Network—which has hospitals in the northern, southern and eastern areas of Marion County—for pediatric care, Kitchell said.
It's a delicate dance, observers point out.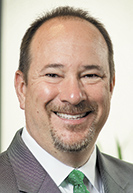 Blish
"IU Health is walking a fine line between supporting these other health systems and competing with them," said David Blish, director of health care consulting at Katz Sapper & Miller, an Indianapolis-based accounting and consulting firm. "It's a tricky thing."
Still, he said, he would be surprised if IU Health were to switch gears dramatically and begin building a series of large, traditional hospitals in the suburbs. The trend, he said, is for smaller facilities, often without inpatient beds—just primary care, specialty care, imaging and outpatient surgery.
Another consideration for IU Health, he pointed out, is how many beds it would need. Statewide, it has about 2,560, but had trouble keeping them filled. Its occupancy rate last year was only 67.6 percent.
But of course, the need for beds is uneven. At the Avon hospital, patient demand was so great last year that IU Health administrators had to transfer more than 1,700 patients to other facilities.
The hospital, with 127 beds, is now undergoing an $83 million upgrade to add 48 beds and another floor to one of its patient towers.
It's a matter of pinpointing where the best growth opportunities will be, and making sure patients are served, Kitchell said.
And while he said it was too early to provide a detailed outline, he acknowledged that new hospitals are not out of the question.
"Given how dynamic health care is these days," he said, "it's hard to say never about anything."•
Please enable JavaScript to view this content.