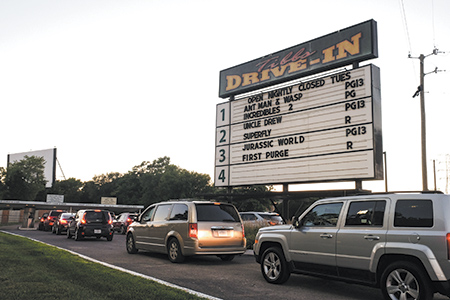 Drive-in movies might sound like relics from a bygone age, but you wouldn't know it from the Saturday crowds at the Tibbs Drive-In Theatre.
Cars line up long before sunset to enter the 23-acre west-side complex, which boasts four screens (each showing a different film), a playground, and a massive concession area serving everything from scratch-made tenderloins to pizza.
Owner Ed Quilling, 67, is rarely on hand these days to witness the influx of customers. Semi-retired, he and his wife, Agnes, who for years oversaw concessions, have moved to Alabama—though they still return once a month to see how things are going. But though they were delighted to step away from the regular grind of running the place (they often wouldn't get home until 4 a.m.), they have no intention of getting out of show business. Not yet, anyway.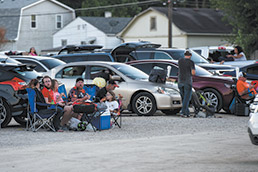 Customers settle in for a full tailgating experience, minus the grilling, before the show. (IBJ photo/Eric Learned)
"There might be some employees that might want to purchase it," Quilling said. "But that's in the future."
He can be so sanguine about his pride and joy because events have conspired to keep his operation solvent in an era when everything from rising property values to expensive new technology have consigned the majority of drive-ins to the history books.
Not that their glory days weren't glorious. The first drive-in opened in 1933, and by the late 1950s, there were more than 4,000 in the United States. Even in the 1980s, they remained a big part of the movie industry, both nationally and locally. Places like the National Outdoor Drive-in in Cumberland, the Pendleton Pike Drive-In and the Shade-land Outdoor Theater were still in business.
Tim Pendleton, general manager of the Landmark Theatres' 12-screen multiplex in Glendale, has worked in the movie biz since 1981 and was there to see it.
"There was the ambiance of being outside at night in the summer, with the stars overhead," Pendleton said. "And it was a bit more social than sitting at an indoor location. You could have a conversation in your car, whereas you can't at an indoor theater."
You also can't ride a donkey at an indoor theater, which was the sort of thing that happened pretty regularly during the go-go days of drive-ins.
The places were infamous for their oddball promotions, including, as Pendleton recalls, donkey rides in the 1960s at Pendleton Pike Drive-In. That venue, which operated through the 1980s, also tried to stage a July 4 fireworks show, only to have a live ember set off the pyrotechnics all at once.
"They went in all directions—toward cars, into the air, and at the screen," Pendleton said. "When it finally stopped, the packed drive-in audience cheered and applauded. Many said it was the best fireworks display they'd ever seen."
However, technology and rising land values conspired to undermine the drive-in industry's business model.
In the 1980s, indoor theaters morphed into multiplexes, many with sound and viewing systems superior to anything drive-ins could hope to offer. But most fatefully, the value of the property on which the theaters sat increased. When many drive-ins got their start, they were outside city limits on cheap land. But as decades passed and urban areas enveloped them, land values shot up.
Which created a problem. Turns out that pretty much any use for the sprawling acreage, from strip malls to hotels, was more lucrative and less of a hassle than a drive-in theater, especially in parts of the country where drive-ins operate only seasonally.
"So much of it comes down to the land value and what a drive-in theater owner could get for it," said veteran retail broker Mark Perlstein, first vice president at the commercial real estate brokerage CBRE. "There was once a drive-in theater at 96th and Meridian, and look what's happened there. That's now medical office buildings, and the value of the land is off the charts."
A half-century run
The story of Tibbs Drive-In—which opened in 1967 as a one-screen operation owned by United Artists but leased to a local operator—is somewhat different.
The theater has the benefit of sitting in a densely populated area just off West Washington Street, halfway between downtown and Interstate 465. But because its rough-and-tumble neighborhood isn't in an area favored by developers, land prices have remained modest.
Quilling, a union projectionist from northern Indiana, bought it with a partner in 1995. The duo also bought the Lake Shore Drive-In Theatre in Monticello. When the two ended their relationship in 2003, Quilling took the Tibbs and his partner took Lake Shore, which also is still in business.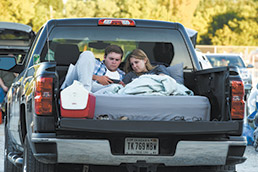 Daniel Schieber and Danielle Patterson bring the comforts of home to the Tibbs Drive-In. Other patrons pack chairs, picnics and games for their night at the movies.
The survival of both is pretty impressive, considering that only about 325 drive-ins remain nationally, a drop of more than 90 percent from their peak, according to the United Drive-In Theatre Owners Association, or UDITOA.
That tally is anemic enough to make Indiana, with 19 drive-ins, the fourth-most drive-in-intensive state, behind New York, Pennsylvania and Ohio. Other survivors in the Indianapolis area include Skyline Drive-In in Shelbyville, M.E.L.S. at the Starlite Drive-in in Mechanicsburg, Canary Creek Cinemas in Franklin and The Centerbrook Drive-In in Martinsville.
Most remaining drive-ins are mom-and-pop affairs, some of which have stayed in the same family for generations, according to D. Edward Vogel, UDITOA's administrative secretary. He said chains have shied away from the business because of its seasonal nature in northern climes and the costs of outdoor maintenance.
"People see cars lined up on a Saturday night and think we're doing land-office business," said Vogel, who owns a one-screen Baltimore drive-in. "But they don't understand that the movie companies take a huge portion of receipts for film rentals [50 percent or more] or that, if it rains, I'm closed, and during winter I can't operate. You have to keep a very sharp pencil."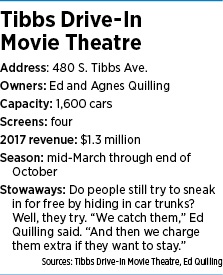 Digital conversion
For his part, Quilling said he's faced his share of challenges over the years. Most recently, Tibbs, like the rest of the drive-in industry, had to convert from analog movie projectors to a digital system. He made the transition four years ago, and it cost him $266,000 to refit his four screens.
Though he said the images on screen are, indeed, sharper, it was easier to troubleshoot old projectors than it is the inscrutable computer that now governs operations.
"With the projectors, we had the parts on hand and we knew what to do," Quilling said. "But you need a computer expert now."
And that's just the beginning of the hassles. Quilling's operation has hefty maintenance costs, from mowing the property to painting the four movie screens, which set him back $11,000 the last time he did it.
"I don't think there are any advantages to being outdoors," he said. "Our maintenance is a lot more. We have all this land, which we've got to have mowed, plus fences and buildings and things like that. It's expensive."
One change that Quilling was pleasantly surprised to discover didn't hurt business was the 2006 adoption of daylight saving time, which, during high summer, pushes movie start times past 9:30 p.m.
"We thought that would be a problem," he said. "We were at the Statehouse and in the paper and the news for quite a while. But actually, I think it helped. People can get home, have some dinner, do whatever, and then go to the movies. I mean, they'll go to an indoor theater at 9:30."
On weekends, the Tibbs even repeats its movie lineup for the late-night crowd.
"That starts at about 2 a.m., and people come in," he said.
The theater's steady fan base, and Quilling's love of the industry, have helped keep the gates open.
But it's also a reality that developers aren't exactly lining up to buy the place. It's not surrounded by newly built housing developments or shopping centers. Indeed, its closest neighbors are sprawling auto salvage yards.
So for the foreseeable future, Quilling plans to keep the place as is. And though he loves the drive-in business, he has no illusions of a revival.
"For anybody to go somewhere and build one from scratch, it's probably not profitable," he said. "Unless you're someplace where you can stay open year-round."•
Please enable JavaScript to view this content.