Scotty and Shannon Hunt are proud to be Indianapolis residents. And they wear their pride on their sleeves. To be more accurate, they wear it on their T-shirts, hats and sweatshirts.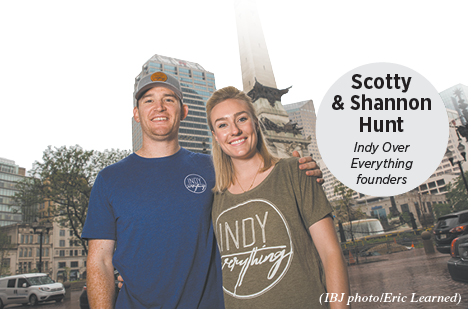 Last year, Scotty, a 29-year-old sales representative at local tech firm Sigstr, and his wife, Shannon, a 28-year-old commercial real estate broker focused on retail, started Indy Over Everything, a company that makes and sells an Indianapolis-themed line of clothing.
The company has two contractors that help with various design and marketing tasks and uses all U.S.-based suppliers. It has seen its sales—which are primarily online—steadily grow since its launch in April 2017.
How and why did you start Indy Over Everything?
Scotty: After college, we had the good fortune of living in different places besides Indy. We found that, every time we came across someone from Indianapolis, they had a palpable pride for Indy. When we moved back to Indy, we got that same feeling. We knew it was something we also felt and believed and we wanted to create a brand that represented that.
How have sales been?
Shannon: Really good. We went live at the end of April [2017] and we did as well as we could have ever hoped in eight months of 2017, and our goal is to double that in 2018 and we're tracking in that direction.
What percentage of your sales are coming from people in central Indiana?
Scotty: The majority of our sales are coming from Indiana. But we have a tack board in our office to track sales, and it's fun to see sales coming in from all across the nation. Especially at Christmas time, we see a lot of parents buying items for their kids who are out of town, abroad or at college. We're also sending out a lot of packages to military bases all over the world. That gave us a real sense of pride that people out there defending our country are out there wearing our clothing and representing Indianapolis.
How have you marketed the clothing line?
Scotty: All the sales have been organic. We've done very little if any advertising. We wanted our product to speak for itself both in quality and what it represents.
How has the sales experience in your day jobs helped with your clothing company?
Shannon: In a lot of ways, what we're selling is so different than what we sell in our day jobs. So it's been a lot of learning. But a lot of business practices—like managing the supply chain, how do you make money?, how do you not carry too much inventory? … basic business practices do carry over from our day jobs.
Are you doing this to make a profit or is this for the love of Indy?
Scotty: So far, every single cent we've made we've put right back into the business. We want to keep growing the business because, at the core of what we do, we love Indy and we want to make this a brand for people who love Indy as well. As long as we're producing super-high-quality products and keeping our customers always on the forefront of our minds, the revenue and profits will be a byproduct of what we do. It's simple cause and effect.
What's been the best-selling items?
Shannon: Our T-shirts and sweatshirts have been popular, but our consistent best-selling item is definitely our [baseball cap].
What hasn't worked?
Scotty: Things that were more playful or had a tongue-in-cheek design … were our biggest flops.•
Please enable JavaScript to view this content.