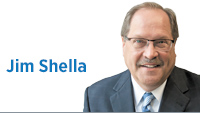 I attended the recent Indianapolis Colts game that produced a controversial play call that led to a loss. The coach was second-guessed by upset fans and sportswriters, some of whom relied on analytics to support their case.
Frank Reich's decision to seek a first down rather than punt on fourth down produced just a 10-percent chance of success, said one. Not worth the risk. Reich ignored the analytics in what I believe was a courageous display of leadership. You play to win.
Analytics are meant to lead you down the safest route.
Analytics have invaded sports, and they have also invaded other industries. I'd like to discuss their effect on journalism.
For many in the media, analytics rule. It's all about the clicks. It's about how many eyeballs are exposed to any given story on the company website and how long those eyeballs stay focused on it. This affects coverage, sometimes in a detrimental, yet defensible, fashion.
It is also why news people are now on radio and television encouraging you to program your Alexa to tune in their reports. It's why you get invitations from reporters to "like" their Facebook pages and follow them on Twitter. They are graded on their ability to reach the public through social media. Their social media posts include links that take viewers back to the company website in the effort to increase clicks.
If you walk into a newsroom today, you will see large, visible electronic screens posted around the area. They tell which of the stories on their website are getting the most views, and how long those views last. That information is used to generate advertising revenue, but also affects coverage decisions.
If a story is generating a high number of clicks, reporters are sometimes instructed to do follow-up stories to continue the momentum. Never mind whether there is a development.
Headlines are written to make stories from around the country appear to be locally generated. Key facts are sometimes buried in a story so readers are forced to read longer to learn what they want to know. Stories are written longer for the same reason.
Audience research, another kind of analytic, also guides coverage. TV stations and newspapers sample customers to find out what sort of news interests them most, and least. The increasing lack of government coverage is driven by ambivalence in an audience unwilling to decipher complicated issues. The increase in health coverage is prompted by the curiosity of an aging audience.
Have you noticed an increase in the number of pet stories? They generate clicks from pet lovers who previously went unnoticed. Every time you "like" or "share" a story, news managers get a better idea of how to keep your interest.
News judgment and gut feelings are replaced by analytics. That can be good, giving people what they want. But it also makes bad decisions defensible.
It even affects how TV people dress. Research shows that an anchorman in a dark suit is considered more authoritative than one in a plaid jacket. Wear dark colors with a brightly colored necktie that "pops," they are told. Individual style is discouraged.
If you think the news looks similar on every channel, that's why.
Leadership sometimes requires turning a blind eye to analytics. And I'm guessing Reich will find success when he does so in the future. Whether you realize it or not, we need news managers willing to take the same chance.•
Click here for more Forefront columns.
__________
Shella hosted WFYI's "Indiana Week in Review" for 25 years and covered Indiana politics for WISH-TV for more than three decades. Send comments to ibjedit@ibj.com.
Please enable JavaScript to view this content.