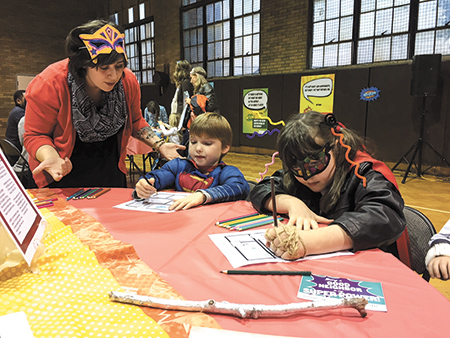 What do eating hummus, the Indiana state motto, Afrofuturism and Oliver Messiaen's "Quartet for the End of Time" have in common?
They all somehow fit under the elusive umbrella of the Spirit & Place Festival, a unique yet difficult-to-define, only-in-Indianapolis celebration of the arts, humanities and religion.
The festival launched in 1996 with a program that included a high-profile on-stage discussion with best-selling authors John Updike, Dan Wakefield and Kurt Vonnegut that packed Clowes Hall. But the festival has evolved over the years as it sought out new ways to connect people to place.
Pam Blevins Hinkle, Spirit & Place's director since 2006, has overseen much of that evolution.
"When I arrived, the festival was 17 days long with 105 events," she recalled. "It almost killed me."
At the time, philosophically, it was come-one, come-all, which made the scattered events difficult to navigate, market and explain.
"Ten days was a better fit," she said. "We now have 30-40 events each year and the types of events are radically different each time."
That's because the festival's theme changes each year.
In 2016, it was Home. In 2017, Power. For the 2018 festival, running Nov. 2-11, it's Intersection.
Since the festival is composed of events proposed by organizations and individuals around the community—which are juried by a community panel and not the festival's staff—the Spirit & Place team never knows quite how that theme will be interpreted.
"We try to find a theme that resonates with the community and inspires creativity amongst our partners," said the festival's program manager, Erin Kelley, who works with potential collaborators to help them shape their programs to maximize their potential for success.
"We focus on quality rather than quantity," Hinkle said. "The events that are designed to be smaller in scope—30 to 50 people—those are the ones that often generate the most meaningful conversations and the most positive feedback on evaluations."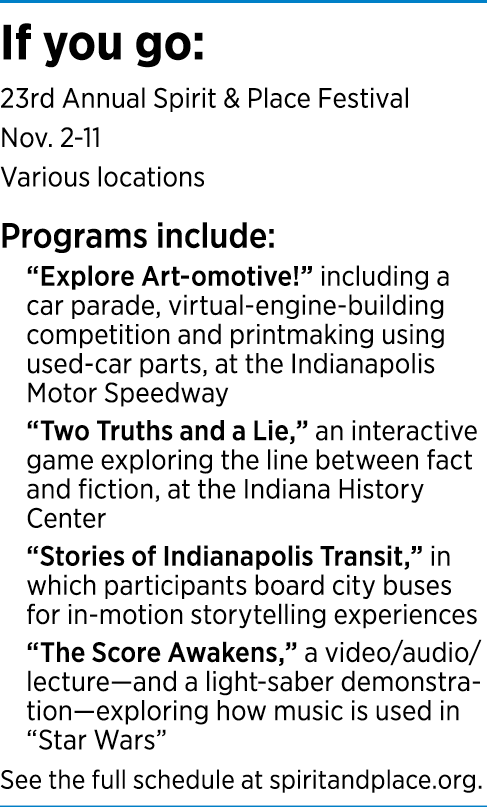 For such programs, the festival counts on organizations that aren't looking for a financial payoff. Once accepted, presenters pay on a sliding scale of $100-$400 to participate. And because most events don't charge admission, those organizations and artists have to be satisfied with the opportunity to develop new partnerships, connect with new audiences, and learn from the opportunity to stretch and experiment programmatically.
This year's experimentation includes a change in the festival's signature event, the Public Conversation.
The event launched with the author trio mentioned above and later brought to town such big names as Thomas Keneally ("Schindler's List"), Sister Helen Prejean ("Dead Man Walking"), and Kareem Abdul-Jabbar. But this year, it's an event with techno-sociologist Zeynep Tufekci.
"We hope to flip the script," Kelley said. "She'll speak, sit down for an interview, and then, rather than a traditional audience Q&A, we'll have [her and the moderator] come up with questions to ask the audience and have the audience offer up some solutions about how we can use technology and not let technology use us."
While it could be an exciting event, such changes might exacerbate the ongoing challenge of explaining to people what exactly the festival is.
"It's a challenge," Hinkle said, "mostly because there's nothing like it in the country. It was born with a name that came out of that first major event. They were talking about how identity shapes place and how place shapes identity."
"A few years ago, we thought about getting rid of the name," she added. "But we've built a brand around it. It captures a certain something. And it's very different."•
Please enable JavaScript to view this content.