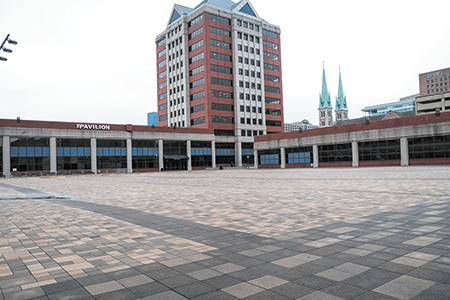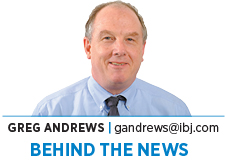 Kite Realty Group Trust bought Pan Am Plaza a decade ago with the mindset that the timing might not be right for a massive development there, but the fantastic location—in the heart of downtown and across the street from the Indiana Convention Center—ensured it eventually would be.
The Indianapolis-based company appeared to have hit the jackpot last month when the Capital Improvement Board announced that Kite would serve as master developer for three large projects on the 3.2-acre plaza: a $120 million, publicly funded addition to the convention center, plus two Hilton-branded hotels that together would have 1,400 rooms.
The reality is much more complicated. Hospitality industry observers say this is far from an ideal time for Kite—a publicly traded real estate investment trust specializing in shopping centers—to veer outside its core business and tackle what would be a risky and colossal project that easily could cost more than $600 million.
Kite already is wrestling with significant challenges in its core retail business—as it attempts to refill empty big boxes left in the wake of the collapse of Toys "R" Us and the struggles of other retailers. The company has acknowledged that earnings will fall next year as it sells off lower-end properties, reduces debt, finds new tenants for big boxes, and repositions itself for growth.
"If they are going to take the financial risk of developing a hotel, that will not go over well with public investors," said Alexander Goldfarb, a real estate analyst who serves as managing director of Sandler O'Neill + Partners in New York City.
The specifics of Kite's plan—which includes constructing one 800-room hotel and another with 600 rooms—remain somewhat hazy. Last month, Kite President Tom McGowan declined to release the cost of the hotels, saying "the numbers will continue to evolve" as it negotiates with CIB on a final deal (one that hospitality-industry observers say surely would include a hefty subsidy from the city).
But McGowan was effusive about the project. He said Kite has been working for years "to prepare for this moment" and redevelop "what we believe is the best undeveloped site in Indianapolis."
"We felt a great deal of responsibility to not simply do a project but do an iconic project that addresses the highest and best use, which is a convention hotel," McGowan said.
It's notable that, a couple of weeks later, when Kite executives addressed a different audience—Wall Street analysts—they struck a far more cautious tone.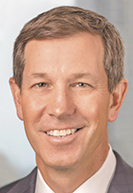 Kite
"It's early. … It's going to take time. We've got quite a bit more to do along the lines of making determinations, what works and what doesn't," Kite CEO John Kite said Nov. 1 on a conference call following release of the company's third-quarter financial results.
"Look, based on the potential size of this, I think we are going to be very cautious around what the REIT's risk would be and what their capital structure would be. The REIT owns the land, so obviously that's a positive. But from there, it's really going to be determined based on the overall cost of the deal, the capital structure, the returns. And we're obviously a retail REIT, so we're going to be very thoughtful around what the end game is there."
In response to written questions from IBJ, Kite Senior Vice President Bryan McCarthy reiterated that "we will minimize impact to the REIT's risk profile as it relates to this development." But he wouldn't elaborate on how the company might achieve that goal.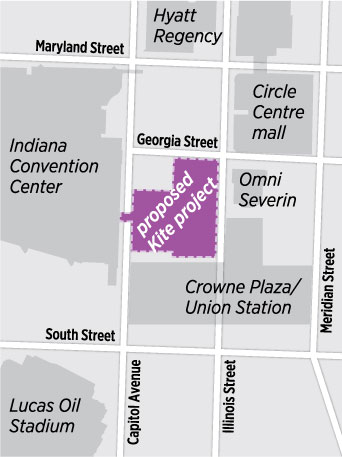 Hotel experience
The hotel business is not new to Kite. For example, in 1998—six years before it went public—Kite teamed with Carmel-based REI Investments and Merrillville-based White Lodging to build the 615-room, $90 million Indianapolis Marriott Downtown.
Kite executives also are principals of privately held Circle Block Partners LLC, which developed the $100 million Conrad Indianapolis. That project—which included construction of 243 hotel rooms and 16 condos—had just broken ground when Kite went public in 2004. The project was excluded from the public company because it was "not suitable to be owned by us," Kite said in the prospectus for the initial public offering.
Publicly traded Kite, which owns more than 100 properties, holds a stake in just one hotel, a 164-room Embassy Suites that's part of Kite's Eddy Street Commons mixed-use project adjacent to the University of Notre Dame's campus, according to Securities and Exchange Commission filings. It owns 35 percent of the hotel, which opened this fall.
Analysts say investors generally favor pure-play REITs that focus on a single property type—in part because they are easier to analyze.
That reality was one of the factors that led Indianapolis-based Duke Realty Corp. in recent years to sell its office and medical-office holdings and focus solely on industrial properties.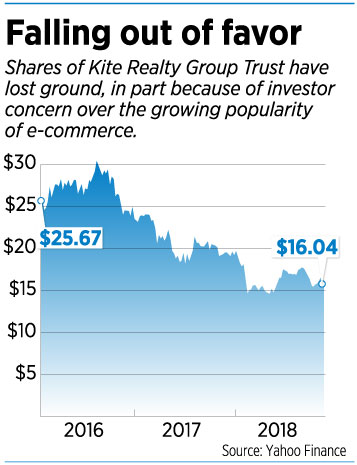 "In REIT-land, people prefer sector-specific companies," said Goldfarb, the real estate analyst. "When you have companies—especially at this point of the cycle—veering into other property types, people get a little nervous."
One challenge for Kite is that the company is trying to win over investors, not alienate them, after seeing its stock lose 47 percent of its value since July 2016—a sell-off fueled in part by investor anxiety over the rise of online retailing.
Investor sentiment about traditional retailing has improved this year. But Kite and other shopping center companies are adapting to the reality that many retailers have become more cautious about how many stores they will open, or how many stores they need to saturate a given market.
Market conditions
Meanwhile, the hotel industry has enjoyed boom times, fueled by strong increases in occupancy and room rates. But one question facing Kite is what the market will be like in several years, when the Pan Am hotels would come online.
Timing is everything for hotels, which is the toughest type of real estate project to finance. Unlike apartments, offices and shopping centers, which have leases running a year or longer, hotel operators fill their rooms day by day, and demand weakens when the economy turns soft and prospective customers cut back their travel plans.
The city's last major convention hotel project—a $450 million campus of hotels, including the 1,005-room JW Marriott—surely would have derailed were it not for the backing of Merrillville billionaire Dean White, whose White Lodging helped develop the project.
Plans for that project were coming together in 2008, just as the financial crisis set in. "He funded it with cash," said Mike Wells, president of REI Investments, which helped develop the project. "It would have been extremely difficult to get a loan during those times."
By at least one measure, investor sentiment about the hotel market might be weakening. The Dow Jones U.S. Hotel & Lodging REIT index—which doubled over the last seven years—has lost 11 percent since late August.
"It is a difficult time for hospitality, simply because construction costs have escalated so dramatically in the last four or five years, interest rates are rising, and the ability to borrow is getting much more difficult," Wells said. "If you take those things into consideration, it makes a hospitality project of this magnitude extremely challenging."
Making the numbers work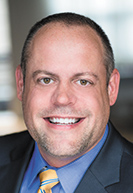 Hunden
Rob Hunden, CEO of the Chicago-based hospitality-consulting firm Hunden Strategic Partners, said he agrees with Wells' assessment.
Even so, he said, "People have been saying we are in the seventh inning for probably three years now, but the seventh inning seems to be stretching along quite well."
He is confident Indianapolis can support the additional 1,400 rooms—in part because Hilton, which doesn't currently have a flagship convention hotel in central Indiana, can use its sales-and-marketing firepower to draw events that previously hadn't come to the city.
A similar phenomenon occurred when the JW Marriott opened in 2011 and new events flocked to that hotel, offsetting the strain of absorbing so many new rooms.
Yet rising construction costs, fueled by the tight labor market and increases in the price of construction materials, are a complicating challenge, said Hunden, who worked for the Indianapolis Bond Bank in the 1990s. He said the Kite project likely would cost $400,000 to $500,000 per room, or a total of $560 million to $700 million.
Hunden said that is a reality the city of Indianapolis will need to take into account as it mulls incentives.
He said incentives are a necessary component of any convention hotel project that does not include gambling. That's because such projects include lots of amenities convention cities want—such as restaurants and meeting space—that would otherwise drag down the profit margin of the property.
The Marriott project launched two decades ago received a $23 million subsidy, and the JW Marriott complex received $59 million about a decade later. Since then, incentive and project costs have continued to climb. The 612-room Omni hotel and apartment tower that opened last spring in downtown Louisville cost $300 million, with the city and state providing $139 million.
"Anything is feasible with the right incentives," Hunden said.•
Please enable JavaScript to view this content.