Dr. Rick C. Sasso, an Indiana spine surgeon and inventor, has won a sweeping, five-year legal battle against medical-device giant Medtronic, with a jury this week awarding him $112 million in damages.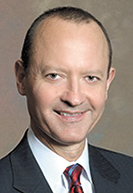 Sasso
Sasso, 58, president of Carmel-based Indiana Spine Group, had claimed that Medtronic had violated a contract by not paying royalties he was due for spinal implants and screw-implant systems he had invented and sold to the company more than a decade ago. The systems became one of the company's largest product lines, with annual sales of more than $200 million.
Along the way, Medtronic paid Sasso more than $20 million in royalties, but he contended the company shortchanged him, breaching its obligations and acting in bad faith.
A six-person jury in Marshall County Circuit Court returned the verdict in favor of Sasso on Wednesday, wrapping up a nearly month-long trial.
Medtronic—based in suburban Minneapolis with operations in Warsaw, Indiana—had acknowledged that Sasso played a role in inventing several products. But the company argued Sasso was seeking payment "far in excess of the value of his contributions."
In a regulatory filing Thursday, the company said it has "strong arguments to appeal the verdict" and will file post-trial motions with appellate courts.
But Sasso's attorney, Frederick Emhardt of Plews Shadley Racher & Braun, said the jury—which included two science teachers–spoke loudly with their verdict, sifting through a complicated set of facts and circumstances.
"After a month of evidence, they learned much about spine surgery and the business of medical device sales and the need to honor contractual commitments, even if they were made by persons no longer with a company," he said in an email. "In a period of six hours, they unanimously rendered a verdict awarding to a dollar what Dr. Sasso requested—$112,452,269. The jury system is a bedrock of our way of life. It worked exactly the way intended by our founders."       
Inventive surgeon
For more than a decade, Sasso appeared to have a model business relationship with Medtronic, one of the nation's largest makers of spinal devices.
Court papers show Sasso considered himself a key member of the invention and engineering team at Medtronic. In one filing, he pointed out that he "attended several retreats with executives and engineers of Medtronic Spine and other inventors/surgeons like himself." He added that he "contributed know-how and technical information to all phases of Medtronic Spine's product designs."
In addition to being an inventor, Sasso "is a world-class—and that's not exaggeration—spine surgeon," Plymouth-based attorney Jere L. Humphrey, who served as local counsel in the case, told the Pilot News in Plymouth, Indiana, where the trial was held. "He goes all over the world and gives instructions on how to do spine surgery."
Sasso in recent weeks did not respond to several requests from IBJ to comment on the dispute. But in voluminous court filings and interviews with other outlets over the years, a picture emerges of a focused surgeon interested in finding new ways to do things.
He grew up in Warsaw, a city nicknamed the orthopedic capital of the world for the prevalence of medical-device companies focusing on the spine and joints. Sasso's father was a veterinarian, and as a boy, Sasso wanted to become one too. He was accepted into Purdue University, but on his father's advice, he changed his sights to human medicine and entered Wabash University, according to a 2007 profile story in the college magazine.
After getting his bachelor's degree in 1982, Sasso entered the Indiana University School of Medicine, and later did his residency in orthopedic surgery at the University of Texas Medical School in Houston.
During a fellowship at Northwestern University in Chicago, Sasso noticed that surgeons had a difficult time tending certain spinal fractures and were still using primitive methods, such as wires, rods and big hooks.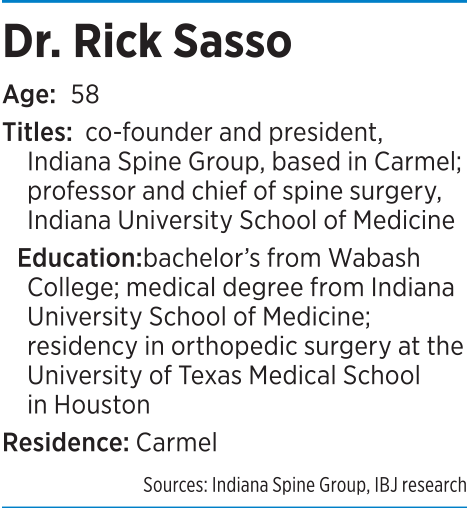 "Nothing made sense," Sasso told Wabash magazine. "Nothing worked. I'm training with these world experts and they say, 'Oh yeah, this is the way we do things.' I think, 'This is the most ridiculous way.'"
So he soon began experimenting with a new system of his own. In 1994, Sasso and an engineer, Dan Justin, filed a patent application for a spine-implant device, involving screws and rods that would provide stability in the upper neck.
Around the same time, Sasso formed a start-up company, See LLC, with his brother and father-in-law, to manage his intellectual property. He and Justin were issued a patent in 1997.
They initially had trouble getting medical device companies interested in the invention because there were no similar surgical systems on the market, according to court papers filed by Sasso.
But Sasso finally had a breakthrough after being introduced to Robert Compton, an Indiana venture capitalist who was president of Sofamor Danek Group, a maker of spinal instruments based in Memphis, Tennessee, that had operations in Warsaw.
Compton is well-known in Indiana as one of the early financial backers of the email-marketing firm ExactTarget, which was cofounded by Sasso's brothers-in-law, Scott Dorsey and Chris Baggott. See LLC transferred its intellectual property rights to Sofamor Danek in return for $100,000 in cash, 1,500 shares of stock, and royalties.
Just a year later, Sofamor Danek Group was acquired by Medtronic for $3.3 billion, and in the ensuing years, Sasso entered into several agreements with Medtronic for a series of medical devices related to spinal stabilization.
Medtronic would grow over the years, helped by a series of additional acquisitions, into the most dominant company in the $7.7 billion U.S. spinal implant industry. In 2017, it controlled nearly one-third of market sales, according to research by SpineUniverse, a trade publication.
Sasso negotiated a series of product and consulting contracts with Medtronic and saw some of his inventions catch on quickly.
In 2000, Sasso, two other doctors, and engineers at Medtronic were issued a patent for a "posterior rod system" for cervical surgeries. Medtronic marketed the system under the name Vertex.
"Vertex quickly enjoyed huge commercial success," Sasso's lawsuit said, now ringing up an estimated $200 million in annual sales in the United States.
In 2001, Sasso co-founded his current practice, Indiana Spine Group, which operates out of a standalone building in Carmel, with additional locations in Kokomo and Greenwood. The practice is not a party to the dispute with Medtronic.
Legal wrangling
For decades, surgeons and orthopedic companies have teamed up to invent and launch a wide array of products. In many cases, the surgeons came up with ideas for better instruments or devices, sometimes frustrated by shortcomings in available technology. Then the surgeons sold the inventions to large companies, where engineers and manufacturing specialists added final touches and made the products.
"As the orthopedics business grew up, there was a lot of that kind of collaboration," said Fritz French, an Indianapolis life sciences veteran who has held executive positions at Guidant Corp., Eli Lilly and Co. and Marcadia Biotech, and has guided or led numerous startups. "A lot of orthopedic products have a surgeon's name attached to them."
Sasso's name isn't found on his inventions, which go by the names Vertex, Atlantis Plate, Facet Screw and other surgical terms.
The $112 million jury award stemmed from disputes over how much Sasso was owed under agreements the two sides originally struck in 1999 and 2001.
Sasso first sued in 2013, and the litigation bounced around in courts for several years. More than once, Indiana state judges have dismissed all or parts of Sasso's claims.
An Indiana trial court found in 2015 that Sasso never transferred his patent to See LLC and that See LLC never transferred the patent to Sofamor Danek Group. The court concluded that Medtronic and its subsidiaries, which had already paid Sasso more than $23 million, were relieved of their obligation to make additional royalty payments. Sasso appealed, but the Indiana Court of Appeals upheld the trial court.
In a legal brief before the appeals court ruled in its favor, Medtronic argued that under Sasso's interpretation of the firm's liability, it would "have to pay double compensation to Sasso and to his company. The defendants maintain that if See is correct about its claim, See would be entitled to at least $750 million in unpaid royalties."
The appeals court ruling—which applied only to See, not claims that Sasso personally brought against Medtronic—highlighted that Sasso had established a far-from-perfect paperwork trail. For example, an agreement with Medtronic referred to an addendum listing products covered under the pact, but that document was missing or never created.
In a footnote, an Indiana Court of Appeals judge noted that a contract between the two sides referred to a "Schedule A" that was nowhere to be found. "Sasso claims that it is likely that such a document existed but was later misplaced, but he has produced no evidence for such a claim," the judge wrote.
After that setback, Sasso updated and refiled his complaint several times, to Medtronic's dismay.
"It's like deja vu all over again," Medtronic wrote in April 2017, in a motion to dismiss Sasso's third amended complaint.
It added: "Dr. Sasso's 'new' claims are old wine poured into a new bottle. The Court rejected the wine in its old bottle and should reject the same wine in the second bottle as well."
According to Sasso's complaint, the agreement called for him to receive 2 percent of net sales for a period of eight years. But if a device was covered by a "valid claim" of a U.S. patent, then the royalty payments would continue for the life of the patent. The Vertex system, Sasso's complaint alleges, is covered by valid claims of numerous patents.
Sasso also claims that Medtronic under-counted sales, leaving out numerous products that used Vertex components, thus failing to give him adequate royalties.
Sasso has acknowledged that he is no expert in protecting his inventions.
"I've made every mistake known to man about protecting your intellectual property," he told Wabash magazine in 2007.
"It's been a great learning experience. It's not necessarily that I want to make an enormous amount [of money]. But you don't want someone else to make an enormous amount off of what you've done."
Please enable JavaScript to view this content.