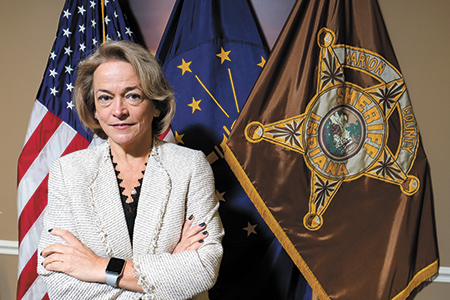 For Barbara Lawrence, being CFO of a sheriff's department means managing the books and finding innovative financial solutions to meet the needs not just of 860 employees—506 of whom are uniformed law enforcement officers—but also of 2,500 inmates and 1,600 registered sex offenders. That's all while keeping the 911 call center functioning.
Education: Lawrence earned her bachelor's in telecommunications from Indiana University. "I've always had an interest in finance," Lawrence said, "but after a number of campaign and election cycles, in my late 20s, I began to realize that my career needed a jolt and it was not going in a direction that would help me realize a number of personal and professional goals." She jolted her career by earning an MBA from Indiana Wesleyan University.
Career path: Before earning that MBA, Lawrence was a political organizer for Bloomington Mayor Frank McClosky in his bid for a congressional seat, later working in his Capitol Hill office. She worked for the state of Indiana in the Utility Consumer Counselor's Office, then moved to the Senate as staff director for the Democratic caucus. After earning her MBA via night classes, she took her first finance job with the State Revolving Fund Program. "It began a love affair with sewers, projects and infrastructure," she said. She joined Ice Miller but returned to public service following the 1999 election, working as deputy director of the Indianapolis Local Public Improvement Bond Bank. Appointed director of the Indianapolis Department of Public Works, she managed through record snowfalls, a pair of 500-year floods, and tornadoes that did substantial damage. As city controller, she oversaw the management of a nearly $1 billion budget. After a brief stint at the Indianapolis Airport Authority, she returned to the Indianapolis Bond Bank as executive director during a period that included such projects as construction of the JW Marriott and the redevelopment of Glendale Mall. After her boss, Mayor Bart Peterson, was defeated, she served as town manager of Speedway, focusing on redevelopment of the Main Street corridor. She initially worked on a contractual basis for the Marion County Sheriff's Office but, after a year, was appointed CFO.
Major company achievements during her tenure: Lawrence points to the implementation of the Medicaid program for in-patient inmate and arrestee stays, which has helped reduce medical costs; competitive contracts that resulted in reduced costs for the jail facilities, food services and medical care; and working with Sheriff John Layton to develop a career path for its employees as a strategy to stem attrition.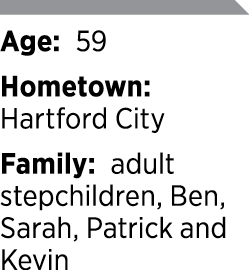 Unique challenges in the Sheriff's Office: "Criminal justice system reforms can provide many benefits to all stakeholders in public safety," said Lawrence, adding that challenges include tax revenue, allocation of revenue and related public finance matters. "We have an obligation to manage well the resources which we are allocated, but we have little flexibility in discretionary expenditures. … We take all steps to make sure we are getting the best pricing, but we must provide an acceptable level of service."
Givebacks: Lawrence is a member ofImpact 100 and volunteers for the MarionCounty Democratic Party.
Downtime: working out, gardening, bike ridingand traveling•
Check out more CFO honorees..
Please enable JavaScript to view this content.