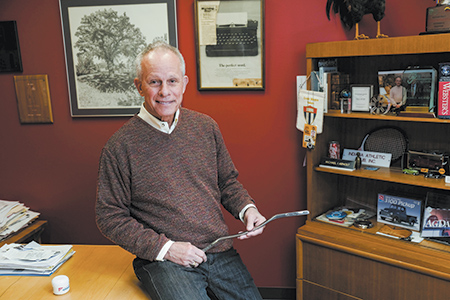 Michael Arnolt was at the gym one day in 1992 when he had a moment that changed his career.
His racquetball partner, suffering from a sore shoulder, went down the hall to get a treatment. Arnolt tagged along and watched as his friend got treatment from someone using metal instruments to rub deep into his shoulder, massaging the soft tissue.
The person with the metal instruments, David Graston, was not a trainer or gym employee, but a machinist who had hurt his knee while water skiing and created the metal instruments to help himself recover.
Arnolt learned that Graston was in the early days of starting a business—with a partner, Andre Hall, a former Indiana University track and football standout—to help treat soft-tissue injuries. But the company needed some structure.
Arnolt, a businessman with years of experience running companies from tire recycling to machining operations, was intrigued.
"I had some shoulder and back issues," he said. "So I went to see these two fellows. And their therapy process helped me dramatically. I thought they had something. So I offered to help them with a business plan for no fee."
The three kept in touch, and by 1994 had formed a partnership to launch an enterprise in Indianapolis initially called Grastech and later TherapyCare.
With Graston's patent and $100,000 from Arnolt, the company opened a clinic on the northeast side. Over the next two decades, it taught more than 30,000 clinicians how to use the tools. It sold thousands of the stainless-steel instruments in the process, at up to $2,750 for a set of six in various shapes and sizes.
Today, the company says thousands of clinicians and trainers across the country use the Graston Technique to detect and treat adhesions in the muscles and tendons. On its website, the company says more than 400 amateur and professional sports organizations offer the technique to their athletes to recover from injuries. The list includes the Indianapolis Colts, Indiana Fever, New York Knicks, New England Patriots, New York Yankees and the PGA Tour.
More than 45 colleges also teach the therapy in their graduate health sciences classes.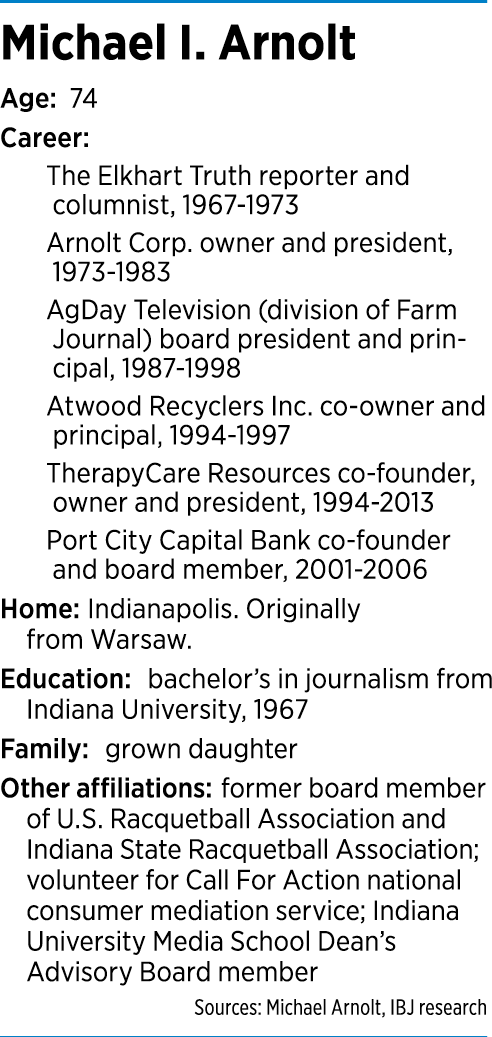 The success of running that company, and several others along the way, made Arnolt, now 74, a millionaire.
Yet the therapy has its skeptics. While the Graston providers claim "positive outcomes" for 75 percent to 90 percent of all conditions treated, Berkeley Wellness, in collaboration with the University of California at Berkeley's School of Public Health, says that claim is tough to substantiate, "since there's little solid evidence behind it."
"Most published papers on it are individual case reports, pilot studies, abstracts presented at meetings, or animal studies," Berkeley Wellness said in a report. "Some have combined treatments, so you don't know what might be responsible for any benefits."
The Journal of Orthopaedic & Sports Physical Therapy published a study in January that looked at 12 other studies examining the Graston Technique and other instrument-assisted therapies for soft tissue mobilization.
Its conclusion: "There is insufficient evidence supporting the use" of such therapies as a stand-alone treatment, and only moderate evidence to support it in combination with stretching and strengthening programs.
Meanwhile, several other journal articles, studying relatively small groups of patients, conclude that the Graston techniques helped patients increase movement and flexibility.
Arnolt dismisses critics, pointing out that thousands of clinicians say the technique works, backed up by some studies. "There are some boo birds out there who have not done their research properly," he said.
What TherapyCare and other instrument-assisted soft tissue therapies do is use hard instruments to locate and break up scar tissue, stretch it and reformat it, Arnolt said. It's more effective than just using your hands, he said, because the instruments can get deeper into the tissue.
The instruments also help therapists follow the injury to its origin, he said, by following "the kinetic chain."
"You've heard the story—the knee bone is connected to the thigh bone; the thigh bone is connected to the hip bone," Arnolt said. "You take these instruments and you can locate where the injury emanated from."
Business successes
Arnolt, who eventually became 100 percent owner and president, ran the company about two decades before selling it in 2013.
Earlier this year, he made his first major philanthropic gift: $6 million to Indiana University to launch an independent investigative journalism center next year.
IU is using the money to set up the Michael I. Arnolt Center for Investigative Journalism to focus on the production and teaching of investigative journalism.
Arnolt said the gift is a testament to his first love. He graduated from IU in 1967 with a journalism degree, then spent 5-1/2 years as a reporter and columnist with The Elkhart Truth. Along the way, he received two Associated Press Managing Editors awards for feature and news writing. He won one of the awards for exposing a rest-home investment scam.
Arnolt said he had planned to spend years in a newsroom, chasing stories and writing columns.
But his career took the first of several unforeseen turns in 1973. That's when his mother called and said she needed help to save the family business. His father, who had died 10 years earlier, had started a machining company in the 1940s that made arresting gear for carrier-based U.S. Navy fighter planes, as well as metal tubing for furniture. But the Arnolt Corp., with about125 employees, was now losing money.
Arnolt reluctantly left journalism and joined the Warsaw-based company, first as personnel manager, then as president and owner. Along the way, he brought in a general manager who helped get the business back on an even keel. Arnolt stayed with the company for a decade, until he sold it in 1983 to a venture group from New York.
Over the next decade or so, Arnolt became involved in a series of other businesses, from tire recycling (Atwood Recyclers in Warsaw) to agricultural broadcasting (AgDay, a nationally syndicated agri-business television show originally produced in Indianapolis and later in South Bend).
But the years he spent building TherapyCare provided the biggest ride, in terms of getting a business off the ground and watching it grow.
There were moments of drama along the way.
In 1996, the company's board terminated Graston. Arnolt said Graston wasn't serious enough about the job. He later declared bankruptcy, and Arnolt bought his shares of TherapyCare during bankruptcy proceedings. Later, Arnolt also acquired Hall's shares and became 100 percent owner.
Graston later started his own company, Sound Assisted Soft Tissue Mobilization, using instruments to help locate soft tissue adhesions. He declined to comment to IBJ.
Uncertainty over efficacy
Yet for all the business success, the Graston Technique has not been tested in a large-scale clinical trial that would boost its claims to help patients.
Graston Technique instruments are not considered medical devices by the U.S. Food and Drug Administration, but fall under the category of massage tools, which do not need FDA approval.
The company has tested the technique in rats. Investigators at Ball Memorial Hospital and Ball State University injured the tendons of a group of rats, then massaged them with Gaston instruments. They harvested the tendons and performed tests on machines that measure resistance to see how strong the tendons were.
They concluded the tendons were stronger after the treatment, but cautioned "healing in rats may not translate directly to healing in humans."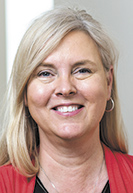 Loghmani
Terry Loghmani, the first clinical director for TherapyCare, and now an associate clinical professor in the doctor of physical therapy program at IUPUI, calls the evidence behind Graston instruments "mounting and emerging," but acknowledges they need further clinical study.
"What we need are additional studies at higher levels, such as randomized controlled clinical trials that are significantly powered to detect that clinical difference," she said.
Part of the problem, she said, is that trial investigators need to come up with a way to accurately measure the amount of pressure clinicians apply when using the instruments. "If there is too much variability between the clinicians or between the patients, it will not be a good trial," she said.
And without such evidence, insurers have a variety of opinions on the Graston technique. On its website, Aetna Inc. says it considers the Graston Technique experimental and investigational, "because there is inadequate evidence in the peer-reviewed published medical literature of their effectiveness."
UnitedHealthcare, however, said it considers the Graston Technique a form of manual therapy, which it does cover. Anthem Blue Cross and Blue Shield said physical therapy is a covered benefit, but it reviews individual requests to determine if they are appropriate medically.
Many local health systems offer the Graston Technique or similar therapies, including Community Health Network, Ascension St. Vincent and Indiana University Health. Kevin Flint, a physical therapist at Methodist Hospital, said the Graston therapy "has the benefit of immediately affecting tissue quality and flexibility that patients notice after just one session."
Testimonials
Among the dozens of testimonials on the Graston website, some appear outdated or questionable. A check by IBJ revealed that some of the therapists and chiropractors who provided comments retired or left their practice years ago. Only two medical doctors appear among all the testimonials. One, Dr. Paul Kern, who is identified as clinical director of OrthoIndy, is no longer with that organization, a spokeswoman said.
The other, Dr. Stephen R. Pfeifer, a family practice physician in Fishers, had his license suspended in 2016 by the Medical Licensing Board of Indiana for, among other things, allowing a nurse practitioner to use his registration to write prescriptions and for alcohol abuse and dependency.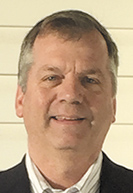 Kelley
Yet some health providers swear by the Graston Technique. Gregory Kelley, a physical therapist and certified athletic trainer at the New Hanover Regional Medical Center in Wilmington, North Carolina, said he has used it about 15 years.
After a few treatments, he said, most patients with tissue scars and adhesions notice results, even for serious injuries, such as plantar fasciitis, an inflammation of tissue that connects the heel bone to the toes. One woman with plantar fasciitis was limping in pain when she came in for an exam, he said.
"I saw her for two visits and resolved her problems," Kelley said. "As long as you do some really good evaluation before you start … you're going to have a great result."
Donald Counihan, a chiropractor at Boston Pain Care in Massachusetts, said he has been using the Graston Technique on patients with chronic pain, and has found it to help, usually in conjunction with medical treatments, such as an injection of lidocaine or cortisone, before he begins the deep rubbing with the stainless-steel instruments.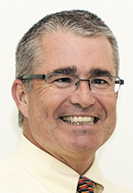 Counihan
He said hundreds of his patients have benefited from the Graston Technique, but he acknowledged that the rubbing sometimes causes bruising or soreness.
"Occasionally, people will say they don't like it," he said. "They're too sensitive [to pain]."
Arnolt sold his company five years ago to real estate investors Larry Browning and Ronald Bowden.
Browning said he paid about $3 million for it. Sales have climbed 3 percent to 7 percent a year, and are expected to hit $5 million this year, he said. The company's name has been changed from TherapyCare to Graston Technique LLC. The company has about 23 employees.
Browning gave Arnolt credit for building a solid company.
"One of the main reasons we were interested in the company is because he had built such a strong foundation," he said. "He had done such a very good job in promoting the company. He was solid in keeping costs in line. He was very, very good on the transition."
Browning added: "It was definitely his baby. He loved that company. It was not an easy sale for him."•
Please enable JavaScript to view this content.