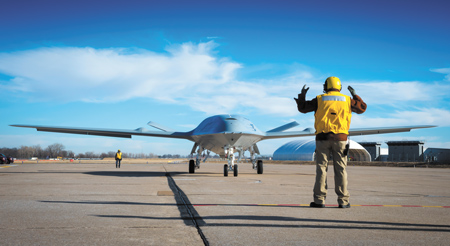 Rolls-Royce in Indianapolis has been selected to build the jet engine to power the MQ-25 Stingray, a new unmanned aircraft that promises to catapult the Navy toward revolutionary combat capability and the companies that build the sleek system toward a potential $20 billion prize.
Missouri-based Boeing Defense, Space & Security, the U.S. military's second-largest supplier, is teaming with Rolls-Royce to produce the MQ-25, the Navy's first unmanned aircraft for its aircraft-carrier fleet. The MQ-25 will refuel fighters, allowing strike aircraft to remain aloft longer and fly farther from a carrier—and possibly set the stage for unmanned combat jets to be launched and recovered at sea.
Rolls-Royce, which employs about 4,000 locally and is the state's biggest aerospace and defense employer, initially will make 72 engines for the MQ-25 but hopes to make far more. In addition, the deal represents its first partnership on a major weapon program with Boeing Defense—a company with a vast reach across the U.S. military's customer base—potentially opening the door for future opportunities.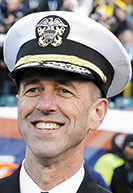 Richardson
"Rolls-Royce has always looked at the MQ-25 program as an extremely important one for us to be a part of due to the potential size of the program," said Paul Cvar, executive director of Rolls-Royce's Liberty Works advanced-technology unit who previously was vice president for customer business focusing on Boeing.
"Additionally, I think this is a big win for us because it continues to build the relationship with our Boeing Defense customer."
On Aug. 30, the U.S. Navy selected Boeing to build the MQ-25 Stingray, awarding an $805 million contract for engineering and manufacturing development of four prototype air vehicles. According to the Navy, Rolls-Royce's portion of the contract is nearly seven percent, or $55.5 million.
The Navy estimates it will spend more than $13.3 billion to buy a fleet of 72 MQ-25s, including $3.8 billion for research and development and $9.5 billion for procurement.
Boeing Defense, one of three business units of Chicago-based Boeing Inc., is betting that's just the start.
"Unmanned aircraft systems are proving critical in every aspect of air combat with MQ-25 autonomy and artificial intelligence technologies, applicable to a market opportunity of greater than $20 billion, for more than 200 production and derivative aircraft," Boeing Inc. CEO Dennis Muilenburg said on an Oct. 24 call with Wall Street investors.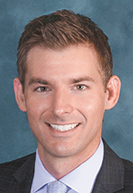 Cvar
That market analysis prompted the company to dig into its considerable cash reserves and independently finance a prototype aircraft. Boeing disclosed a $291 million loss in its third-quarter financial report last month associated with winning the MQ-25 competition. Muilenburg argued that building a demonstration air vehicle on spec could help develop a franchise product. Phantom Works, Boeing's advanced-prototyping arm, builds the vehicle.
Philip Finnegan, an expert in the unmanned-aircraft sector and director of corporate analysis at the Teal Group, based in Fairfax, Virginia, is less optimistic about the program's prospects.
"The outlook for the program is a little bit cloudy," Finnegan said, noting that the Defense Department has a long history of not buying the full number of systems it plans to at the outset of a program, and that the Navy is historically hesitant about adapting unmanned aircraft.
'Historic day'
Still, the Navy's top officer, Chief of Naval Operations Adm. John Richardson, said the advent of the MQ-25 is a big deal—arguing it will change how the service flies.
"This is a historic day," the four-star admiral told reporters the day the Pentagon picked Boeing and Rolls-Royce. "This will be really getting our feet into the water in a big way in terms of integrating unmanned and manned into the future air wing."
While unmanned aircraft have permeated nearly every part of the U.S. military, the Navy has been slow to adopt them for the carrier fleet, where fixed-wing vehicles must be launched with a catapult and recovered with a tail hook—and the stakes run high in the event of a mishap on a flight deck packed with aircraft worth hundreds of millions of dollars.
Despite the Navy's long-standing wariness, Rolls-Royce in the mid-2000s began meeting with major-weapon-system builders eyeing the possibility that such a program would take shape, Cvar said.
In April 2011, the Pentagon's top brass approved the Navy's requirement for an unmanned aircraft designed for launch from an aircraft carrier optimized for surveillance and strike missions. At that stage, the Pentagon viewed aerial refueling as a potential capability to add later.
That summer, the Navy plunked down $2 million to advance its vision for such a system, awarding contracts to Boeing, San Diego-based General Atomics, Maryland-based Lockheed Martin, and Virginia-based Northrop Grumman to draft ideas for an Unmanned Carrier-Launched Airborne Surveillance and Strike, or UCLASS, system.
Around that time, Cvar said, Rolls-Royce teamed with Boeing—a company that has delivered carrier-based aircraft to the Navy since 1925.
In March 2016, after reviewing the U.S. military's intelligence, surveillance and reconnaissance portfolio, the Office of the Secretary of Defense directed the Navy to flip its plan.
The new marching orders were to develop an aerial refueling system with surveillance capability. The strike-capability option might be added later.
That meant the four companies vying for the program, which the Navy kept busy with a steady flow of concept-development contracts, had to rethink their offerings.
As the Pentagon figured out exactly what it wanted, Rolls-Royce made the case to Boeing that the best solution for the MQ-25 was a new variant of its AE family of engines: the 3007N, Cvar said.
The turboshaft engine would provide more than 10,000 pounds of thrust and additional electrical power to support surveillance activities.
Boeing agreed.
Finnegan said Boeing's decision bolsters Rolls-Royce's already-solid standing.
"Rolls-Royce has a pretty strong position in unmanned systems on both sides of the Atlantic," he said.
The engine maker is supporting an unmanned-combat-air-vehicle project jointly funded by France and the United Kingdom, Finnegan said.
And it has built more than 7,000 AE engines in Indianapolis for civilian and military customers, including aircraft in all the military services except the Army. The engine has topped 70 million flight hours since its 1989 debut.
"The 3007 engine was already a known commodity," Cvar said. "Having an engine with that experience in the field that was able to actually—with slight modifications—perform the mission that Boeing was asking it to perform made it a very good choice for their MQ-25 offering."
'Foundational step'
If all goes as planned, each MQ-25 will be powered by a single 3007N built in Indianapolis in the 2020s on a manufacturing line Rolls-Royce is building as part of a $400 million renovation of two major plants, Cvar said.
Rolls-Royce has made more than 7,000 AE engines in Indianapolis for civilian and military customers. The AE that will go into the MQ-25 Stingray will be built on a new manufacturing line. (Photo courtesy of Rolls-Royce)
That multiyear project includes adding more than $200 million in advanced technologies.
"The 3007N engine will be one of the first engines that rolls off the assembly line in Indianapolis in our Performance Building, which is the direct result of that investment here," Cvar said, referring to the new name for the former Plant 5.
Boeing expects to carry out the first flight of the MQ-25 from a land-based runway within a year. However, the Navy won't attempt a flight on an aircraft carrier until 2021.
Boeing's MQ-25 offering won out over proposals from Lockheed Martin and General Atomics. Northrop Grumman did not bid.
Picking the aircraft was a "foundational step," but much work remains, said James Geurts, the Navy's acquisition executive.
Roll-Royce is eager to move ahead. It has a dedicated MQ-25 engineering team working with Boeing's advanced prototyping shop and the Navy to execute the four-year contract awarded in August.
"This gives Rolls-Royce here in Indianapolis an opportunity to work with Boeing's Phantom Works organization along with their reconnaissance vehicle organization," Cvar said.
"By delivering on this program, it is a good opportunity to show our ability here in Indianapolis to deliver and, through that … hopefully to build [on] that with Boeing Defense as they look for other opportunities for us to partner on."•
Please enable JavaScript to view this content.