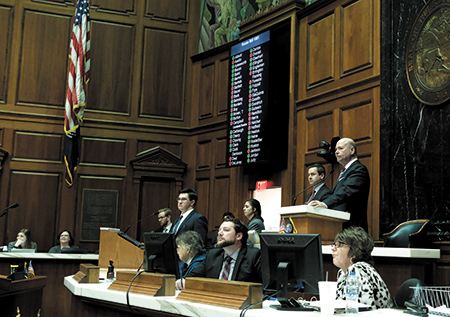 The first half of the legislative session was generally quiet (save an emotional debate about a hate-crimes bill) but that might just be the calm before the storm.
Republican lawmakers say they're pleased with the progress they've made on their top priorities: drafting a balanced budget while increasing support for education and youth services.
But Democrats argue that Republicans, who have quorum-proof majorities in both chambers of the Indiana General Assembly, haven't done nearly enough to help Hoosiers.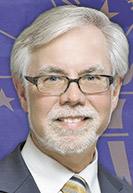 Lanane
"I was thinking about that and [about], how would the audience feel at the end of Act One?" Senate Minority Leader Tim Lanane of Anderson said. "My thinking would be, they'd probably be headed to the exits or going to the box office to seek a refund."
Only a handful of issues caused turmoil—the most notable being when Senate Democrats walked out and refused to return after the Senate voted to strip a hate-crimes bill of a list of specific victim categories.
But that could change in the second half as bills that passed their originating chamber switch sides. Major changes are expected for some of the top issues, including the massive gambling bill and the one that would keep the Indiana Pacers in Indianapolis at least another 25 years.
Here's the lowdown on six key issues.
Education funding is higher, but it doesn't mean teacher pay will be.
Key legislation: House Bill 1001 (passed 65-33), House Bill 1003 (passed 68-27)
Gov. Eric Holcomb and Republican lawmakers made a boost in funding for K-12 education and getting more money into teacher paychecks priorities for 2019.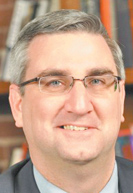 Holcomb
The $34.6 billion, two-year budget that passed the House includes $7.31 billion in fiscal 2020 and $7.47 billion in fiscal 2021 for K-12 funding, a 2.1 percent and 2.2 percent increase each year, respectively. It also includes $30 million per year for teacher appreciation grants and uses $150 million for a one-time pension liability payment that is expected to generate $70 million annually in savings for schools.
But the budget does not mandate that any of these new dollars go to teacher pay, something Democrats have criticized.
House Speaker Brian Bosma of Indianapolis said the assertion that the budget doesn't earmark money for teachers "is meaningless."
Another bill passed by the House recommends that schools use 85 percent of their funding for instruction-related costs, such as teacher salaries, and 15 percent for operational costs, such as building maintenance, but it is not a requirement.
The funding might not be enough to keep teachers happy, as talks of a walkout have started to swirl, but Bosma doesn't seem worried. "We're going to find the right place to land on this issue," he said.
Senate President Pro Tem Rodric Bray said his caucus likes the level of K-12 funding passed by the House but will try to increase the money even more.
A stripped-down hate-crimes bill survives.
Key legislation: Senate Bill 12 (passed 39-10)
The most intense debate in the first half of the session centered on a bias-crimes bill, with discussions focused on whether to include a list of specific victim categories.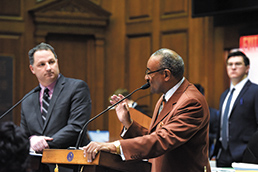 Rep. Todd Huston, R-Fishers, left, listens to Rep. Vernon G. Smith, D-Gary, during recent House debate. (IBJ photo/Eric Learned)
The bill passed by the Senate makes crimes motivated by bias eligible for stronger penalties but doesn't define bias and doesn't include a list of victim categories against whom such a crime qualifies.
Those opposed to the list argue that not having it actually makes the legislation the most inclusive, because no one can be left out. However, those advocating for the list say it's necessary to be specific to protect victims and to get Indiana off the list of five states without such a law.
Holcomb prefers a bill with a list and said he will keep fighting for that.
The Senate voted 33-16 to remove the list after the bill that included one passed the Senate Public Policy Committee 9-1. Business leaders and others who supported the version that passed out of committee were caught off guard and criticized the new version as weak and not even qualifying as a hate-crimes bill.
"It just simply doesn't get the job done," Lanane said.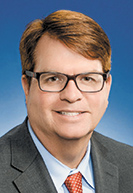 GiaQuinta
Bosma said he's already received calls from some of the top CEOs in Indianapolis and the state advocating that the list be reinserted, but he's not convinced that's the right approach or one that could pass the House.
"Hopefully, we can find room for compromise here," Bosma said.
He said the language in House Bill 1093, authored by Republican Rep. Greg Steuerwald, is preferable. That bill defines a bias crime as one committed because of the victim's "real or perceived characteristic, trait, belief, practice, association, or other attribute the court chooses to consider." It does not list specific protected classes, such as race or religion.
Steuerwald's bill did not receive a hearing, but its language could be amended into SB 12.
The bill is being assigned to the House Courts and Criminal Code Committee. House Minority Leader Phil GiaQuinta of Fort Wayne said his caucus will be "insisting on the list."
Holcomb said it's too early to say whether he'd veto a bill without a list. And he said he may be willing to testify during the House hearing, if necessary.
Professional sports and tourism funding wins Senate support.
Key legislation: Senate Bill 7 (passed 48-1)

The Indianapolis Capital Improvement Board entered 2019 with plans to present its long-term vision to lawmakers and ask for millions of dollars in new funding. So far, things are going well for CIB, even though it hasn't publicly released that long-term plan.
The Senate approved a bill that could generate up to $15 million in new money for CIB to be used for projects at the facilities it owns, including upgrades at Bankers Life Fieldhouse. The funding would come from extending the life of multiple tourism- and entertainment-related taxes and expanding the footprint of what's known as a professional sports development area.
But before any of the funding would be allocated, CIB would have to sign a 25-year deal with the Indiana Pacers. The team's lease at the fieldhouse expires at the end of 2024.
The bill also would allow up to $8 million annually to be used to fund a 20,000-seat soccer stadium in Indianapolis. But that funding hinges on CIB's signing a 25-year deal with a Major League Soccer team. The legislation gives CIB three years to secure the contract.
It also requires the team to kick in 20 percent of construction costs.
Indy Eleven owner Ersal Ozdemir has been requesting state support for years to help construct a permanent home for his team, and the fate of the request this year initially looked gloomy. Senate Appropriations Chairman Ryan Mishler of Bremen said he wouldn't give a separate bill focused on the team's proposed $150 million stadium a hearing, but he did allow soccer supporters to testify on the CIB bill.
The committee folded the soccer language into the CIB bill before sending it to the full Senate, and no amendments were filed to remove it on the floor.
After little discussion before the final vote and despite some longtime hesitation over bills that seem to benefit only Indianapolis, the Senate approved it almost unanimously.
The fight could be harder in the House, though. Bosma said his caucus hasn't talked about the issue, but he wouldn't be surprised if the bill ends up with provisions to support other communities.
Gambling changes would make major changes.
Key legislation: Senate Bill 552 (passed 38-11)
The gambling bill moving through the Statehouse would be a game-changer.
It would legalize sports wagering, let horse-track casinos add table games this year (as opposed to waiting until 2021), and allow two Gary casinos to move—one to a nearby interstate site and the other to Terre Haute.
It also removes the two-license limit on the number of casinos one operator can control.
Sen. Mark Messmer, R-Jasper, has described his legislation as a "once in a generation opportunity."
Most of the debate about his bill has centered on the impact that moving the two casinos would have on the state's other casinos. Several provisions in the bill try to compensate communities that would arguably be hurt, but Messmer still faced some opposition.
The sports-wagering provisions in the bill barely prompted any debate, even though that would be a significant change for gambling in the state.
But the bill will be a tougher sell in the House. Bosma said allowing sports wagering and opening new casinos, even under existing licenses, represents an expansion of gambling. "Any major expansion of gaming gets a lot of scrutiny in the General Assembly," he said. "I'm sure this one will as well."
Sports-betting advocates have pointed to the extra tax revenue the state could reap from regulating what's believed to be happening illegally right now, but Bosma isn't persuaded by that argument.
"We need to make the best decision on policy for the citizens in the state of Indiana and not worry about the fiscal enhancements that might occur," he said.
Alcohol issues are quiet at the Statehouse.
Key legislation: House Bill 1518 (passed 81-16), House Bill 1422 (passed 69-27)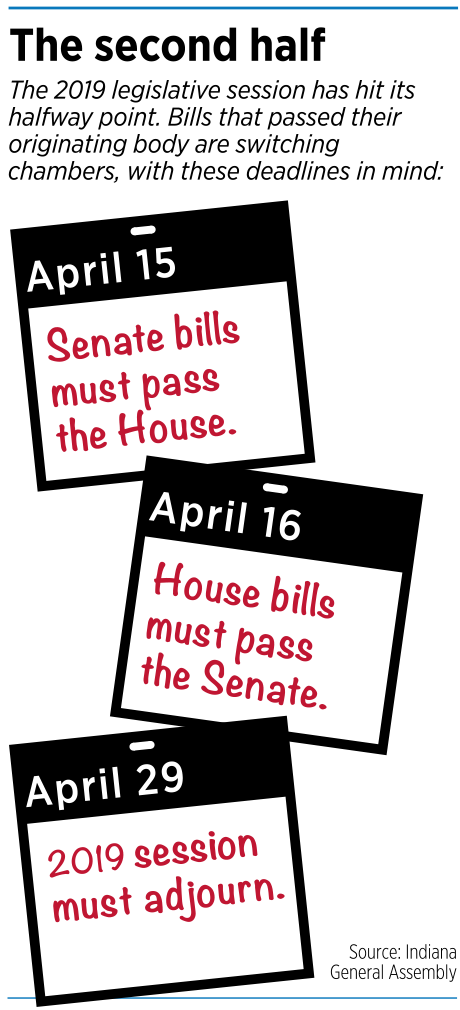 Alcohol legislation typically causes a splash at the Statehouse, but this year an omnibus bill passed the House with little drama.
HB 1518 would give cities and towns another way to increase the number of alcohol permits available and would create a special food hall permit meant to benefit the $300 million Bottleworks District development under construction at College and Massachusetts avenues in Indianapolis.
One of the more controversial provisions eliminated from the legislation would have required retailers to confine alcohol to one section of their stores. But that could be added back into the bill in the Senate.
The other key alcohol bill, HB 1422, was significantly amended at the committee level, but still includes a key provision sought by small wineries.
The legislation would allow wineries that include restaurants to take alcohol produced directly on their properties to their restaurants. Current law requires them to sell alcohol to a distributor, who has to take it to a warehouse and then sell it back to the winery or distillery before it can be sold in the restaurant.
The measure also would allow wineries to have common ownership of a winery permit and a micro-wholesale permit—something prohibited under state law today. The micro-wholesale permit allows wineries to self-distribute up to 12,000 gallons per year.
Wholesalers are opposing the changes and will likely continue to fight the bill in the Senate.
Sexual harassment policy OK'd with little-to-no discussion.
It happened quickly and it happened quietly.
During the last session, the General Assembly directed the Legislative Council to create a sexual harassment policy for lawmakers. At that time, legislative staffers had sexual harassment guidelines, but lawmakers did not.
The new policy adds a definition of sexual harassment to the ethical standards for lawmakers, allows the ethics committees in both chambers to hear complaints, and classifies any sexual relationship between a senator and an intern as unethical.
Both chambers adopted the policy in January, but did so without any real discussion.•
Please enable JavaScript to view this content.