Two years after it was acquired by New York-based IAC, melded into IAC's Colorado-based subsidiary, HomeAdvisor, then spun off into publicly traded ANGI Homeservices Inc., Angie's List is achieving record sales and planning for major growth in Indianapolis.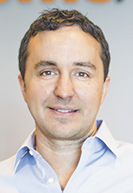 Ridenour
"The integration is done," ANGI Homeservices CEO Brandon Ridenour told IBJ. "The most surprising thing to come out of this: There was a much healthier business at Angie's List than we anticipated."
With that realization in hand, Ridenour and his staff have set a course to grow Angie's List, including the possible expansion of its Indianapolis offices as early as next year.
The plan, Ridenour said, is to "invest heavily" to grow the Angie's List sales team. The plan also calls for boosting HomeAdvisor's presence here, but the focus is more on Angie's List's growth, he added.
In the weeks and months immediately after the 2017 acquisition, analysts were predicting a much different scenario.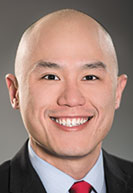 Lee
"The thought by investors was that Angie's List was going to be downsized, and the company just wasn't going to be as big as it once was—certainly not here in Indiana," said Roger Lee, senior research analyst for Columbus-based Kirr Marbach & Co. LLC. "The thought was, there was going to be a reduction of jobs, and it wasn't clear those jobs were coming back."
There was, in fact, an initial reduction in jobs at Angie's List. But that was done with a bigger plan in mind, Ridenour said.
"The initial restructure of Angie's List to right-size the business and stabilize things opened up the opportunity to begin to grow again," Ridenour said.
Still, Angie's List—which is one of a number of brands operating under the Denver-based ANGI Homeservices umbrella—has a long way to go to become as big a local employer as it was when it was an independent company.
At its pinnacle about five years ago, Angie's List had nearly 2,000 employees in Indianapolis. That was down to fewer than 1,800 when Angie's List was acquired in 2017. Now ANGI Homeservices officials say the company has more than 1,000 employees here. Most of them work for Angie's List, and that number is growing.
"Management now sees the potential for growth at Angie's List as a stand-alone business in addition to ample opportunities for cross-country efficiencies internationally," said Daniel Salmon, an analyst covering ANGI Homeservices for New York-based BMO Capital Markets.
In a recent report, Salmon gave ANGI Homeservices' stock an "outperform" rating.
"We continue to see a large untapped [total addressable market] driving a stronger network," Salmon said.
Vital to the positive outlook, analysts said, is that the vast majority of home repair referrals are still word-of-mouth.
"One of the key figures highlighting the opportunity of ANGI's is the $400 [billion] to $800 billion home services total addressable market, which 90% of activity is still brokered offline," said Youssef Squali, an analyst covering ANGI Homeservices for Atlanta-based SunTrust Robinson Humphrey.
"ANGI is focusing on removing as many of the friction points as possible in finding someone to do the work, schedule an appointment, and get them to show up," he wrote. "While the overall market is growing in the single digits annually, the shift to online from offline is occurring at a much faster rate."
While competitors such as Yelp, Google Local and IKEA-owned TaskRabbit are cropping up, the ANGI Homeservices brands have a higher level of trust among most consumers, Lee said.
Now hiring
To take advantage of the opportunity before it, ANGI is now hiring in Indianapolis, Ridenour said, with a goal of adding more than 100 employees by the end of the year. ANGI is adding the most employees in sales, with others added in product development and engineering. Most will work for Angie's List, he said.
"Something people may not remember, [Indianapolis] is really a second headquarters for ANGI Homeservices," Ridenour said. "We have a very big investment in Indianapolis."
ANGI has four offices in Indianapolis. Angie's List's local headquarters, which opened in August 2018, is at 130 E. Washington St. It also has an office at 930 Daly St., just east of Interstate 65 downtown. HomeAdvisor has offices at 342 Massachusetts Ave. and 1 Virginia Ave.
But growth might require some infrastructure adjustments.
"We have enough room for this year. But we expect more growth in 2020, and we could be looking for more real estate," he said.
ANGI Homeservices officials have made several adjustments to spur growth at Angie's List. They "spent a lot of time and money" modernizing Angie's List's platform to make sure advertisers and customers got a better return on investment, Ridenour said. One result is moving customers and potential customers to sales representatives faster.
The company also changed Angie's List incentives to better reward salespeople and imported key HomeAdvisor sales leaders to bring over best practices.
After a period of adjustments, ANGI has also started to increase the Angie's List marketing budget. It's not at an all-time high, Ridenour said, but it is up over last year by a double-digit percentage.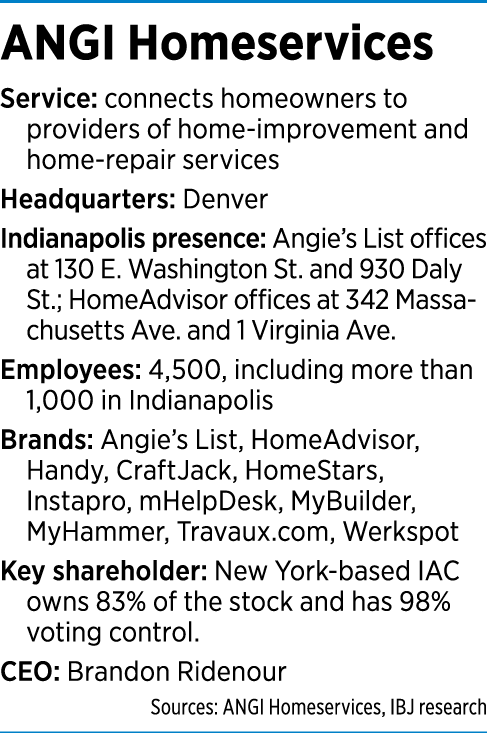 Record sales
Those changes are paying dividends.
March 2019 was the highest sales month ever for Angie's List, exceeding the previous record by 10%.
"The March 2019 result was produced with a smaller team, so it's more significant than just posting a record," he added. "That speaks to the efficiency and productivity" of Angie's List.
Some analysts have questioned the wisdom of running two companies—Angie's List and HomeAdvisor—that essentially do the same thing. To the outside observer, the strategy seems to involve unnecessary duplication. For example, HomeAdvisor and Angie's List sometimes run ads during the same television program, sometimes even back-to-back.
"Home services is an enormous market," Ridenour said. "We feel there is room for both HomeAdvisor and Angie's List to exist."
"Both businesses work and have separate audiences," he added. "There's no way to combine the marketing, and you don't want to end one because they're both good businesses."
Angie's List and HomeAdvisor "solve the same problem but work very differently," Ridenour said. "Going forward, we want to help define and differentiate their positions in the market, and tell people which is best for them."
IAC, which owns 98% of ANGI's voting stock, has a track record of operating two brands that have the same objective but work differently. The conglomerate owns and operates several dating sites—including Match and Tinder—that have different customer-attraction and revenue models.
"That's how they seek to blanket and dominate the category," an analyst who requested anonymity told IBJ.
"ANGI Homeservices is having to deal with a number of new competitors coming into this space," Kirr Marbach's Lee added, "so I think it's definitely good they have two teams working on different strategies to fend off various competitors."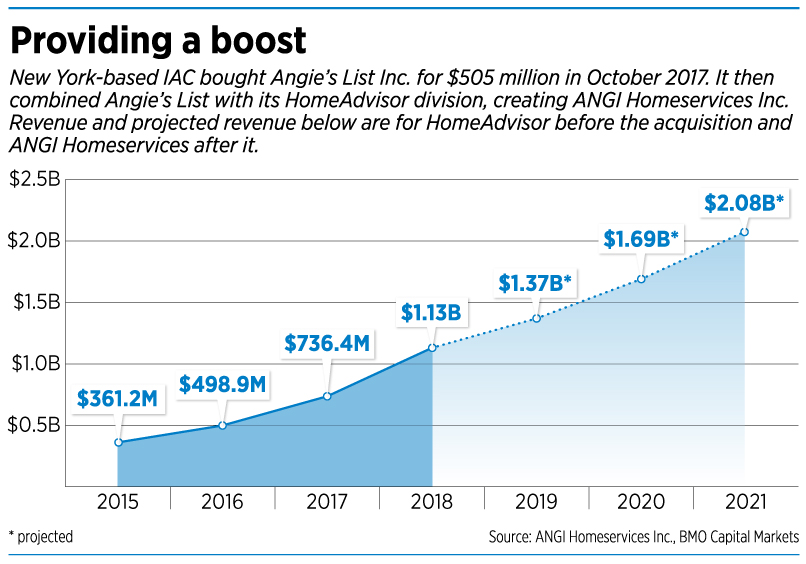 Two models, one goal
Angie's List began in 1995 when it purchased locally based Unified Neighbors, a source for neighbor-generated reviews of home-service providers. Consumers historically paid membership fees to access the company's huge trove of user reviews—intelligence that reduced the risks associated with paying for home services.
But even in its heyday of torrid growth, the company struggled to turn a profit. Then growth abruptly slowed—in part because millennials balked at paying membership fees. With fewer new members, revenue paid by service providers to advertise on Angie's List's website and in its magazine also hit a wall.
In response, Angie's List in 2016 rolled out a "freemium" business model that for the first time allowed consumers to access reviews for free. To generate revenue, Angie's List offers premium for-pay services, including price guarantees and contractor dispute resolution.
Angie's List also generates revenue from service providers. For example, Angie's List allows providers who maintain an "A" or "B" overall rating and those who have not yet received a review to pay to advertise coupons, discounts or other promotions to members through its website, magazine and call center.
Companies lose the ability to advertise if their ratings fall below a "B" or if they fail to respond to the Angie's List Complaint Resolution team.
Angie's List also earns revenue from various e-commerce offerings, including Angie's List Big Deal.
Meanwhile, HomeAdvisor has hummed along with a business model driven by per-lead fees and membership fees paid by service providers. Rather than sifting through lists of highly rated providers, as Angie's List customers do, HomeAdvisor customers respond to a succession of online questions, a process that culminates with a list of up to four recommended service providers prescreened by the company.
Angie's List seeks to be more of a comprehensive database, Ridenour said, and HomeAdvisor is more of a curated network of providers.
"The Angie's List model appeals to people who want a tremendous amount of control," he said. "HomeAdvisor is all about taking the friction out of home services. It's about being as fast and painless as we can possibly make it."
In its public filings, the company does not break out sales for Angie's List, but it's clear the growth for the Angie's List brand has spurred growth at ANGI Homeservices.
HomeAdvisor's revenue was $498.9 million in 2016—the year before Angie's List was acquired. In 2017, ANGI Homeservices reported revenue of $736.4 million and that leapt to $1.13 billion in 2018—the first full year with Angie's List in the fold.
Revenue growth is projected in the 21% to 23% range each of the next three years, topping $2 billion in 2021.
While Angie's List isn't yet profitable, Ridenour said, "We believe we will have Angie's List in a profitable position by the end of 2019."
Profit for ANGI is on the rise, from $13.1 million in 2016 to $77.3 million in 2018. With HomeAdvisor continuing to grow and Angie's List hitting its stride, ANGI Homeservices projects profit to skyrocket to $175 million in 2020 and $252 million in 2021.•
Please enable JavaScript to view this content.