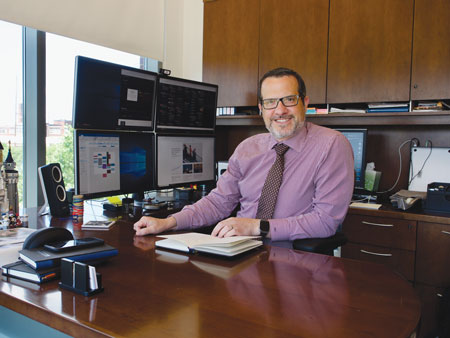 Dr. Aaron Carroll's large corner office at the Indiana University School of Medicine has floor-to-ceiling windows, but he doesn't seem especially interested in the view.
One bank of windows is nearly blocked out by four oversized computer monitors that tower over his desk, giving him plenty of screen space to catch up on medical announcements, browse email, keep in touch with his 39,000 Twitter followers, and start outlining ideas for his latest New York Times column, blog post, podcast, video or book.
Two other large windows are covered with grease-pencil scribblings that remind him of column ideas: "lead, breastfeeding, dairy/fat, drinking, pregnancy."
But one thing you won't find in this office is a standing desk, the rage of some modern workplaces, marketed for its ergonomic benefits. Carroll, a pediatrician and researcher who sees it as his life's calling to debunk what he considers health myths and weak medical research, isn't buying it. He scoffs at claims that "sitting is the new smoking" and that standing desks are much better for your health.
"There's just no evidence," he said with a laugh. "It's based on flawed research."
Carroll, the medical school's associate dean for research mentoring, spends countless hours a week combing through medical announcements, journal studies, nutritional guidebooks, public-health data and any other source he can find to try to get to the bottom of just about any health issue he thinks needs explaining or correcting.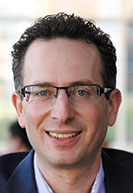 Skrovonsky
A few months ago, he set his sights on standing desks and churned out about 1,000 words for The New York Times, summarizing all the studies and claims, some in favor and some against.
He concluded that sitting all day at work might not be the problem. It just might be an indicator of other unhealthy behavior, such as sitting too much at home as well. Exercise, he concluded, was the key difference.
"But standing is not exercise," he wrote. Many health groups recommend that people at work take frequent walking breaks. Replacing sitting with standing does not fulfill that recommendation and may even mislead people into thinking they're doing enough activity."
The Times published his column in November, and nearly 300 people—many of them ardent fans of standing desks—jumped in with comments.
"I work from home so it's very, very easy to slouch on the couch with my laptop," an Atlanta woman wrote. "I like adjustable standing desks because they help with my posture."
"Please encourage people to use standing desks as an integral part of healthy living," wrote a doctor from northern Indiana. "Don't encourage 'sitting plus walking breaks,' instead encourage 'standing plus walking breaks.'dv"
Educating the public
For Carroll, it was just another week of trying to educate the American people, building the strongest argument he could with links to a dozen or so medical studies, comments from experts, and conclusions based on two decades as a physician and researcher.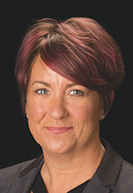 Swithers
For nearly a decade, he has used a wide variety of platforms—blogs, podcasts, videos and newspaper columns—to make his case on health care topics from gun safety to Medicare costs.
"I'm trying to place things in context, and trying to get people to have a better understanding of health research, health policy, and how all that informs health," he said.
He spends much of his time writing for scientific journals and medical forums, and conducts his own research as director of the Center for Pediatric and Adolescent Comparative Effectiveness Research at IU. But he now also has generated a large following far outside medical circles, by writing for outlets from CNN and Bloomberg News to The Wall Street Journal and The New York Times.
Some medical researchers say Carroll has a gift for taking complicated medical research and translating it into meaningful conclusions for doctors and patients.
"We need more people that can think like Aaron and see through the noise of medical data," said Dr. Dan Skrovonsky, president of Lilly Research Laboratories and senior vice president of science and technology at Eli Lilly and Co.
"Fortunately, Aaron is also a brilliant communicator and he's getting the word out on the right ways to think about medical data."
Carroll's journey into general-audience writing began about 10 years ago, when he started a blog on health research and policy called "The Incidental Economist" with Austin Frakt, a health economist at Boston University. Together, the two tackled subjects from medical billing errors and gun safety to insurance coverage and hospital readmissions.
They were at the right place at the right time, explaining complicated health care policy just as the topic was catching fire with the election of President Barack Obama, who campaigned on a promise to reform the health care system. Within a couple of years, journalists and policy advocates began turning to Carroll to explain the intricate world of health care economics, safety and quality.
The blog was cited over the years by numerous journalists, including Ezra Klein in The Washington Post, Andrew Sullivan in The Atlantic, Kevin Drum in Mother Jones, and Jonathan Cohn in The New Republic. In the process, Carroll spoke to countless groups and built relationships in Washington and across the country.
The New York Times
Soon, some of the nation's biggest newspapers began expanding their health coverage and needed experts to lay out the issues for their readers. In 2014, The New York Times started a standing feature called Upshot—driven by data, research and graphics—to examine economic and political issues.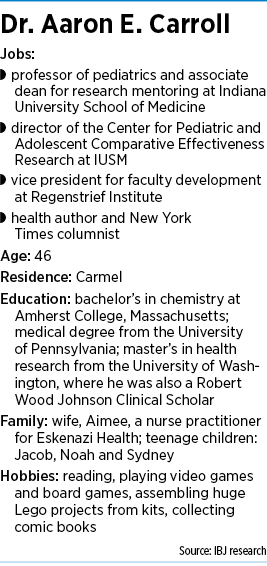 "Austin and I noticed they didn't have anyone announced yet for health policy," Carroll said. "And I convinced him, 'Let's just email and ask if they need someone.' It was just a total long-shot, cold email. … And the next thing we knew, we were assigned Mondays."
They got busy, sometimes writing together and sometimes separately on a whole range of health issues, from everyday consumer topics, such as the health benefits of coffee and the importance of wearing sunscreen, to critiques of employee-wellness programs and the maddening frustration of trying to refill a prescription every few months without spending hours on the phone with doctors and insurance companies.
Much of his writings examine the failings of what he calls a dysnfunctional health care system, a subject he approaches as a reformer and critic.
There seems to be no topic he won't broach, armed with facts and figures from numerous studies and papers, along with plenty of comments pro and con from around the medical world.
The health risks of marijuana? "No one should be under the impression that marijuana is harmless. The potential downsides are well known. Nor should anyone be irrationally exuberant about its upsides. It's not a wonder drug, and the proven benefits are also minimal."
How much water to drink? "If there is one health myth that will not die, it is this: You should drink eight glasses of water a day. It's just not true. There is no science behind it."
The dangers of fruit juice? It can be a "gateway beverage" that could lead children to drink more sugary beverages like soda.
Is breakfast really the most important meal of the day? "If you're hungry, eat it. But don't feel bad if you'd rather skip it, and don't listen to those who lecture you. Breakfast has no mystical powers."
Many of Carroll's columns for The New York Times generate hundreds of comments—from physicians and policy experts to everyday readers. His columns about nutrition, which emphasize everything in moderation with very foods to avoid, often hit the mark with readers, said Laura Chang, deputy editor of The Upshot at The New York Times.
"Perhaps his best-loved role with readers is the sober voice about the latest whiplash-inducing nutrition study," she said in an email to IBJ. "As a doctor, he knows when to convey calm, when to signal concern, and when you need to get a shot in the arm."
Fighting words
One column that generated an unexpected backlash told readers that artificial sweeteners were a better choice than sugar, and thus he preferred that his children drink diet soda instead of regular soda.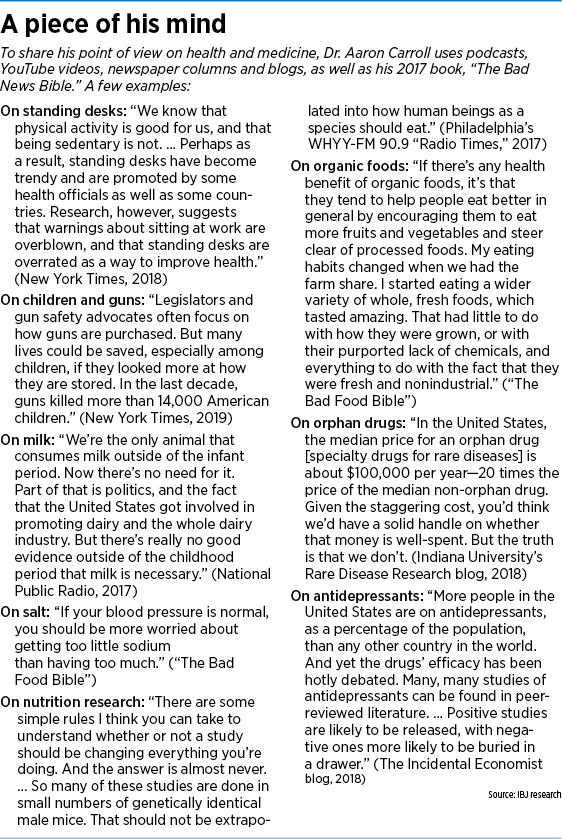 "My wife and I limit our children's consumption of soda to around four to five times a week," he wrote in 2015. "When we let them have soda, it's almost always caffeine-free, because we want them to sleep. It's almost always sugar-free. There's a potential, and probably real harm from consuming added sugars; there are most likely none from artificial sweeteners."
The reaction was intense. Some readers accused him of being in cahoots with the beverage industry for apparently advocating the drinking of so much soda. Others wanted to know why his license to practice medicine wasn't taken away. Some even demanded to see his emails.
"An advocacy organization in California used open-access laws in Indiana to demand that I hand over all my emails about artificial sweeteners and any companies that might sell diet soda," he said in his 2017 book, "The Bad Food Bible: How and Why to Eat Sinfully."
The records did not reveal hidden corporate ties, he added, but it was still personally difficult.
"It was a terrible violation of my privacy, and it ruined a month of my life," he wrote.
To this day, some health experts disagree strongly with Carroll's advice on artificial sweeteners.
Susan Swithers, a professor of neuroscience and behavior at Purdue University, said people should avoid both regular soda and diet soda, because neither is a healthy choice.
She said American advertisers and even some health professionals have "normalized" the drinking of diet sodas over the past decade in an effort to cut out sugar.
"The problem with promoting diet sodas or artificial sweeteners in general is, they don't seem to help. There's no evidence they produce any beneficial outcomes," she said.
"If you look at the long-term epidemiological studies, people who drink even one diet soda a day have increased risk for things like Type 2 diabetes, stroke, hypertension, the kinds of things that presumably we're trying to avoid."
Carroll doesn't take such disagreements personally. He just keeps reading—and writing.
"Part of what I can bring to the table that perhaps others who are not trained in this [can't]," he said, "is that I know how to read the literature. I don't have to go talk to 42 experts. I can go read the [scientific] papers. I can find the meta-analysis. I know what's a good study, what's a bad study, how to not over-interpret it. And that's what we do."•
Please enable JavaScript to view this content.