Airport officials are serious about bringing in new routes—perhaps even a trans-Atlantic route by the end of 2022—and an updated incentive plan rolled out last month could play a key role in making it happen.
The overhaul was introduced last month during a board meeting of the Indianapolis Airport Authority, a quasi-government agency that manages Indianapolis International Airport and other aviation facilities across central Indiana.
The authority committed at least $5 million over the next two years to try to attract new domestic and international non-stop flights, as well as bringing in new airline partners. That money is expected to help eliminate or cut fees that make introducing routes more expensive, while helping airlines promote their new destinations with more marketing support.
And that amount might go up in future years.
The changes to the airport's incentive offerings—the first since 2017—come as the facility tries to bring back flights lost during the pandemic and attract new ones that could be up for grabs as airlines grapple with a new approach to how they move passengers and cargo around the country and the world.
The new incentive package is "a bit more flexible and more reflective of the way that airlines are scheduling today," said Marsha Stone, senior director of commercial enterprise for the Indianapolis Airport Authority,
"We've built flexibility into the program now to recognize that the way airlines are managing their fleet, crews and network are just different and more dynamic."
The changes followed conversations between airport officials and aviation consultants, trade associations, airlines and peer airports about what Indianapolis could do to make itself more competitive as the aviation industry exits the pandemic.
Airport authorities are generally limited in what they can offer for new routes, as regulations from the Federal Aviation Administration prohibit cash handouts and, in general, overzealous spending of public dollars to attract airlines. Outside groups—such as the Indiana Economic Development Corp.—can and do often offer performance-based incentives of their own, sometimes including cash.
"There's a lot of competition out there. If you go to other … Midwestern airports, they are also putting together more aggressive incentive packages," Stone said. "We want to make sure that we remain competitive. As creative as we can be within the bounds of the [FAA] guidelines, the better it will serve us."
The new program offers a variety of incentive levels, depending on whether the route is new or an airline is restarting a previous route, the frequency of the route, whether the airline has previously flown from Indianapolis before, whether international travel is involved, and how much demand there is for a particular route.
The amount set aside for incentives will be determined through the airport's annual budgeting process, with the amount fluctuating some each year depending on market conditions and prospective new flights. Prior to the update, about $1 million was set aside this year for all incentives.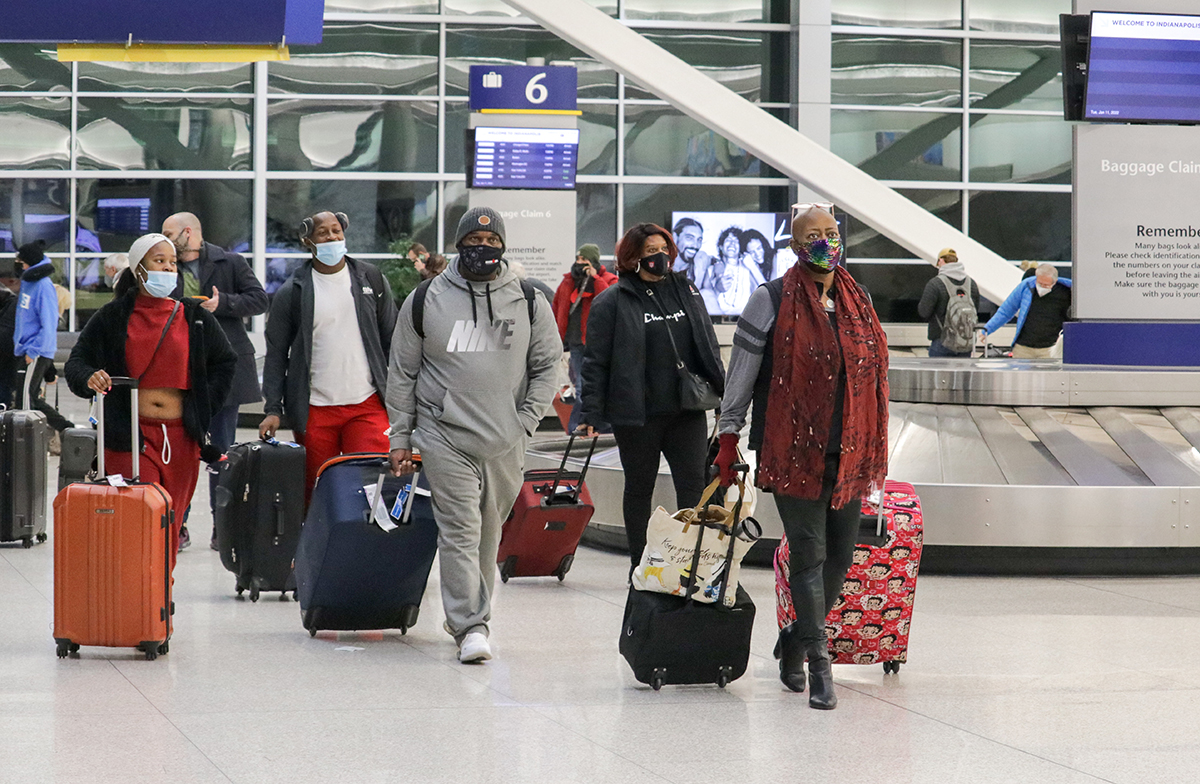 Experts weigh in
Industry professionals and academics say the Indianapolis airport is taking a standard but smart approach to bolstering and deploying its incentive program. But some say the jury is still out on how much benefit such mechanisms have on an airport's long-term success—or even an airline's decision to locate a route in a particular city.
"It's not going to make the decision for the airline, but it will definitely exhibit the airport and the community's commitment to the airline and to having that air service," said Madhu Unnikrishnan, editor of trade magazine Airline Weekly. "So, even if it doesn't make the decision, it is important symbolically."
Indianapolis and its peers—such as Cincinnati, Columbus, Nashville, Pittsburgh and San Antonio—generally compete for the same flights, he said, and a decision is rarely made based on who offers more incentives. Rather, such a choice focuses on the projected flight performance after any incentives expire.
"Airlines want to serve those airports because they're convinced that the route will be viable for years," Unnikrishnan said. "The calculus for the airline is whether this route is going to be profitable in five to 10 years."
Already this year, Indianapolis has provided incentives for at least one flight—the new Raleigh-Durham route from Frontier—and in 2021 it offered inducements for six routes, including four to Florida: Allegiant flights to Key West and Palm Springs; a Southwest route to Panama City; and a Spirit flight to Pensacola; along with United routes to Hilton Head, South Carolina and Portland, Maine.
In 2021, it updated a deal with Contour Airlines for routes to Milwaukee, Nashville and Pittsburgh, though the flight to Tennessee is the only one still active amid a continued lull in business travel.
Getting started
So why do airports offer incentives at all? Experts say that airlines tend to lose money during the first two years of operating a year-round route, so fee waivers and marketing support can help cut losses.
"There are startup costs and risks when they start a new destination or they begin service in a new market," the airport's Stone said. "And the whole intent is that they're looking to airports and communities to help mitigate that startup risk as they market a new destination."
Additionally, Indianapolis isn't a large enough market that airlines are fighting over gate access, as they might in Los Angeles, New York or Atlanta. Instead, Indianapolis is competing with other cities.
"It's a bit of a complex relationship, because in some aspects, when you look at all these airports, you are dealing with competition," said Troy Allen, chair of the aviation technology department at Indiana State University. "But there's this environment of assistance and willingness to help one another."
In fact, Indianapolis and its peers generally offer similar routes, though Nashville tends to serve a stronger mix of large and mid-sized cities. Allen said anything Indianapolis can do to separate itself from its competition will go a long way.
"So when you can offset some of the costs, and you can eliminate some of the risk factors of coming into the market, that is going to incentivize" airlines to take a closer look, he said. "They're going to take a good look at it, and … possibly increase their flights into an airport. This [update] will get their attention."
IBJ requested copies of incentive plans for each of Indianapolis' peer airports, but representatives for each facility either did not respond or forwarded the request to others under their state's open records law. None sent plans by IBJ's deadline.
An international affair
The incentives Indianapolis is using to attract trans-Atlantic travel is significantly more attractive than for domestic flights. In fact, the airport has set aside up to $4 million over the next two years to bring in one or more routes. That is part of a concerted effort to bring back the Paris route and introduce a flight to another European destination, like London.
Delta Air Lines established a route to Paris in 2018, only for it to cease during the pandemic. And London has been on the airport's wish list for more than five years, with British Airways considering a route that could have started this summer before the effort sputtered out in late 2021.
The new incentive plan, a supplement to the airport's larger incentive strategy, provides more fee waivers on trans-Atlantic flights, along with money for marketing and other back-end support.
"We have definitely put a more aggressive package together [that's] very focused on a trans-Atlantic flight," Stone said.
While Stone and others are optimistic a trans-Atlantic route will return to Indianapolis in the next two years, the incentive plan lays out a more aggressive timeline if an airline wants to earn incentives. A route must be announced or started by the end of this year for a carrier to take advantage of the program.
Under the airport's previous supplemental plan for European routes, it would spend about $1 million to waive fees and about $300,000 on marketing support in a single year. The 2022 plan calls for about $2 million in support each of the next two years.
In addition to the airport programs, the Indiana Economic Development Corp. in 2018 created a $20 million fund to lure new international flights to Indianapolis as part of Gov. Eric Holcomb's $1 billion Next Level Connections initiative. So far, the state has spent about $5.5 million of that, all of which went to wooing the now-paused Paris route.
The state and airport have identified other cities, including Mexico City, Tokyo and Frankfurt, Germany, as potential routes. Indianapolis already has service to Cancun and Toronto.
On the domestic side, the state has offered incentives most recently to Contour Airlines, but also gave boosts to Allegiant and a 2014 route from United Airlines connecting Indianapolis to San Francisco.
In a statement, the IEDC said it does not follow a formula for offering airline incentives, but rather, works directly with partner airports to determine what should be offered for each flight.
"In terms of incentives, each offer is tailored to meet the needs of the specific airline," the statement said. "They may go toward promotional and marketing support to raise awareness for potential customers, to a minimum revenue guarantee, or it could be a per passenger fee, meaning the airline receives a certain amount for each passenger."
Passengers matter most
But experts say even with state and local agencies sweetening potential deals with partner airlines, the return of international travel still hinges on an uptick in business travel, which hasn't recovered since bottoming out in early 2020.
Prior to the pandemic, the airport's split between leisure and business travel was 55%-45%, respectively. So far this year, it's been closer to 80%-20%, according to airport officials. And to entice any airline—whether it's domestic or international—there needs to be a focus on rebalancing the airport's customer base a bit, experts say.
"The business case has to make sense, and we are starting to see a return of business travel," Stone said. "Obviously there's geopolitical, there's economic—there's so many factors that play into it, but I still think that the potential [is there] for 2023 or 2024. We continue our dialogue regularly with all the carriers and we're doing everything we can to be well-positioned when all those stars align."•
Please enable JavaScript to view this content.