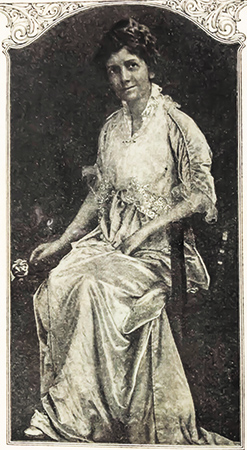 Although Albion Fellows Bacon spent most of her life in Evansville, she devoted a considerable amount of time and attention to Indiana's capital, effectively promoting social-reform causes to which she was passionately committed—most prominently housing conditions, but also the welfare of children.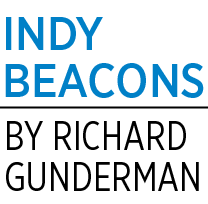 Bacon was born in 1865, the year the Civil War ended. Her Methodist minister father, who was also her namesake, died when she was young. After graduating from high school, she went to work as a secretary for her uncle, a judge, a job in which she grew accustomed to interacting with men. In 1888, she married a successful Evansville merchant.
After the birth of their second child, she entered a long period of depression, from which she emerged partly through writing poetry. Visiting her offspring in school, Bacon encountered children who were growing up in difficult circumstances, and she felt a calling to dedicate herself to improving the conditions of their lives.
Visiting the riverside slums of Evansville, she was shocked by what she saw. Not only were the people's living conditions poor and disordered, but they all seemed to have "the same hopeless look," with "not a gleam of inspiration on a single face." Asking why they lived in such squalor, she was told their landlords refused to make any improvements.
Bacon felt it was up to her to help "right these terrible wrongs." She and other women began visiting families, teaching poor wives and mothers how to keep their houses and families and improve sanitation. Encountering resistant and even hostile husbands and fathers, she enlisted men to accompany her, and soon a men's circle of visitors was born.
In 1908, she became involved in promoting building ordinances to improve living conditions, but Evansville's mayor was not keen to act on them. Realizing that poor living conditions were found elsewhere in the state, she began drafting a statewide housing-reform bill. The next year, she presented her bill to the Legislature, where it was passed but restricted to Indianapolis and Evansville.
In 1911, she returned to Indianapolis to present a more comprehensive bill, but it was defeated by one vote. Two years later, she was back at the Statehouse, where this time the bill passed. The same thing happened again in 1915 and 1917—a stronger Bacon-authored housing bill was defeated, only to be passed two years later. For the first time, so-called "death traps" could be condemned.
Bacon described her work in her 1914 book, "Beauty for Ashes." She wrote, "It is a glorious thing to be standing at the gate of opportunity, to be in the sweep of great movements, in the current of all good purposes, in the company of lofty souls … . Only so can one bear to look down into the shadow and hear the wail of the helpless and suffering and feel their burden as one's own."
Bacon soon shifted her focus to child welfare, seeking to prevent the manpower shortage of World War I from drawing children into the labor market. Thanks to her efforts, children in Indiana would be required to remain in school through at least the eighth grade. She also worked hard to improve the state's juvenile justice system and the recreational facilities available to children.
Through her leadership of the Indiana Child Welfare Association, the State Commission of Child Welfare, and the Indiana General Federation of Women's Clubs, Bacon played a pivotal role in securing support for a bill in the General Assembly that supplied funds for the creation of Riley Hospital for Children, named after her friend the "Hoosier Poet," James Whitcomb Riley.
Bacon died in 1933 at the age of 68. Looking back on her life, she recalled that "year after year, the demands on me grew heavier, as church work, charity work, and civic work made irresistible appeals," and her life increasingly resembled "a case of frenzied philanthropy."
Yet through her lifelong efforts, the lives of the poor and voiceless had been immeasurably enriched.•
__________
Indy Beacons celebrates the history of Indianapolis in the year leading up to its May 2021 bicentennial by telling the stories of famous city residents. It appears the second and fourth issues of every month. Gunderman is chancellor's professor at Indiana University.
Please enable JavaScript to view this content.