Should teachers be required to return to the classroom during the pandemic?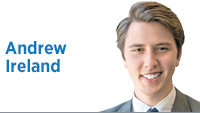 Five months ago, schools across Indiana transitioned seemingly overnight to remote instruction. Following that hurried first stab at online classes, we have all learned important lessons about both the coronavirus and K-12 e-learning.
This month, our schools face a choice of whether to return to in-person instruction and, if so, what to do with educators who are understandably apprehensive about the new, inherent risks of the classroom. Flexibility and transparency must be at the heart of these decisions—empowering local leaders, educators, parents and students to make wise choices for their unique situations.
The 25-year-old, first-grade teacher who lives alone faces a different reality than the high school educator of 40 years living with an elderly, disabled parent. At-risk educators or those who live with at-risk individuals should be afforded alternative work arrangements, including options for remote instruction, curriculum consultation and development, and paid or unpaid sabbaticals.
For educators with low-risk profiles, communities must provide them with robust measures to combat the spread of the virus and transparently measure each school's performance, ensure they are afforded a safety net should they become ill, and remain flexible to changing situations in their homes and classrooms.
The state, for its part, can support these decisions by developing best-practice models for local districts for both preventing the spread of the virus and ensuring e-learning options adequately prepare Indiana's children for the world. For a return to in-person learning to work, it will also require investments in PPE, increased nursing staffing in schools, and technology-accessibility programs to help provide rural and underprivileged students internet in the home so they can effectively quarantine should they be exposed. Indiana's fiscal discipline over the past decade will hopefully now afford our schools the additional resources necessary to do just that.
The risk of contracting coronavirus was not in anyone's job description, whether that be the factory workers and first responders who helped keep the lights on this summer or the educators who are being asked to return to the classroom this fall.
Whenever we can appropriately mitigate that risk in the workplace, we should. When we cannot, we must be willing to face the virus's spread with smart, nuanced policies that balance the needs of our workforce and the people they serve.
Recent threats by teachers unions about "safety strikes" and by lawmakers about cutting funding to the schools that go fully remote are both unhelpful. In-person instruction remains a superior choice for most students and families without increasing significant health risks to them.
Ideally, all communities will provide both an in-person and online option for K-12 students, with additional hybrid instruction options for high schoolers who remain at a higher risk for spreading the virus but who also are more capable of completing their coursework at home without daily parental supervision.
This fall will be a challenge and an opportunity for educators—a chance to reflect on how they deliver coursework and to innovate.•
__________
Ireland is a third-year law student and Robel Scholar at Indiana University's Maurer School of Law. Send comments on this column to ibjedit@ibj.com.

Click here for more Forefront columns.
Please enable JavaScript to view this content.