The Lilly Endowment is cashing in again.
In a move that signals the Indianapolis-based endowment is about to make another large round of grants to organizations in Indiana and beyond, the not-for-profit is selling hundreds of millions of dollars' worth of stock in its namesake company, drugmaker Eli Lilly and Co.
Since early March, the endowment has sold 1.3 million shares of Lilly stock, raising $391 million, according to government filings.
The stock sale is a primary way for the endowment, one of the largest private philanthropic foundations in the United States, to raise cash to make grants to arts, education, religious and community development organizations.
Lilly stock accounts for nearly all of the endowment's formidable wealth, or 89.5% of its assets, according to its latest financial filings.
And as the drugmaker's stock has continued to surge—up about 56% in the last 52 weeks—so have the endowment's assets, which stood at a whopping $21 billion at the end of 2020, the most recent figures available.
That reflected a one-year increase of 23%, or $4.03 billion. Since 2010, the endowment's assets have nearly quadrupled, making it the second largest private foundation in the U.S., according to research group FoundationMark.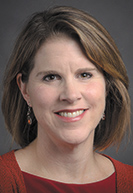 Those rising assets mean the Lilly Endowment has to give away more money. Under federal law, private foundations are required to make charitable donations equal to or more than 5% of their assets during a given year.
In 2020, the endowment paid $773.2 million in grants, and approved $807.8 million in new grants. To raise cash to pay out those new approved grants, the endowment is selling shares of Lilly stock.
"When the market value of those assets is high, the endowment must generate additional cash to cover the required distribution amount," Judith Cebula, the endowment's spokeswoman told IBJ.
It's a time-tested way for the endowment to raise cash. Since 2003, the Lilly Endowment has sold more than 46 million Eli Lilly and Co. shares, or about 30% of its holdings. In the past two years alone, it has unloaded 6 million shares.
Even so, the endowment remains the largest holder of Lilly stock, with 107.5 million shares or about 11.3% of the drugmaker's outstanding shares as of Dec. 31, 2021. The next biggest holders are Vanguard Group (7.3%), BlackRock Inc. (6.7%) and PCN Financial Services (5.4%).
The wealth of the foundation has ballooned since it was founded 84 years ago with a gift of Lilly shares from J.K. Lilly, son of company founder Col. Eli Lilly, and his sons Eli and J.K. Jr.
The first donations of 17,500 shares were originally valued at $262,500, according to the endowment's website. By 1971, their combined gifts (after stock splits) amounted to nearly 32 million shares valued at $94 million.
Several non-family members contributed another 210,000 shares, valued at $1.1 million. And the endowment was included in the estate plan of Ruth Lilly, the daughter of J.K. Jr., resulting in gifts from her beginning in 2003 totaling more than $200 million, the endowment said.
During the past eight decades, the endowment has made grants of more than $10 billion to 10,048 charitable groups.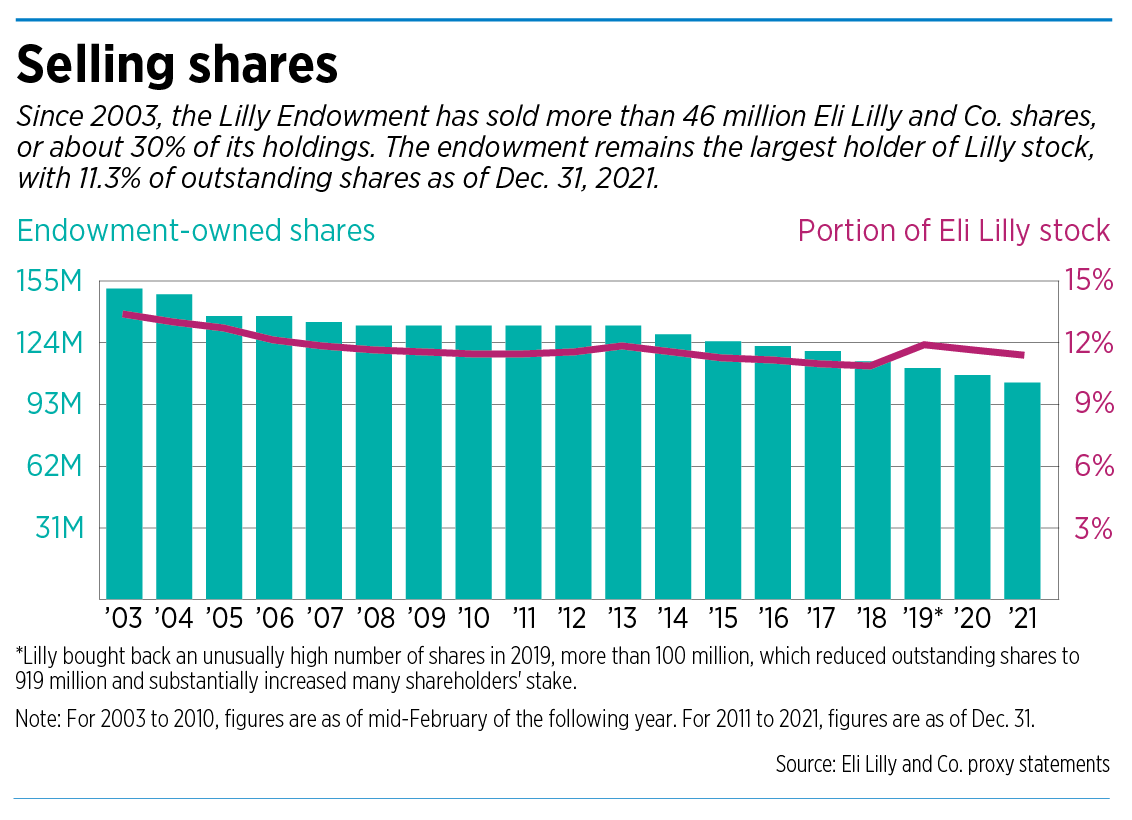 Joined at the hip
Despite all the selling of Lilly stock, the endowment remains heavily concentrated in it. As of Dec. 31, 2020, Lilly stock accounted for $18.7 billion of the endowment's $21 billion in assets.
That means the fortunes of the two organizations are joined at the hip. As long as the drugmaker continues to make money and sees its stock rise, the endowment will likely be in good shape.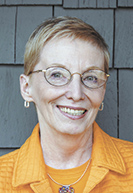 "The reverse of that, of course, is, if you're heavily invested in one stock, and it tanks, then you're going to have much less money to give out," said Jessica White, a retired Indianapolis fundraising consultant.
Companies typically don't like to see large shareholders unloading millions of shares, which might reflect worries about the company's future. All that selling could depress its stock price.
But if Eli Lilly officials are concerned that their largest shareholder is selling hundreds of millions of dollars of stock in recent weeks, they aren't showing it.
"Please note that the Endowment's sales represent less than 1% of activity throughout the quarter, as our large shareholders routinely buy and sell on a regular basis throughout the year," Eli Lilly spokeswoman Molly McCully wrote in an email to IBJ.
At the moment, Lilly has the luxury of watching its stock rise, despite the activity of its largest shareholder. Lilly shares have climbed almost relentlessly—up 252% in the past five years, far outstripping the 92% gain in the Standard & Poor's 500 during the same period. Lilly shares closed at $289.02 on March 25.
And analysts say the stock still has room to grow. Of 21 analysts who follow Lilly, 13 have a "buy" rating on the stock. Five have a "hold" rating, two have an "outperform" rating, one has an "underperform" rating. No analysts have a "sell" rating.
Some analysts say the stock could climb to as high as $335 in the next 12 months.
Steve Scala, a pharmaceutical analyst at Cowen Inc., said Lilly has a strong pipeline of drugs, including experimental medicines for diabetes and Alzheimer's disease. That's on top of its current offerings across a range of diseases, from migraine headaches to cancer.
"A newer product portfolio with good growth prospects, and late-stage agents poised to launch over the next few years, building confidence in Lilly's … growth forecasts," he wrote to clients on March 4. He is predicting the stock will hit $300 within a year.

Diversifying, slowly
All of this means the rising fortunes of Lilly's shares are pushing the Lilly Endowment to raise more and more cash to make a higher level of grants each year.
Of course, the endowment has other sources of cash, including dividends from Lilly stock. Last year, the drugmaker paid $3.40 a share in dividends, worth $365.5 million to the endowment.
But the endowment has for years focused heavily on the sale of Lilly stock for its cash. In fact, it announced 15 years ago a sell-off strategy to diversify its holdings.
In 2006, the endowment pledged to sell $2 billion in Lilly stock over the next few years to lessen the risk of having its assets so concentrated in one stock.
Investment analysts hailed the decision as smart—and even overdue. The endowment sold $390 million worth of Lilly shares through September 2008, reinvesting the money in indexed mutual funds. Then share prices slumped during the Great Recession, and the sell-off stopped.
Lilly Endowment lost 26% of its value in 2008, falling from $7.7 billion to $5.7 billion. It bottomed out at $5.3 billion (2009 and 2010) before posting gains, along with the company.
In 2014, it began selling large blocks of Lilly shares again.
How much more the endowment plans to sell of its namesake stock remains a closely guarded secret. The endowment declined to make executives available for an interview and said it does not have a target mix for its assets.
"We have regularly indicated that our plans regarding this topic could be significantly altered depending on changes in market conditions and other circumstances," Cebula said in an email.
She added: "We also have stated that the Endowment intends to maintain as its primary investment asset shares of stock in Eli Lilly and Company, which were donated to the Endowment by its founders. The climbing Lilly stock price is a significant factor in our deliberations."•
Please enable JavaScript to view this content.