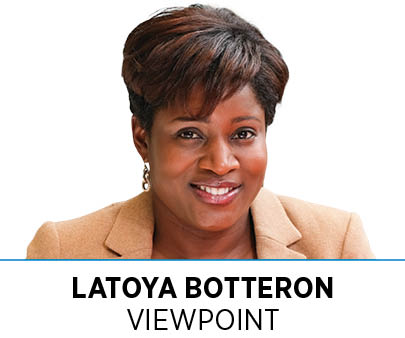 On North Delaware Street in Indianapolis is a place unique to Indiana, to our country and to me. It is the home of the 23rd president of the United States, who said, "An American citizen could not be a good citizen without a hope in his heart." Let me share how that sentiment speaks to my story, and how Benjamin Harrison's legacy still works to bring hope to the hearts of our citizens today.
For many people, like me, who grow up in developing countries and move to the United States, becoming a U.S. citizen is part of our life's great ambitions. The U.S. represents boundless opportunity that is not limited by the political turmoil, lack of resources or the diminutive geographical size of our home nation. In the minds of many people living outside our borders, the potential for success in America is limitless.
In so many ways, I am a testament to the achievement of that dream.
I am the seventh of 10 children and grew up with a grandfather who was college educated in Trinidad and England in the 1940s. I started my citizenship journey in New York City and now I am a Hoosier by choice, becoming a U.S. citizen on July 3, 2013, at the Benjamin Harrison Presidential Site.
Being naturalized at the home of a president who was a pioneer advocate for voting rights for African Americans and gaining citizenship in a year when President Barack Obama was in office was so poignant. I am just one example of what's possible if people have fair access to opportunity and the capacity to step fully into those opportunities.
So when I learned about the book-of-names project being planned as part of the Benjamin Harrison Presidential Site's "Old Glory, New Vision" capital campaign, I had to get involved. The incredibly successful capital campaign has already exceeded its $6 million goal. The impressive plan to renovate the grounds and national historic landmark is well underway and scheduled for completion by early 2023.
The campaign includes the goal of having the names and countries of every citizen who has been naturalized at the presidential site since 2003—more than 1,500 people—listed in what is officially being called the "Book of History." But privacy laws preclude the federal government from providing those names publicly. So, we need your help.
This one-of-a-kind Book of History will be situated in the heart of the site's new Citizenship Plaza, with the goal of documenting and honoring as many of those new citizens who were naturalized at the presidential site as possible—only with their permission.
If you are one of those naturalized citizens, let us know. If your friend, spouse or colleague is one of those citizens, please share this column with them. It is an honor that future generations will have the opportunity to see. We need your help getting the word out!
Email bookofhistory@bhpsite.org for more information.
If my grandparents had been alive in 2013, they would have been so proud to see me become a U.S. citizen and would have thoroughly enjoyed a tour of the Benjamin Harrison Presidential Site, a place that now holds personal significance for me. And while they'll never have the chance to see me listed in the Book of History, I know their great-grandchild, my son, will. That brings hope to my heart—and I believe it will to many of our fellow citizens as well.•
__________
Botteron is chief operating officer and chief financial officer at Central Indiana Corporate Partnership Inc.
Please enable JavaScript to view this content.