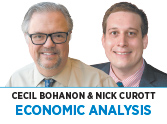 Whenever the release of economic data signals a large and unexpected change in an economic variable, there are four things of which we can be sure. First, if it is good news, the occupant of the White House will declare it proves how incredibly effective and wise the current administration's economic policies are. Second, if the surprise is bad news, the occupant of the White House will declare the bad news is caused by something beyond the control of his policy. Third and fourth: The chief spokesperson for the opposing party will declare the exact opposite.
So what to make of last week's unexpected dip in GDP? Partisan posturing aside, perhaps it is useful to recall what gross domestic product is and what it is meant to tell us. GDP reflects total national production of final goods and services sold in the market. It is important to recognize that the dollar value of production of final goods in an economy is not identical to the well-being or living standard of the residents of the economy, although the two are inevitably related.
There is a centuries-old debate as to which of these should be the measure of a nation's economic well-being. Mercantilism argues that a production metric is the best measure of national well-being. Classical liberals argue that consumer living standard is a more appropriate metric. GDP certainly reflects a mercantilist perspective.
Here are two examples of where GDP calculations go awry with common sense because of their narrow focus on production, rather than human well-being. Suppose there is a perfectly usable parking lot adjacent to a public building. Now say the federal government spends $50,000 to remove the lot and rebuilds the same parking lot to its original specifications. GDP accounting will credit this as $50,000 in new GDP. Yet this is absurd.
Say that Mom earns $100,000 as a psychologist and Dad earns $50,000 as a handyman. Both Mom and Dad decide that Dad should cut back to part time to spend more time with the kids. The household is better off in a myriad of ways. His extra time at home is worth more than his lost earnings. But as his earnings drop, GDP declines by an equivalent amount.
This is not to say GDP is a "bad" statistic, or irrelevant—nor that changes in GDP don't matter. GDP reflects production: well and good. But that's not all there is to an economy.•
__________
Bohanon and Curott are professors of economics at Ball State University. Send comments to ibjedit@ibj.com.
Please enable JavaScript to view this content.