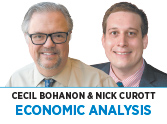 A few years ago, a certain retirement village in east-central Indiana boasted a 110-year-old female resident. She was ambulatory; her senses and sensibilities were relatively unimpaired.
One day at lunch, a new employee approached her table in a state of distress. The employee informed her that FBI agents were looking for her! The elderly lady nodded serenely and calmly left the table. When she returned moments later, she informed the group that the purpose of the officers' visit was to confirm she was alive and well, and that her Social Security check was not being procured on fraudulent grounds. No, Great Granny was not laundering money nor dealing heroin out of the old-folks home.
While we are all heartened to hear stories of active super-centenarians and mourn their passing (she died just short of her 114th birthday), there is a fiscal downside to increased longevity. Our national pay-as-you go old-age pension scheme, the Old Age Survivor Insurance (OASI) part of Social Security, is put under financial strain.
The most recent report of the Social Security Trustees paints the overall picture. The 276-page tome forecasts the OASI trust fund will be depleted in 2033, a year earlier than reported last year. After 2033, estimated revenue to OASI will pay only 76% of the estimated scheduled benefits.
Poring over the details, the report confirms part of the bad fiscal news is attributable to good medical news. In 1940, deaths among those 65 years old and older were 9,719 per 100,000; by 2019, they had dropped to 4,753 per 100,000, a decline of over 50%. The trustees estimate a further 18% decline, to 3,897 per 100,000, by 2035.
But didn't COVID-19 disproportionally harm the 65+ population? Well, yes, it did. The 65+ death rate rose 17% in 2020, to 5,083 per 100,000. But that good news (whoops, we don't mean that, one of us is over 65!)—rather, that positive fiscal impact, ends up being more than offset by a decline in tax revenue to the OASI from the COVID-related recession, bringing the estimated trust fund depletion a year closer.
Rising life expectancy is a great miracle and blessing. Unfortunately, it wreaks havoc on defined-benefit pay-as-you go annuity schemes. Social Security must be reformed. Even the rosiest economic forecast won't let us grow our way out of insolvency. And apparently, even the worst medical plague won't let us die our way out, either!•
__________
Bohanon and Curott are professors of economics at Ball State University. Send comments to ibjedit@ibj.com.
Please enable JavaScript to view this content.