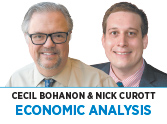 California is awash in a wave of "organized retail crime," wherein mobs of crowbar-wielding crooks smash their way into upscale retailers, stuff luxury-brand products into bags and speed off in getaway cars. Thieves cash in by reselling their plunder, usually online.
Some commentators have pooh-poohed use of the term "looting" to describe these events, and maybe they have a point. After all, looters usually take advantage of a riot, natural disaster or some event that gives occasion for spontaneous mass stealing. Recent thefts are far from spontaneous—they are planned, coordinated and even strategic.
Case in point: One of the latest victims was a Los Angeles-area Home Depot, where the smash mob cleaned the hardware store out of hammers and crowbars—criminal "investment" that portends more organized thievery to come.
What's driving this crime spree? Some blame the pandemic, but there's a deeper and more obvious explanation that many "social justice" advocates would rather you ignore. In 2014, California voters enacted Proposition 47, which recategorized numerous criminal offenses—including shoplifting and grand theft—from felony to misdemeanor if the goods are worth less than $950. Local observers reported noticeable increases in shoplifting in the ensuing years, as crooks now had less to fear should their crimes even be reported to police.
The 2019 election of an ultra-progressive district attorney in San Francisco, Chesa Boudin, turbocharged the crime wave. Boudin ran on a platform of reducing incarceration of nonviolent offenders and has since made good on that pledge by radically cutting back on prosecutions of property crimes.
As any economist will tell you, when you change people's incentives, you change society's outcomes. When you reduce criminal penalties and stop prosecuting thugs, don't be surprised when crime soars.
The data bears out the cause-and-effect sequence here. In San Francisco, the percentage of reported shoplifting cases ending in arrest steadily declined from 59% in 2014 to 17% for 2021. This is just for reported thefts—it is likely that many, if not most, thefts go unreported, as exasperated shopkeepers have virtually no hope of bringing the thieves to justice under the new regime of "compassion" for criminals.
Keeping people and property safe is the primary role of government. Crime control must rely on a viable threat of swift and appropriately severe justice being meted out to all bad guys. Let's learn from California's woes: Leniency for criminals is a recipe for social decay and economic distress.•
__________
Bohanon and Curott are professors of economics at Ball State University. Send comments to ibjedit@ibj.com.
Please enable JavaScript to view this content.