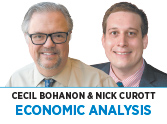 President-elect Joe Biden has signaled a willingness to work with the next Congress to offer some form of relief to college debtors. While there are numerous arguments for college loan forgiveness, the one we find the least convincing and most curious is that it is a matter of social justice. Most self-identified social justice advocates usually couch justice as a matter of redistribution of income, wealth or opportunities from the most fortunate to the least fortunate.
However, the lifetime earnings of college graduates are estimated to be, on average, over $400,000 more than that of high school graduates. This advantage is shared by those who graduate with student debt. In 2016, more than 63% of all student debt was held by those in the top half of the earnings distribution. Even the most debt-laden college grads can rarely be classified as among "the least fortunate."
Another perspective on justice is equal treatment of equals. An Iowa factory worker saved and scrimped and worked overtime so his daughter could go to college. She graduated with no debt. A higher-paid worker at the same factory bought a boat and turned down overtime opportunities while his daughter took out student loans. Earlier in the year, the first factory worker pressed then-presidential candidate Elizabeth Warren whether her student loan forgiveness program would give a refund to his family. Warren said no, and the father responded: "So we did the right thing, and we get screwed?" A bit strong? Maybe. But he has a point. The ant is supposed to come out better than the grasshopper.
Adam Smith, father of modern economics, had a lot to say about justice in his "Theory of Moral Sentiments." He argued the rules of justice were rigid and precise and "admit of no exceptions or modifications." Interestingly, his first example of the principle: "If I owe a man 10 pounds, justice requires that I should precisely pay him 10 pounds."
A recent BSU graduate we know left college debt-free. He worked throughout his college career and his family contributed to a tax-preferred 529 account. He is grateful for his debt-free status and reluctant to condemn all cases of college debt forgiveness. But he concurs with Smith's general principle. In our grad's words, "If you agree to a loan, you should be held to it." We concur on both points. Justice might require loan forgiveness in some cases, but blanket loan forgiveness seems to us both foolish and unjust.•
__________
Bohanon and Curott are professors of economics at Ball State University. Send comments to ibjedit@ibj.com.
Please enable JavaScript to view this content.