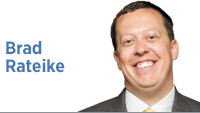 I graduated from Franklin College 20 years ago this month. The liberal arts mentality should be that, "The world is your oyster," and that you have learned "how" to think and are therefore prepared to apply your abilities to be successful. Great goal, hard to execute.
As a "diversified" English major who focused a bit more on campus "activities" than academics, I had no clear professional path upon graduation. Sure, I believed my coursework had taught me to consume, interpret and analyze information in a manner that would be useful for an employer, but no amount of confidence is going to get past serious vetting while "owning" a 2.8-ish GPA from a school that is not a member of the Ivy League.
The Mark Twain quote, "I never let my schooling interfere with my education" seemed brilliant to me while I was "earning" that GPA, but anyone interviewing for a first job knows that environment is a "no-Twain-spin zone." I needed a career mentor, immediately, if not sooner.
Fortunately, a few professionals far wiser than I provided me with sage advice, sometimes delivered as an unvarnished dose of reality. They said, in not-so-diplomatic terms, "Work your tail off, keep your opinions to yourself, and be humble". I understood the message. They explained this advice was tailored for "most" college graduates, not me specifically, so I took it to heart but did not take it personally.
This imparted wisdom was top of mind when I met recently with a soon-to-be-graduate. I attempted to be more gentle in how I conveyed my opinion because egos, no matter from which generation they hail, are fragile and hard to legitimately repair. However, tough love, if administered with true "love," is often the best way to deliver advice that might (or might not) take root.
Time will tell if I was effective in my delivery of said advice. I tried to not be dismissive of the person's emphasis on having "work-life balance" (in a first job), despite my knowing multiple employers who would laugh at that idea. Onboarding is not like hazing in a fraternity. Empowering new hires to be set up for success is the top priority for many businesses that "get it."
I also encouraged this person to exercise discernment in their social media footprint, without implying that freely expressing opinions might be disqualifying if they post "things" deemed immature/naïve/counterproductive.
Finally, I did mention that, while activity does not equal progress, especially when it relates to meeting basic expectations of a job, working harder AND smarter (with a healthy layer of intuition), will often result in upward mobility, in perpetuity. That is not a novel concept, but it might be unfamiliar to some.
Anyone in a position to advise someone entering the workforce naturally wants to "mentor" them in a similar manner to which they had been mentored. That's fair, as long as you partner patience, aggression and self-awareness with candor and kindness.
That is not a hard-and-fast rule, but if you play the odds, you will likely position your mentee to highlight their best qualities (beyond GPA) and help them find that opportunity to be hard-working, humble and diplomatic with a boss who "gets it." Hopefully, we all strive to be the boss who "gets it," so we can optimize those who go to great lengths to be on our teams.•
__________
Rateike is founder and owner of BAR Communications and served as director of cabinet communications for President Donald Trump. Send comments to ibjedit@ibj.com.

Click here for more Forefront columns.
Please enable JavaScript to view this content.