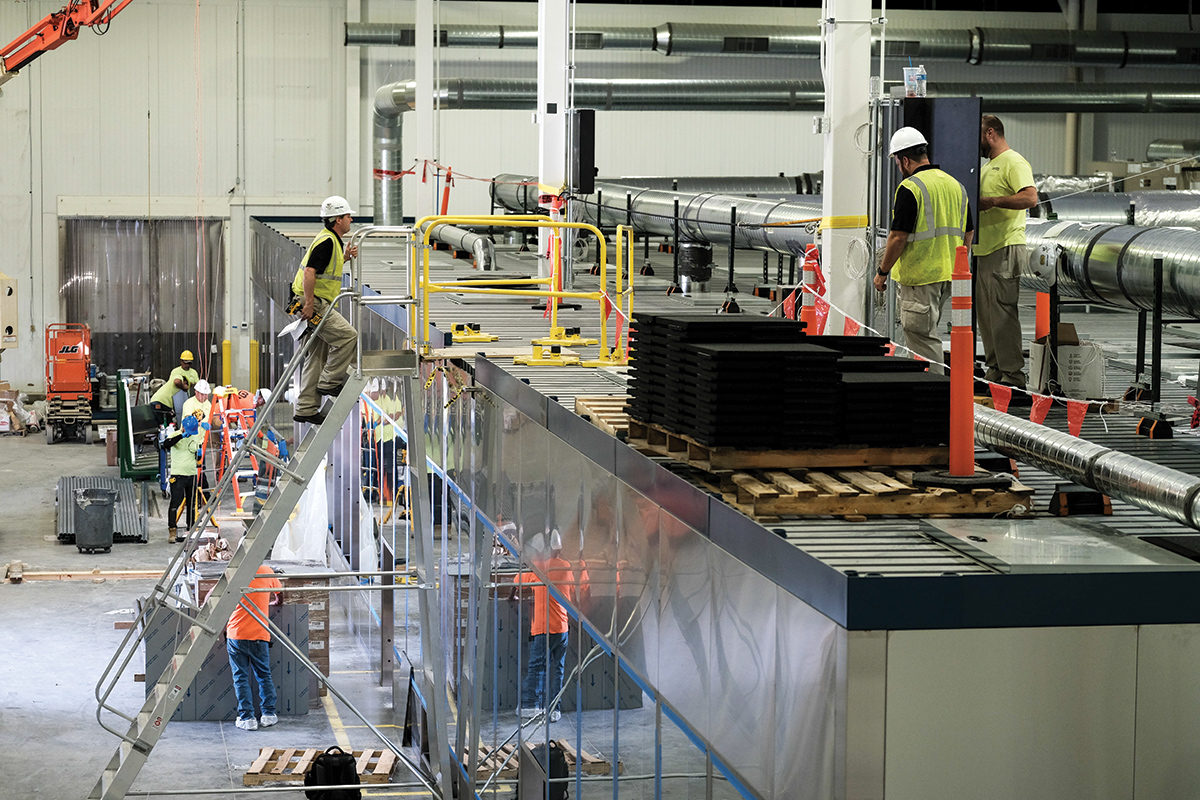 It's a blur of activity inside the cavernous industrial building off of Georgetown Road as workers race to get everything set up and running by the end of August.
Just a year ago, this 77,000-square-foot building was used as a distribution center for an Italian food company. But now, it is being converted into a manufacturing plant for Indianapolis' newest publicly traded company, Point Biopharma Inc., a 17-month-old firm that is developing radioactive compounds to treat cancer patients.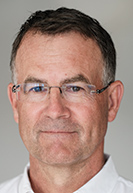 As forklifts scurried across the floor and workers moved laboratory equipment into place, Todd Hockemeyer, executive vice president for manufacturing, led a whirlwind tour of the offices and factory floor, pointing out the clean rooms, production rooms, labs and command center.
"This little workstation right here is basically about $180,000 worth of equipment," he said, pointing to a large apparatus inside one of the quality control laboratories.
The plant is designed to make radioligand therapies, a technology that holds the promise of delivering radiation to the site of cancer cells in a more precise manner than chemotherapy.
The young company, formed last year, is the latest player in a field expected to see explosive growth as doctors and researchers look for new ways to shrink tumors and extend patients' lives.
The global market for nuclear medicine is expected to quintuple in about a decade, from $6 billion in 2019 to $30 billion in 2030, according to MEDraysintell, a European research firm specializing in nuclear medicine.

Nuclear medicine hub
Much of that growth is expected to take place in the Indianapolis area, where companies from as far away as England, Switzerland and Australia have invested more than $160 million in the past two years to build or expand radiopharmaceutical operations.
They are attracted to the area for a variety of reasons, including the region's central location, its extensive vendor network and Purdue University's nuclear pharmacy program, the largest of its kind in the country.
Some players predict that radiopharmaceuticals could represent a major milestone in medicine, on a par with anesthesia, X-rays and organ transplants.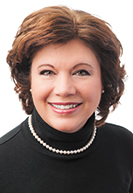 "We are at the start of a revolution, and it's taking place right here in Indiana," Tiffany Olson, president of Cardinal Health Nuclear & Precision Health Solutions, said during an online panel discussion in May hosted by BioCrossroads, an Indianapolis-based group that promotes and invests in the life sciences sector.
Cardinal Health, based in Dublin, Ohio, opened a 64,000-square-foot plant in Indianapolis in 2017, dedicated to manufacturing Bayer Healthcare's Xofigo, a radioactive drug for treatment of patients with castration-resistant prostate cancer.
And this spring, Cardinal Health announced plans to open another large operation, this one for research, development and contract manufacturing of radiopharmaceuticals.
Meanwhile, other large players are setting up shop or expanding their operations in Indianapolis. Novartis AG, based in Switzerland, is building a 50,000-square-foot plant near the Indianapolis International Airport to make radiopharmaceuticals to treat various cancers.
The move comes just a few years after Novartis bought Endocyte Inc. of West Lafayette, for $2.1 billion. Endocyte was developing an experimental radiopharmaceutical drug for prostate cancer.
That drug is still under clinical trials. But a radiopharmaceutical drug made by another company Novartis recently bought for $3.9 billion, Advanced Accelerator Applications SA, was approved by the U.S. Food and Drug Administration to treat certain cancerous neuroendocrine tumors affecting the digestive tract.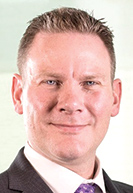 Last year, Curium, a nuclear medicine company with headquarters in London and Paris, purchased Zevacor Molecular, one of the first radiopharmaceutical players here, which had built a $10 million plant in Noblesville.
They are all scrambling to get a piece of a sector that is snowballing and could transform how doctors and hospitals treat many cancers.
"You're seeing this amazing thing," said Joe McCann, CEO of Point Biopharma. "I don't know all the forces that necessarily brought us all together in Indianapolis. But we are just at the beginning, I think, of seeing how powerful these drugs are going to be in the treatment of all types of cancers for patients."
BioCrossroads, which is keeping a close eye on the emerging cluster, says radiopharmaceuticals are a promising new way to deliver drugs to cancer patients.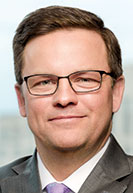 "Indiana will continue to be a leader as this industry grows," said Brian Stemme, the group's senior vice president.
Quick start
For some players, like Point Biopharma, growth is happening at a dizzying pace. Unlike some industries, where a startup can expect to spend years forming a management team and raising millions of dollars, the radiopharmaceutical industry is sweeping up old and new players alike.
Point Biopharma got started when a Toronto urologist, Dr. Neil Fleshner, found it necessary to send a prostate cancer patient to Germany in 2017 to receive what was then an experimental cancer treatment. The treatment, radioligand therapy, delivers radiation to targeted cancer cells, with a minimal effect on healthy cells.
Fleshner, a researcher who had written more than 400 research papers, began thinking about how to make radioligands more accessible to patients. His idea resulted in the formation of the company in February 2020. Fleshner now serves as chief medical officer.
But just a month after the company started, the pandemic hit, and Point Biopharma, with its top brass in Toronto, was forced to retreat into a virtual mode.
"We were all confined to our homes," McCann said. "We never had an opportunity to create any office space."
With the industry exploding and no time to dawdle, Point Biopharma made an audacious decision. Just three months after its founding, it announced it would open a $25 million manufacturing facility in Indianapolis and employ 113 workers by the end of 2024.
That's when the company hopes to launch its first drug, a radioactive isotope called lutetium 177, for prostate cancer.
If that sounds like a bold bet for a startup with no products yet on the market, McCann said he is confident his company's leading compound will work as predicted, shrinking tumors, and will win FDA approval.
He pointed to research by other drugmakers on lutetium therapies that shows the compound is effective. In March, Novartis announced its late-stage study on another lutetium-based compound met all its goals, significantly improving overall survival in patients with metastatic castration-resistant prostate cancer.
The pharmaceutical giant pointed out that more than 80% of prostate cancer tumors highly express a biomarker called prostate specific membrane antigen, making it a promising target for radioligand therapy.
"And so, based on that, and our clinical design, we feel very confident that this will read out positive," McCann said. "There's a lot of data already out there that's supporting our very bullish position on this agent."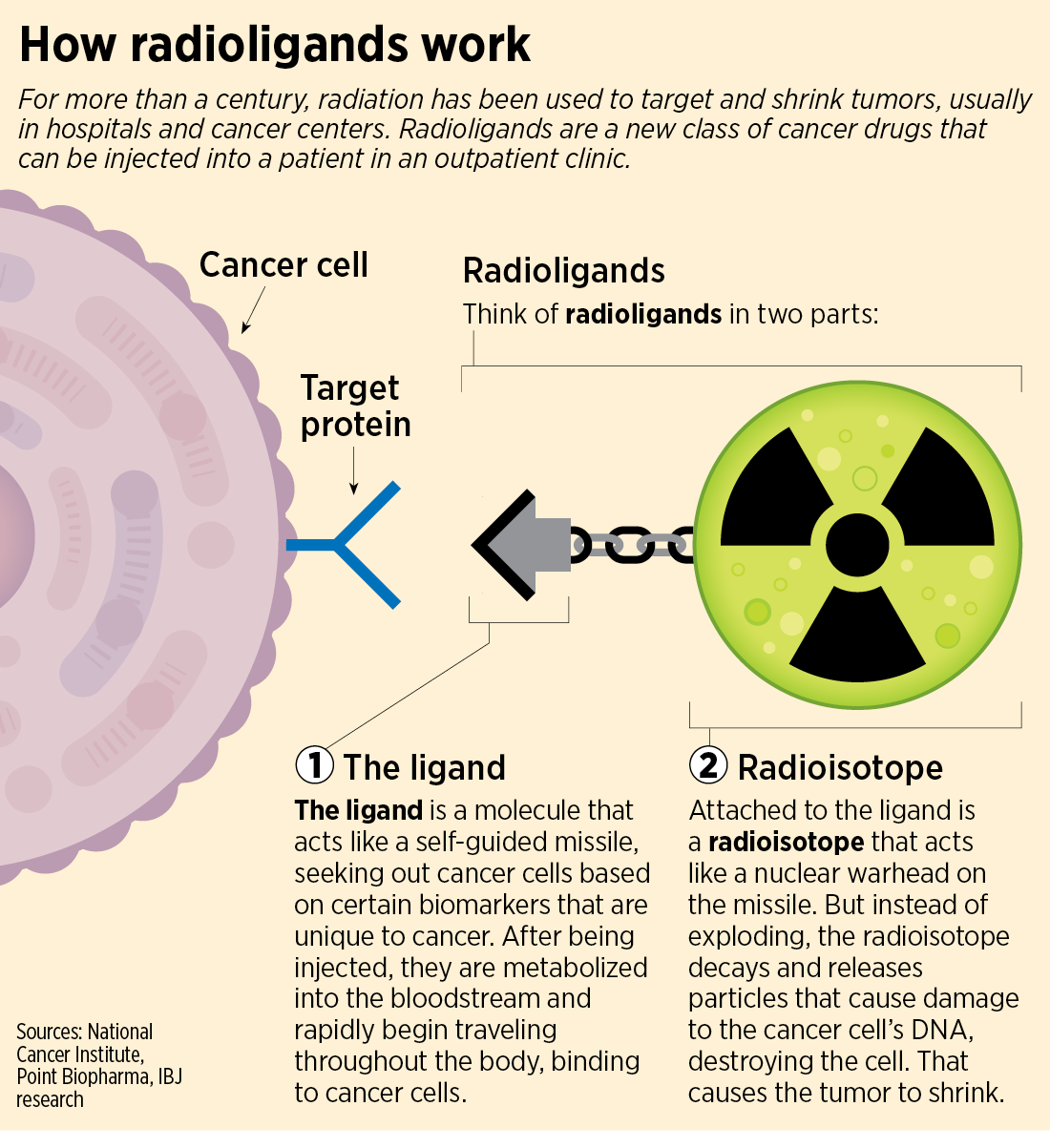 Late-stage trials
In the meantime, Point Biopharma plans to make small batches of the drug in the factory in coming months for its clinical trials. In May, it dosed the first patients in its late-stage prostate cancer trials in Nebraska and Texas, using a compound made by a Canadian contract manufacturer. The compound is administered by injection in a clinic or hospital setting that is certified to handle radioactive materials.
The company wants to bring the compound in-house in coming months, when it hopes its Indianapolis plant is up and running. And once the drug is approved, the company plans to make larger batches here, so it's available for patients who are waiting for them.
Unlike many pharmaceutical startups, which often contract with outside manufacturers to make their drugs, often for several years, Point Biopharma wants to keep manufacturing in-house.
Point Biopharma said the drugs are too specialized to hand over to an outside manufacturer. In addition, they are made just in time for use.
Radioligands, by their nature, begin to decay immediately after being manufactured. Their job, once they are injected into the body and find a tumor, is to break down and release particles that cause damage to the cancer cell's DNA, destroying the tumor cell.
That means the radioligands have an extremely short shelf life. Unlike pills for heart disease, depression or birth control, which are good for months or years, radioligand medications last less than a week or two.
"There's only this five-day window that we have to make it, test it, ship it and get it infused," Hockemeyer said.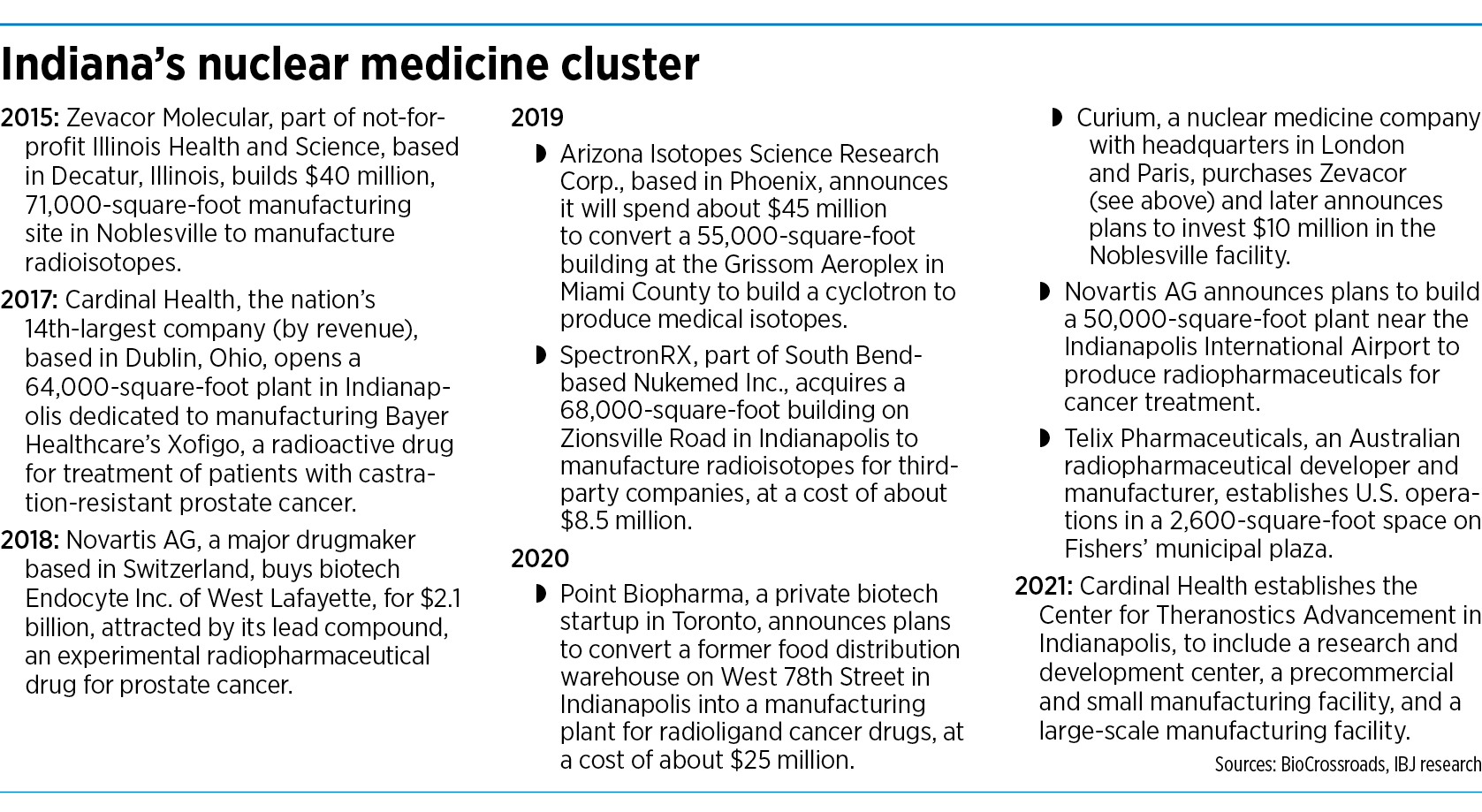 Central location
That's one reason Point Biopharma and so many other players are flocking to Indianapolis to form perhaps the largest radiopharmaceutical cluster in the country.
Radioisotope manufacturers must make and ship their products on a precise schedule. Indiana's central location, coupled with an airport that houses the second-largest FedEx hub in the world, "makes it the perfect location for radiopharmaceutical manufacturing and distribution," BioCrossroads' Stemme said.
In addition, Indiana operations such as Cardinal Health's contract manufacturing plant and FedEx's hub all have the necessary licenses and permits to handle radioactive material, he said.
Industry officials agree.
"It is quite logical that Indiana is becoming a hub for such development," said Mike Sherman, former CEO of Endocyte, which was bought by Novartis for its radiopharmaceutical pipeline. "When you're faced with the very short shelf lives of radiotherapy products, where you produce them and how you distribute them really matters."
If the flurry of getting the company off the ground during a pandemic and building a factory weren't enough, Point Biopharma still had a few surprises.
In late June, the company announced it had completed a business combination with Therapeutics Acquisition Corp., a special purpose acquisition company (SPAC), that resulted in Point Biopharma's instantly going public and trading on the Nasdaq exchange under the ticker PNT.
As a result of the combination, Point Biopharma received $286.7 million from an array of investors, including RA Capital Management, Johnson & Johnson Innovation, Farallon Capital Management and BVF Partners.
And it began using Indianapolis as its address in government filings, signaling that the company had moved its headquarters from Toronto to Indiana.
When asked about this, McCann first called Indianapolis "a hub" and a "tremendously important" location, home to the company's largest facility, its manufacturing plant. But he said most of the leadership, including him, will remain in Toronto. "But I think it's important to confirm we have more people in our Indianapolis location than any other location."
When pressed to identify the company's headquarters, McCann finally said, "The headquarters is in Indianapolis for Point."
'One fell swoop'
Why the rush to go public? McCann said the company wasn't looking to give up its private status. It had raised $45 million in a seed round and a Series A round by July 2020.
But with no products and no revenue, it faced the need for huge amounts of outside capital to fund the construction of a manufacturing plant and conduct late-stage clinical trials. The company met with investors in search of more money.
The player with the most interest, Boston-based RA Capital, offered to help raise close to $300 million and roll the two companies into a SPAC to take them public quickly. "So after considering that, and the amount of capital that we could raise through that process, in one fell swoop, it became attractive," McCann said.
In recent months, the company has been in a race against the clock to get the factory completed in time to produce small batches for clinical trials by the end of the year.
On a recent tour, Hockemeyer pointed out the location and purpose of every room, from where employees would gown up to where the final product would be shipped out the door.
The work rooms, framed with stainless steel beams and large windows, have a clean, antiseptic look.
The centerpiece of the factory is a suite of rooms that will produce the radioligands, complete with "hot cells," or large, lead-shielded enclosures to protect workers from radioactive contamination. That section of the factory will have robotic arms that will handle the radioactive product in a highly automatic series of moves.
Workers will set up the equipment and prepare the solutions.
"Then they'll push 'go,'" Hockemeyer said, "and watch the operation to make sure it goes through the necessary steps."•
Please enable JavaScript to view this content.