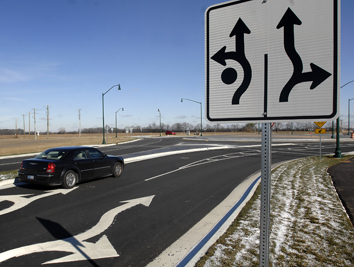 Carmel leaders are studying if they should set a speed limit to slow motorists as they approach and drive through the city's famed roundabouts.
The Carmel City Council introduced an ordinance Monday night that would establish a 20 mph speed limit for each of the city's 150 roundabouts. The ordinance next goes to the city council's Finance, Utilities and Rules Committee for more discussion.
City Council President Jeff Worrell told his fellow council members that Mayor Jim Brainard originally proposed setting a speed limit for the city's roundabouts.
"I've heard from councilors who say, 'I cannot support this' [and] I get that," Worrell said. "What I would like to do is to get it to a hearing, get it to a forum … where we can have people who we've all seen have very strong opinions about this both for and against, and we can give them their opportunity."
Worrell, who said he is not currently for or against the ordinance, added that he rode with Carmel Police Department traffic officers last week and he came away with the impression that it would be possible to enforce a roundabout speed limit.
"What is probably misleading, and I'm going to have to work on in committee, is that we're not trying to control the speed in the roundabout. It is the entry into the roundabout, which is 225 feet where everything is signed," Worrell said. "So, if we could slow traffic down, that may or may not be of value."
Indiana law does not allow a speed limit lower than 20 mph, so the city cannot consider a slower speed limit for its roundabouts. Carmel does not currently have a city-wide roundabout speed limit.
Carmel, the self-proclaimed "Roundabout Capital of the United States," has more roundabouts than any other city in the United States. The city prefers roundabouts over traffic lights because studies show they decrease serious crashes.
Carmel opened its two most recent roundabouts in late October at the intersections of Matt Street and Millgate Drive and Grisham Drive and Twain Drive in the Courtyards of Carmel community.
The city only has eight remaining traffic lights.
Please enable JavaScript to view this content.