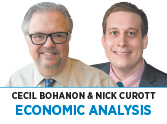 The United States government is the largest, most creditworthy borrower on the face of the planet. At the time of this writing it is paying just over a 1% interest rate for its newly issued 10-year bonds. The U.S. plays an outsized role in the world economy. It has deep and well-established financial markets, relatively secure property rights and the dollar is fully convertible. Investors can always sell their U.S. government debt.
The logic of the U.S. government borrowing trillions of dollars for its citizens in the time of the coronavirus has a certain appeal. Millions of U.S. households and small businesses have zero or reduced incomes. We are in a bind through no fault of our own. We desperately need a loan to tide us over. Compared to each and every one of us seeking out such a loan, it makes sense for Uncle Sam to borrow for all of us at the low rate he has access to. We will then pay back the loan as best we can through future tax payments. This is in the spirit of Jimmy Stewart's plea in the movie "It's a Wonderful Life" to the residents of Bedford Falls: "We're all in this together." At least in theory.
First, many of the recipients of increased federal coronavirus spending, such as universities and state and local government entities, are not federal taxpayers and will never pay back the loans. Second, there is no real link to the loans Uncle Sam is taking out for us and our repayment schedule. That's not how government debt currently works.
But we think there is a way to structure federal borrowings so that they are more like personal loans. To take a cue from Marc Goldwein at the Committee for Responsible Federal Budget, we propose $1 trillion of new debt be specifically issued as Corona Bonds. The bonds should be long term and be backed by a small surtax on current federal income taxes earmarked for their repayment.
This would be good policy. First, it reinforces the notion that the current payouts to household and business are a "one-off"—not a new permanent way of life. Second, it would certainly impress financial markets that the U.S. is not an entirely profligate nation. It would protect and probably enhance our elevated status in the world economy.
The coronavirus has given us fiscal lemons—let's make some lemonade!•
__________
Bohanon and Curott are professors of economics at Ball State University. Send comments to ibjedit@ibj.com.
Please enable JavaScript to view this content.