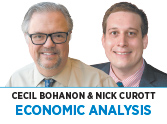 Most everyone, including us, was pleasantly surprised by last week's news that the unemployment rate fell from 14.4% in April to 13% in May. A few hours later, however, reports emerged that the 13% May figure was suspect due to a misclassification of the data. So, what's up? Here is the story.
When the U.S. Bureau of Labor Statistics interviews an individual as to his or her employment status, if the individual has a job but is on vacation, or is at home because of illness, or is taking care of a sick relative, the individual should be classified as employed but absent from work. The individual is also sub-classified as to the specific reason for the absence. Options include the above-mentioned reasons, additional reasons, and a catch-all "other" sub-classification indicating some unspecified reason for not being at work. Note that whether the individual draws pay from his or her employer during the absence has no impact on the status of being employed. On the other hand, if an individual is temporarily laid-off from the job, the individual is considered unemployed, even if drawing unemployment compensation.
So how should BLS count the servers or hair stylists who did not work because of COVID-19 workplace closures? Technically, they ought to be counted as laid-off and unemployed. But apparently this isn't happening.
The BLS began to think something was wrong back in March, when they compared the employed-but-absent numbers to those in March 2016-2019. The numbers were roughly the same in all subcategories, except for "other"—and the numbers in that subcategory were booming. In April 2020, 8.1 million were classified as employed-but-absent for "other" reasons, while only 600,000 were so classified on average in the April reports of the last four years. BLS rules prohibit interviewers from coaching those being questioned as to which category they ought to be placed in. If the server not working wants to say he is employed-but-absent for "other" reasons, the BLS interviewer cannot change the response to laid off. Throwing the excess "others" into the April pool of unemployed makes the April unemployment rate around 19.3%, compared to the reported 14.4%; and the May rate around 16.2% compared to the reported 13%.
So, the bad news is that the number of people unemployed in the COVID-19 era has been underestimated. However, the good news is that unemployment did decline substantially from April to May. And we love good news.•
__________
Bohanon and Curott are professors of economics at Ball State University. Send comments to ibjedit@ibj.com.
Please enable JavaScript to view this content.