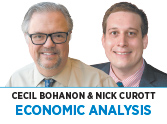 It is time to end qualified immunity, the judicial policy that shields police officers from the legal consequences of violating the constitutional rights of citizens.
The current turmoil over police brutality shows that many Americans still do not have the protection and equality under the law they deserve. Eliminating qualified immunity would be a substantive step toward addressing the problem.
Last week, however, the U.S. Supreme Court decided not to hear any petitions to reexamine qualified immunity. Now it is incumbent upon citizens, the states and Congress to change the law to ensure police are held accountable for misconduct.
Qualified immunity is a court-created policy that prevents victims from suing government agents unless there is a violation of "clearly established law." Originally intended to protect law enforcement from frivolous lawsuits, qualified immunity is now used to throw out police misconduct cases unless there is a nearly identical precedent.
In the case of Jessop v. City of Fresno, police officers stole $225,000 worth of non-evidentiary assets during a search. The case was thrown out because there was no previous ruling that such bald seizure of property violates Fourth Amendment rights, even though the court admitted the theft was wrong.
This case and many more like it boggle the mind. Police are free to engage in outrageous behaviors as long as those behaviors are uniquely outrageous and have not been previously ruled a violation.
Qualified immunity creates a legal cul-du-sac, a classic Catch-22. When cases are dismissed because there is no established precedent, the court does not answer whether a rights violation took place. Therefore, when a similar incident happens in the future, there is still no clear precedent.
Qualified immunity hinders the most common and effective mechanism that exists in our society for curbing police misconduct: suing for civil damages. By protecting cops against misconduct, qualified immunity facilitates cops' engaging in bad behavior.
Lower the expected costs of bad behavior by police and expect to get more bad behavior by police. This is not a vilification of our police officers. It is a recognition of a simple economic principle. No one is above the law nor immune to economic incentives.
Eliminating qualified immunity, or at least significantly reforming it, would substantially improve the relationship between the police and the communities they are there to protect. Sure, frivolous lawsuits are a problem. But the answer is not carte blanche immunity from all personal responsibility.•
__________
Bohanon and Curott are professors of economics at Ball State University. Send comments to ibjedit@ibj.com.
Please enable JavaScript to view this content.