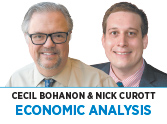 What to do with federal unemployment insurance? Until recently, approximately 25 million individuals were getting $600 a week in federal unemployment benefits. That provision has expired. We hope the debate raging on Capitol Hill results in a compromise informed by economic research.
The $600 a week benefit authorized back in March by the CARES act was an extraordinary measure. During the last recession in 2008, federal assistance came to around $25 a week per worker.
But there are good economic reasons to extend federal benefits for yet another round. Both the coronavirus and government mandated shutdowns have led to an unprecedented number of unemployed workers. Eliminating federal assistance leaves the involuntarily unemployed reliant on state programs, which provide an average of only $350 a week. Who wants to see millions of Americans stuck in such dire financial straits? In addition, these unemployed workers will inevitably cut back spending, tanking business revenue and profits, and driving up rent and mortgage default rates. All this will deepen the recession.
Unfortunately, paying unemployed workers $600 a week has a major flaw. It significantly reduces their incentive to search for a new job. And that's the rub. The key to optimizing unemployment insurance is paying the right amount. Pay too little and the unemployed can't make ends meet. Pay too much and the unemployed take a paid vacation at taxpayers' expense. Economic research suggests that replacing around 65% of the income that workers made in their jobs gets this tradeoff about right.
Viewed in this light, $600 a week is far too generous. Recent studies find this level of assistance yields a replacement rate of more than 100% for far too many workers. In other words, typically unemployed workers are collecting more from unemployment benefits than they did from their job when they were working. Even the most bleeding heart must concede there is something terribly wrong about that.
Economic research also suggests two other changes to incentivize unemployed workers. First, the amount of assistance should be phased out over time: so perhaps $600 to $300. This is far more efficient than setting a drop-dead date when assistance ends. Second, unemployed workers who find new jobs should be given a monetary bonus, perhaps in the form of a week or two of continued unemployment payments.
As usual, economic logic finds a tradeoff to optimize. We hope a pragmatic compromise will prevail over Washington's typical partisan wrangling.•
__________
Bohanon and Curott are professors of economics at Ball State University. Send comments to ibjedit@ibj.com.
Please enable JavaScript to view this content.