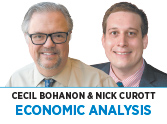 Between the rumble and cacophony of the first presidential debate, the two candidates did agree on one thing: The U.S. trade deficit is the most relevant metric for assessing the benefit the United States obtains from international trade. The larger the trade deficit, the worse off we are. Moreover, trade surpluses are most beneficial to our economy—the larger the better. And that all goes double with China.
Economists pretty much across the board think this is a grossly misleading simplification, arguing instead that a nation's trade balance is more a byproduct of its investment opportunities and proclivity to save.
Consider a slow-growing nation with an older population, where people save lots of their income and where there just aren't many investment opportunities yielding high returns. Let's call this high-savings/low-returns nation Germany and call its currency the Deutschmark. Compare it to a fast-growing nation with a younger population, where people do not save a lot of their income but where there are lots of investment opportunities yielding high returns that go unrealized for lack of funds. Let's call this low-savings/high-yield nation Poland and call its currency the zloty. Savers in Germany will inevitably be attracted to high-yield investment opportunities in Poland.
If capital markets are open between the two nations, German savers, or more typically their financial intermediaries, will want to acquire more Polish zlotys to seek out Poland's higher investment returns. This will bid up the value of the Polish zloty, making German export goods and services cheaper and more attractive to Polish consumers. Correspondingly, the increased value of the zloty makes Polish goods and services more expensive to German consumers. This generates a trade deficit for Poland and a trade surplus for Germany. If Germans want to buy Polish assets, they must pay for them with German goods.
Although it might surprise many, the United States is actually more like our hypothetical Poland than like Germany. Economic dynamism has always made our country an attractive place to invest. Add in our size, our rule of law, our deep and liquid financial markets, along with the U.S. dollar being a reserve currency, and it is not surprising that dollar-denominated U.S.-based assets are attractive to savers worldwide. One of the "curses" of the U.S. dollar being a reserve currency is persistent U.S. trade deficits. While U.S. exporters don't like it, it is a boon to American consumers. As Joe Friday said: "Just the facts, ma'am."•
__________
Bohanon and Curott are professors of economics at Ball State University. Send comments to ibjedit@ibj.com.
Please enable JavaScript to view this content.