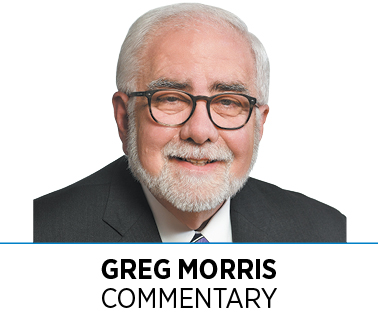 Let's get to it. The condition of Circle Centre mall in the center of downtown is embarrassing. It looks and feels junky inside and isn't reflective of the Indianapolis I know and love.
Don't count on the escalators working. I'm not sure I've seen a day when all of them are working, and some days you feel lucky if half are running. Really? Is it too much to ask to fix the escalators?
My wife and I were downtown this past weekend for the debut of the "Shining a Light" patriotic display on Monument Circle. We walked through the mall to go to dinner afterward. Not only were two of the escalators not working, the elevator wasn't working properly, either.
Thank God for some great restaurants on the perimeter of the mall property or you'd have no reason to get near the place. We aren't even trying to put our best foot forward as a city. And how can a city the size of Indianapolis not have one department store downtown? How is that possible?
I'm not talking about just the physical condition of the mall and the lack of retail stores, but also your experiences walking in and around the mall. Here's a quick story about a typical experience venturing out to lunch.
On a hot, steamy day in August, I walked out of my office at One Monument Circle and headed to the mall, which is only a block away. In that block, I was approached by two aggressive panhandlers asking me for money. As I got to the southwest corner of Washington and Meridian streets, I encountered a group of more than 10 people who were talking trash to one another. They also asked for money.
Arriving at the old Carson's entrance, I was stopped dead in my tracks by the overwhelming smell of urine. Honestly, it gagged me. When I got inside, the walls of the temporary walkway through the old Carson's space were filthy and full of half-fixed holes presumably made by people who put their fists and feet through them. I'm told this happens on a regular basis.
Here's an idea–what about stationing a guard or two to not only protect the property but also make people feel safer walking through that area?
When I got into the mall, I was greeted by a closed Granite City restaurant and two escalators that weren't operating. Highly agitated, I shared my experience with a server I know at one of the remaining restaurants. She told me she complains on an almost daily basis to restaurant and mall management about problems scarier and more disgusting than what I experienced. Here's another suggestion—why not provide a police presence on every corner in the center of downtown and give them the authority to enforce laws instead of holding them back? Let's take back our streets.
We've heard about converting two floors of the old Carson's into office space. That's better than the space sitting empty. I applaud the effort. But what's going to be done about the rest of the mall property? Unless there's a plan, who will want to work in the new office space?
Look—this great city has a long history of rallying the public and private sectors to work together to find solutions to big problems like this one. We say that's our secret sauce. So, let's get busy and work together to create a viable long-term vision for this incredibly important downtown asset.•
__________
Morris is publisher of IBJ. His column appears every other week. To comment on this column, send email to gmorris@ibj.com.
Please enable JavaScript to view this content.