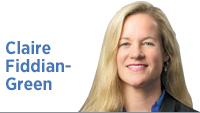 A spike in fatal drug overdoses in 2020 paints a clear, yet grim, picture: America's substance-use crisis worsened substantially during the pandemic.
Effectively combating this crisis will require a multifaceted approach encompassing prevention, treatment and harm-reduction efforts. Syringe exchange, or services, programs (SSPs)—through which people who use drugs can access clean needles and referral to treatment—are a critical tool to help prevent the spread of blood-borne infections and reduce substance use.
To help save lives and reduce taxpayer costs, we must overcome lingering stigma about these programs and support their ongoing success.
Indiana's first SSP was established in Scott County in 2015 to combat an outbreak of HIV driven by intravenous drug use and needle-sharing. In 2018, Marion County's City-County Council unanimously approved an SSP to combat an alarming rise in hepatitis C infections.
More than three decades of data and Indiana's own experience demonstrate that these programs work. Not only does access to sterile needles reduce the transmission of HIV and other diseases, but people who participate in SSPs also are more likely to enter treatment and decrease drug use.
Despite these outcomes, ongoing stigma and insufficient support impede the successful implementation of SSPs at a time we should be deploying all weapons in our arsenal to combat our country's substance-use crisis. Among the key hurdles are laws criminalizing possession of drug paraphernalia.
In Marion County, for instance, new research from Dr. Brad Ray at Wayne State University finds that there were around 225 criminal syringe charges as of November 2017, before the city's approval of an SSP. In January 2020, just before the COVID-19 stay-at-home order, the number of charges had seen only a modest decline.
Filing criminal charges against people possessing needles threatens to thwart the success of individuals participating in SSPs who are starting treatment and stymies broader efforts to reduce the transmission of infectious diseases. That's counterproductive, especially considering that the presence of a syringe charge before release from jail more than triples the risk of an overdose death.
Each July, we recognize National HIV Testing Day and World Hepatitis Day. In addition to celebrating the successes of SSPs in Indiana, we should consider a common-sense approach to ensure these programs are effectively supported.
First, syringe possession for people participating in SSPs should be decriminalized. This could help ensure those taking steps to address their intravenous drug use aren't incarcerated and subsequently placed at higher risk for a fatal drug overdose.
Second, federal law prohibits the use of federal funds for the purchase of needles. This means counties must turn to philanthropy to cover these expenses.
Third, with the surfeit of federal stimulus funding, Indiana should invest in modernized data systems that allow for the collection and reporting of real-time rates of overdose deaths and infectious diseases, as well as their associated costs. Access to this data would support more effective and efficient state- and county-level resource allocation decisions.
Syringe services programs work. As we intensify our efforts to prevent fatal drug overdoses aggravated by the pandemic, we need to better align state laws and resources in support of a demonstrably effective tool that reduces the transmission of infectious diseases and helps connect people who use drugs with treatment.•

Click here for more Forefront columns.
Please enable JavaScript to view this content.