Major annual events have injected more than $3 billion into the Indianapolis economy over the past 20 years, and another proposed expansion to the Indiana Convention Center promises to bring millions more once it is completed in 2025.
But city officials, hoteliers and industry experts have diverging views on whether that expansion is wise, despite a track record that most say is proof positive the city has gotten its growth right in the past.
Forging ahead with the $550 million Pan Am Plaza redevelopment—which includes 143,500 square feet of publicly funded pre-function, meeting and ballroom space and two privately financed hotels—is meant to keep longtime customers like National FFA, the Performance Racing Industry and Gen Con happy. But it could also give the city a chance to go after more national conventions that aren't yet considering Indianapolis.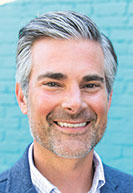 An IBJ analysis of historical data found the convention center and its ancillary facilities (including Lucas Oil Stadium) have, since 1999, hosted nearly 8,000 events—ranging from small meetings, weddings and high school graduations, to massive multi-day conventions and sporting events—with combined attendance of 40 million.
But over that time, attendance growth has mostly stagnated: About 2.03 million people attended events in 1999, while 2.04 million did in 2019. The highest attendance figure in that span came in 2012, when 2.4 million people visited the convention center, including for Super Bowl festivities. From 2000 to 2009, attendance never exceeded 2 million; it's dropped below that threshold three times in the past decade.
Meanwhile, the facility's stalwart events have seen massive growth.
For example, when Gen Con first came to Indianapolis in 2003, about 20,000 people attended and brought $23.4 million to the city. Last year, some 70,000 people attended and had an economic impact of $74.7 million.
FFA, FDIC International and the Nike Midwest volleyball qualifier have also grown significantly during their runs in the city.
Attendance at national convention center events like these—meaning conventions sponsored by large groups that draw visitors from across the country—has increased about 16% here since 1999. Average national attendance since 2010 has been around 494,000, while it was around 340,000 from 2000 to 2009—a bump of 26%. The city hosted 52 national conventions last year, compared to 35 more than 20 years ago.
Out-of-town visitors are more likely than locals to use hotels and restaurants and visit attractions, leaving behind cash they would have otherwise spent in their hometowns.
Events that draw more Indiana residents mean fewer hotel stays. And when local attendees eat at downtown restaurants, they're spending money that would have likely been spent somewhere in the city or state, anyway.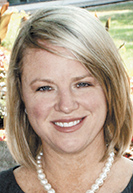 So growing those national events is important. And Chris Gahl, vice president of Visit Indy, said the long-term future for big events hinges on the convention center's increasing its footprint.
The expansion, he said, is "built on the fact that we have large annual conferences that want to stay in Indianapolis but need to grow and need the room to grow."
He said the next phase "will keep them safe and sound in Indianapolis."
Attracting new events
Since 1999, the five biggest annual conventions have meant $3.1 billion in total economic impact, according to an IBJ analysis of Visit Indy data.
But big groups that move their events around from city to city also matter. IBJ's analysis found the economic impact of the five biggest events each year that don't have an annual contract has meant $2.1 billion in impact since 1999.
An expansion could help the city land more of those events, like the American Dental Association's convention, which the city has been courting for 20 years. The group in December signed on to hold its 2026 convention in Indianapolis, which is expected to bring in 21,000 people and generate $29.1 million in spending.
But the dental group's commitment is contingent upon the expansion project moving forward. Visit Indy estimates another 200 conventions, worth a collective $1.1 billion in economic impact, could look at Indianapolis because of the expansion—on top of already-anticipated growth. And Gen Con, FDIC International and National FFA also have a clause in their contracts allowing withdrawal if the expansion doesn't happen.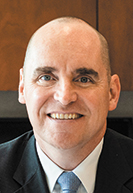 "We've really been a self-made city by willing ourselves to be a hospitality destination," said Fred Glass, former Indiana University athletic director and president of the Capital Improvement Board from 2000-2008.
"I think that the hospitality industry—of which the convention strategy is a key component—has worked and is really promising," he said. "And if we are going to stay in that game, which I think we should, then it requires continued investment and expansion."
Glass noted the Indianapolis tourism industry is not limited to events at the convention center and Lucas Oil Stadium.
In fact, conventions and events at other venues—including Bankers Life Fieldhouse, Marion County hotels and other event centers—have increased more than 200% in the past two decades. And attendance at all the city's conventions has risen about 77%, to just under 1.3 million in 2019.
That overall tourism growth is something both Glass and Visit Indy's Gahl said has been aided by investment in the convention center over the years, as it's spurred more hoteliers and other tourism businesses to invest in the city.
More than 801,000 room nights were used for Indianapolis-area conventions and events in 2019, compared with 396,000 in 1999. And hotel room revenue for the county has increased nearly 120%, thanks to a substantial number of new hotels during that time.
'Too many unknowns'
Construction on the Pan Am project is not expected to start until late 2022, a delay of two years. That's a decision city officials and developer Kite Realty Group Trust made after determining downtown's hospitality industry will need more time to recover from the coronavirus pandemic.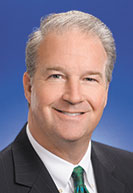 Bonds for the convention center portion of the project are expected to go before the City-County Council in September, after a committee recommended approval this week.
Experts say holding off on the project is a wise move for the city—one of the most convention-dependent in the United States—but added the expansion could be hard to justify even in a few years.
"We don't know how quickly things are going to recover from the pandemic," said Amanda Cecil, director of the Events and Tourism Institute at IUPUI. "There are just too many unknowns right now across the board. I wish I had a better outlook but … it's pretty grim."
Some reports say the industry will begin to climb back by mid-2022, while others push a projected recovery out five to seven years—and some even further. It's also unclear what the industry might look like once it does recover, and whether massive conventions will still be big draws.
Heywood Sanders, a University of Texas at San Antonio professor and convention center expert, said the Indiana Convention Center expansion will do little to move the needle in a post-pandemic environment.
"The economic impact of the recession related to the pandemic is likely to be enormous and it will likely persist for a number of years," he said. "Simply put, it's going to seriously impact convention attendance going forward."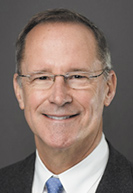 Gahl said Visit Indy plans to continue evaluating the market until ground breaks on the project.
"We can only be as smart as the experts, and the experts are saying recovery by mid-2023," he said, referring to a report from commercial real estate brokerage CBRE. "That's why we advocated to push back shovels in the ground … [and] move things so that we make sure they don't come online until we're fully recovered."
Watching the competition
Indianapolis isn't alone in its efforts to expand its convention center. Columbus, Ohio, plans to spend $300 million to add 460 rooms to a convention center hotel, and Las Vegas is pushing ahead with a nearly $1 billion expansion of its facility.
A $1.8 billion addition to the Washington State Convention Center in Seattle is well underway, although with lingering uncertainty about financing. And St. Louis just announced it is moving ahead with a $175 million expansion of its convention center.
Sanders said it's unwise for any city to ponder starting an expansion in the current environment—but added that, since many are, Indianapolis will have a tough job setting itself apart.
"If a community like Indianapolis chooses to invest public dollars in an expansion," he said, "it should absolutely not expect that expansion to yield any significant change in business."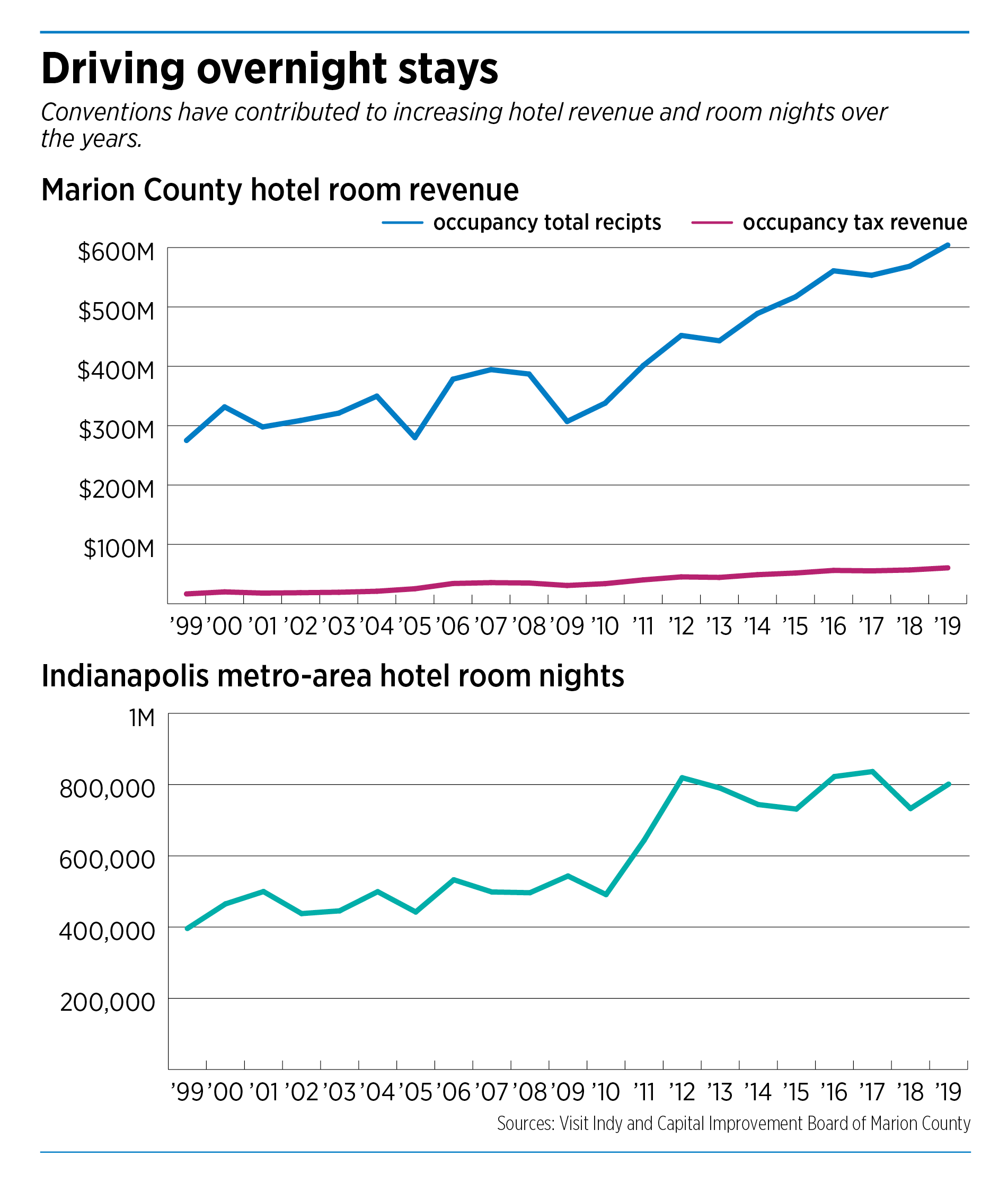 City officials often argue Indianapolis has a history of taking gambles on big projects during times of uncertainty—and they've always paid off.
The RCA Dome was constructed before the city landed an NFL team. And the last convention center expansion, a $275 million project that nearly doubled the facility's size, was completed in 2011 during the Great Recession.
Each expansion has boosted the city's profile and helped lure more national events, including the Super Bowl in 2012 and a long-term commitment from the Performance Racing Industry to hold its biggest annual event in Indianapolis.
PRI held its event here for several years before leaving after 2004 and taking some wind out of the city's sails, to the tune of $38 million per year. PRI brought the event back in 2013 and has gradually increased its size, up to 67,000 last year. Its economic impact has swelled to more than $65 million a year, and the event is committed to Indianapolis through at least 2025.
'Will and foresight'
Andy Mallon, executive director of the Capital Improvement Board of Marion County, which owns the convention center and Lucas Oil Stadium, said the board is going into the Pan Am project with optimism, based on the city's track record and the events demand it expects in the years ahead.
"This isn't the first time the city and state have had the will and foresight to move forward with expansion plans," he said in a statement.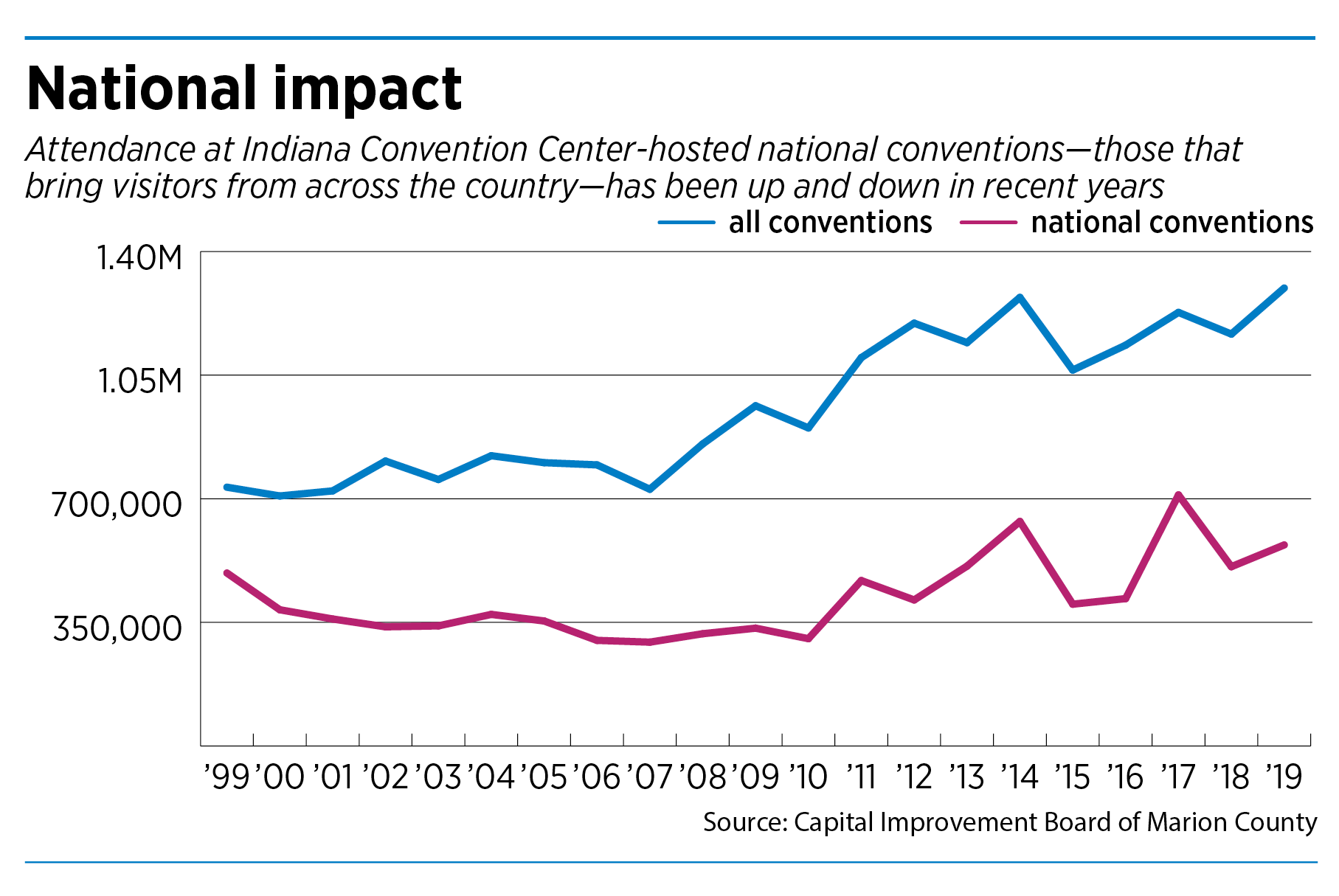 "While COVID-19 has made for an uncertain future, we know we have to plan now, together with Visit Indy, attractions and restaurants, and the entire city and state, in order to be ready to accommodate both the conventions and events already booked and [to] welcome new conventioneers and visitors to the Convention Center and the city as a whole."
Glass said city leaders should lean into practical arguments for the development, rather than point to past success as evidence the next expansion will work.
"In any organization, when people say that the reason to do something is because, 'Well, we've always done it that way,' … for me, that's like fingernails on the blackboard," he said. "And I reject that."
He said without convention business, amenities like bars and restaurants will not be able to survive, and that building an expansion is key to not only keeping the city on the cutting edge, but helping it flourish.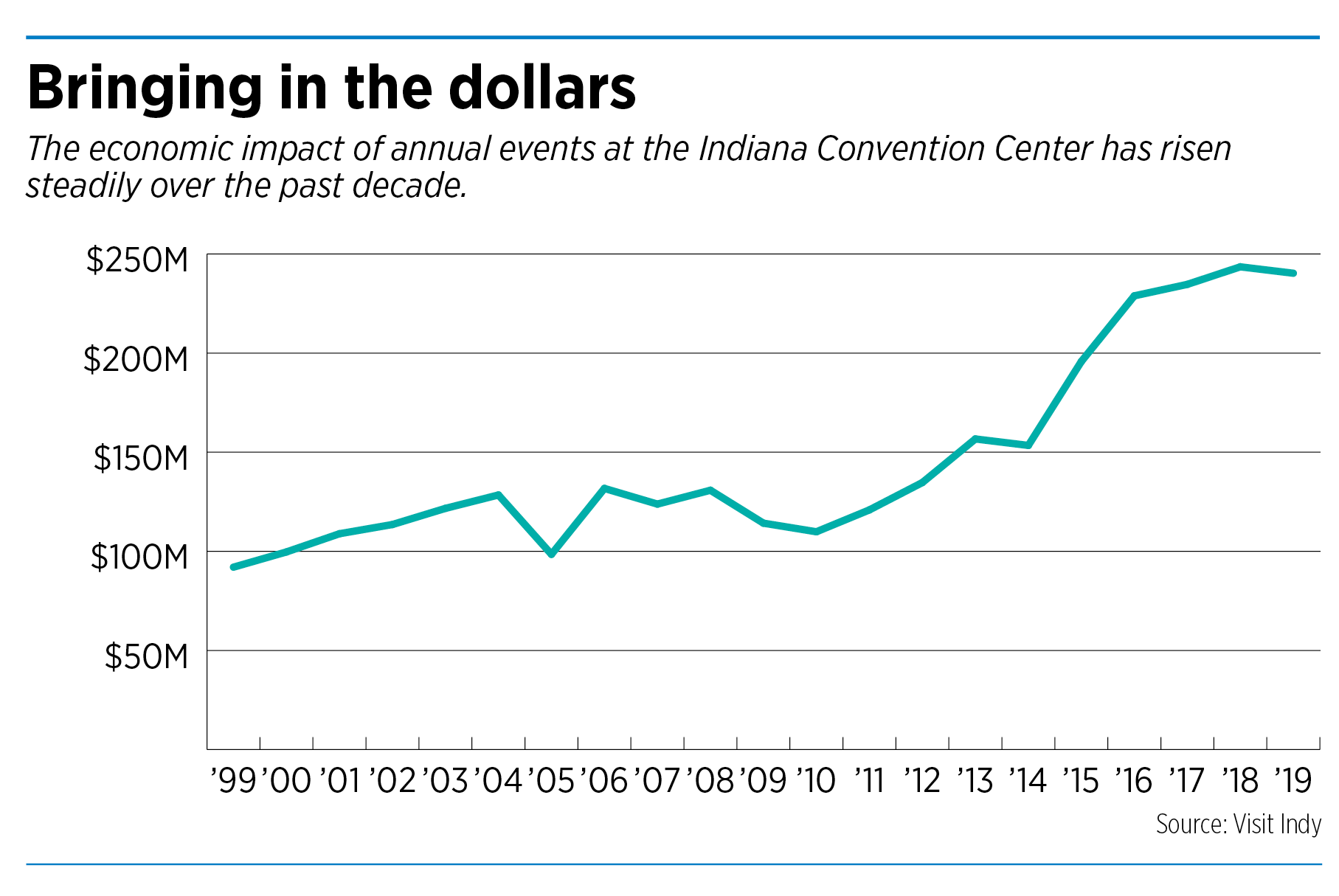 Glass said there might be some reticence about attending gatherings immediately after the pandemic wanes, but he expects convention business will pick up rather quickly, creating new opportunities for Indianapolis.
"I believe on the other side of the pandemic, people will want to connect, and I think conventions will come back," he said. "Maybe this is even an opportunity for us to come back stronger by staying dedicated to that strategy. I think that's what we should be doing."
He said "doubling down" on efforts to bring more, and larger, conventions to the city is the best way to help its economy.
What's the right time?
Jim Dora Jr., president of Indianapolis-based General Hotels, which owns the Crowne Plaza at Union Station, said failing to look for ways to grow the convention center would "decimate" the city, but he said waiting for the right time is important.
"I think that our play as a sports and convention city has been good for us," he said. "It's prudent to look at things and say, 'OK, we need to slow this down a little bit.' But looking at … all of our investments and the proof of what [tourism] drives into central Indiana, it clearly indicates that we should—if we're going to meet our fiduciary responsibilities—look to and plan for the future."
Including its construction, more than $1.2 billion has been invested in the convention center and its various expansions—$1.7 billion with inflation—since it opened in 1972. That growth, Dora said, has played a significant role in boosting all other facets of tourism throughout the city.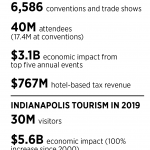 "Had we just stuck with a very basic convention center, we might not be where we are today," said Dora, who is a CIB and Visit Indy board member. "I think we've been prudent and conservative in how we've done the expansions and it has paid off well for us as a city; it's lifted a lot of boats."
Other hoteliers say it's unwise to assume the city's historic success will dictate its future—particularly post-COVID.
"I do think that expanding the convention center gave us a lot more flexibility to be able to really go after the groups that we've been trying to [entice] after all these years," said Mike Wells, president of REI Investments.
"But we're not going to get the bang for the buck for investing $150 million in this expansion, like we did when we … expanded the convention center before," he said. Wells is a part owner of the Indianapolis Marriott Downtown and co-developer of the JW Marriott campus.
"It's a different situation. And once you throw COVID on top of it, it's anybody's guess as to what's going to happen. So, it's a very speculative project at best, and just because this has always worked in the past doesn't mean it's going to work in the future."•
Please enable JavaScript to view this content.