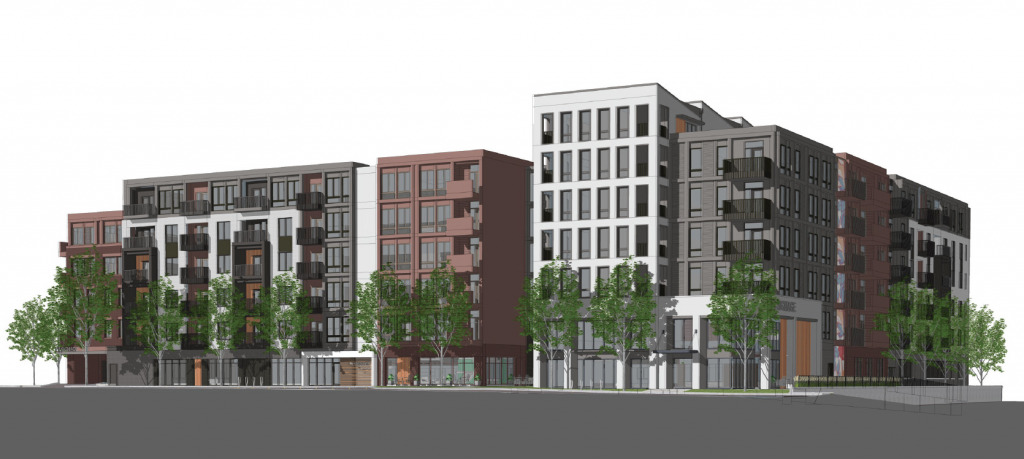 The Indianapolis Department of Metropolitan Development introduced a new policy Monday night that could allow residential real estate developers seeking tax-increment financing to pay a fee to avoid the requirement that a certain percentage of a project's units be "affordable."
Indianapolis has required TIF-backed residential projects to have at least 5% their units designated for those making 30% of the area median income or 10% of their units designated for those making 50% of the area median income. 
Now, developers can pay between $750,000 and $1 million per project, based on a funding formula. The money will go into the city's Housing Trust Fund, which helps fill funding gaps for affordable housing and permanent supportive housing, said Deputy Mayor Scarlett Andrews.
Two redevelopment projects using the new policy were advanced Monday by the City-County Council's Metropolitan and Economic Development Committee: the former Broad Ripple Kroger and the former Fountain Square White Castle distribution facility—both of which are being turned into apartments and commercial space.
The two proposals will receive a public hearing at the first full City-County Council meeting of 2023, which is not yet scheduled.
The two projects have seen costs balloon. When they were introduced to the DMD in late October for TIF consideration, both were projected to cost $10 million less than the costs presented to the council committee Monday. During her presentation, Andrews said developers are experiencing higher interest rates and higher costs on a per-unit basis, more expensive debt, and an increase in costs for labor and materials.
The council committee approved $7.5 million in TIF bonds for the $73 million project at the site of the former Kroger. The former 16,000-square-foot facility in Broad Ripple Village will be redeveloped by Gershman Partners, Citimark, Milhaus and DKGR Architects. It will have 232 units and 3,600 square feet of commercial space.
The White Castle distribution center redevelopment, also known as Link, was approved for $8.36 million in TIF bonds. The $71 million development will add 206 units and 14,000 square feet of commercial space to the Fountain Square neighborhood, directly off the Cultural Trail at 921 Virginia Ave. The developers are Gershman Partners and Deylen Realty.
Not all City-County Councilors on the committee were on board with the new method of incentives. Democratic Councilor La Keisha Jackson wanted a number of units to serve as a "sunset" for the policy, in which it could be revisited, and so she voted against the incentives. Other councilors also voiced concern about how frequently or for how long the policy would need to be utilized, but still voted in favor of the project.
Andrews said the usage of the policy would be limited. As for when the extraordinary economic circumstances that created the need for the new option will be over, she said she would meet with the council regularly to decide.
Jackson also voiced concern that by not having affordable housing units mixed into larger developments, and instead having the projects fund full affordable housing projects, it could create areas that don't have a lot of diversity in income levels. Other councilors expressed concern that the affordable housing projects won't be in their districts.
Please enable JavaScript to view this content.