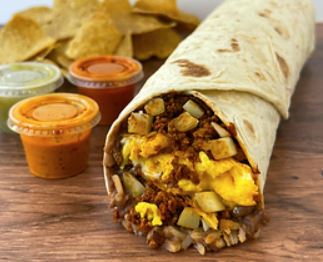 Crazy King Burrito, which got its start on a Mexican island, plans to open at least three restaurants in Hamilton County.
Paul and Alrea Giefing expect to open Indiana's first Crazy King Burrito location on June 1 at 13756 N. Meridian St. in Carmel. The fast-casual restaurant will be near Bier Brewery Carmel at Meridian Village Plaza.
The Giefings also plan to open Crazy King Burrito restaurants in Fishers and Westfield. Locations for those restaurants have not been determined.
Crazy King Burrito is the U.S. franchise of a restaurant that began on the Mexican island of Cozumel, which is off the eastern coast of Mexico's Yucatan Peninsula.
The restaurant's menu includes 13 different burritos and burrito bowls ranging from $5 to $14 with chicken, steak, shrimp, chorizo and vegetarian options.
The menu also offers drinks, Mexican ice box cake, churros, queso dip, guacamole and chips, and the Texas King, which includes barbeque-flavored steak wrapped in a pocket and topped with fried onion petals.
"We're trying to replicate the actual Mexican experience right here in the United States," Paul Giefing told IBJ. "We have what I would consider to be more of a focused or limited selection based on these family recipes."
Crazy King Burrito currently operates two restaurants in Cozumel and franchise locations in suburban Dayton, Ohio, and Stevensville, Michigan.
Crazy King Burrito expanded to the United States after David Schuck, now the company's director of franchising, ate at one of the original restaurants in Cozumel and discussed with the owners about bringing the restaurant north of the border.
"Having heard that they brought the concept from their timeshare area in Cozumel, we really wanted to give it a shot as soon as he was up and running," Paul Giefing said. "We tasted the food and at that point, we were all in."
Approximately 15 to 18 employees will work at the Carmel restaurant, which will occupy about 2,500 square feet.
Crazy King Burrito also has franchise deals in place to expand to Alabama, Arkansas, Colorado and North Carolina.
Please enable JavaScript to view this content.