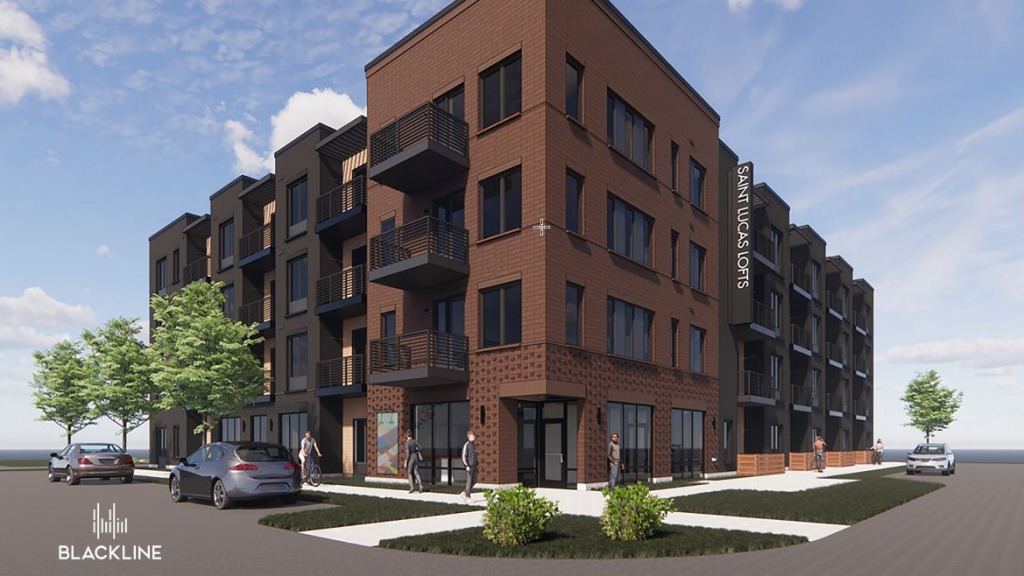 CVS Health is investing $10 million to help create a 48-unit affordable apartment complex for low-income families and homeless young adults on the near-east side called St. Lucas Lofts, the company announced in conjunction with local partners at a press conference Tuesday.
St. Lucas Lofts will be at 2810 E. New York St., the former site of St. Lucas Church. The Indianapolis Department of Metropolitan Development has committed an additional $2 million to provide 10 units in the complex reserved for young people exiting homelessness. These individuals will be referred from Outreach Inc., a not-for-profit that sits three blocks from the construction site.
The remaining units will be reserved for households making 30% to 60% of the annual median household income in Indianapolis.
"There are still too few affordable units available," said Indianapolis City-County Council Vice President Zach Adamson. For every 10 extremely low-income households of any size, there are only six affordable rental units in the region, Adamson added, citing a study by SAVI.
The full cost of the project is $13.5 million. The remaining $1.5 million is covered by $500,000 from the Federal Home Loan Bank of Indianapolis and a $1 million loan from Merchants Bank.
Residents at the multifamily development will have access to wraparound services provided by several partners. The community health provider Adult & Child Health will offer onsite services, and John Boner Neighborhood Centers will host financial literacy and money management workshops.
Co-developers Englewood Community Development Corp. and RDOOR Housing Corp.—formerly known as Merchants Affordable Housing—aim to have the facility complete by early- to mid-2024. 
The design and landscape architect for the St. Lucas Lofts project is Indianapolis-based Blackline Studio, which also worked on the Oxford Flats project.
It isn't uncommon for Woonsocket, Rhode Island-based CVS Health to provide financial support for similar projects. The pharmacy giant invested $185 million in affordable housing in 2021, according to a press release.
In Indiana, CVS has invested $19 million total with $14.7 million invested in the past two years. Much of these past investments have been conducted through Indianapolis-based CREA LLC, which connects developers with investors.
"I think if you're like me, it's easy to be jaded about big corporations. It's easy to grow pessimistic about what's possible," said Joe Bowling, Englewood CDC executive director. "… But when the right things happen, when companies invest in impactful initiatives towards equitable solutions like this, it really should be applauded."
Keli Savage, head of impact investment strategy for CVS Health, said that St. Lucas Lofts stood out in the application process because of the permanent supportive housing component and the partners involved.
"These are the type of people we strive to work with," Savage said.
The $2 million from the city for the project is part of a $7.8 million commitment to permanent supportive housing announced in November. The announcement also included plans for 36 permanent-supportive housing units at Compass on Washington, 50 units at Hanna Commons, and eight units at Providence Place.
Englewood CDC is also a partner on Providence Place and Compass on Washington.
Please enable JavaScript to view this content.