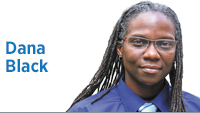 At the murder trial of former Minnesota police officer Derek Chauvin in the death of George Floyd, a 65-year-old witness, Charles McMillian, began sobbing uncontrollably upon viewing the footage in the courtroom.
Seeing this grown man break down brought back vivid memories of one family dinner around 1976.
My parents weren't the type of people who were actively engaged in the civil rights struggle, nor did they participate in political activities. My mother, born in 1929 in Mississippi, and my father, born in 1932 in Indianapolis, were the type of parents who kept their heads down, went to work and tried to provide for their family.
They didn't have stories of marches or registering voters. In fact, they didn't talk about their past with us much at all.
This night was a little different. I believe we were planning our annual August trip to visit my mother's family in Mississippi.
It was a trip my father loathed. With his head in his hands, rubbing his bald head with the look of concern, he would go on to explain to 6-year-old me why he did not like going down South: Emmett Till.
My father would tell us the story of the first time he learned of the heinous murder of the 14-year-old Chicago boy at the hands of hateful, racist, fully adult white men in Money, Mississippi.
While describing the murder, my father's entire body language showed just how frightened he was for his life and the lives of his family whenever we traveled to the Deep South.
Till's murder happened in 1955; 20 years later, my father—a strong, masculine man—continued to feel the hurt and pain the incident inflicted on his life.
Till's death still resonates today, in part because of his mother's resolve to have an open casket, so the world could see the brutality perpetrated on this small boy.
If you're not certain how small Till really was, visit the National Museum of African American History and Culture in Washington, D.C., that houses his casket.
Mamie Till shared the images of her son because, as she said, "I wanted the world to see what they did to my baby." She hoped to bring awareness of what was happening to Black bodies and possibly make it a priority issue for the nation.
As current events have sadly shown, the Black body is still not a priority to some.
Many have seen the eight-minute, 46-second video of then-officer Chauvin with his knee on the neck of Floyd, a time lasting so long that, when the encounter ended, so did Floyd's life.
Like with the photos of Till's mutilated body, Americans were outraged by the images of Floyd's death.
If, as a nation, we had done the work to cure the racist disease that allowed Emmett's murderers to go free in 1955, we might not be here again hoping justice will punish the man responsible for Floyd's death.
We all need to take advantage of the technology we have to quickly access historical facts, figures and dates to reflect on our past.
With a rich human history so easy to access, it can be incredibly frustrating to historically marginalized groups when the majority is unwilling to examine all of our American history.
Regardless of how ugly it is or how uncomfortable it might make one feel, study is necessary. If we just take the time to learn more about our past, we can prevent ourselves from repeating the horrible parts.•
__________
Black is former deputy chairwoman for engagement for the Indiana Democratic Party and a former candidate for the Indiana House. Send comments to ibjedit@ibj.com.

Click here for more Forefront columns.
Please enable JavaScript to view this content.