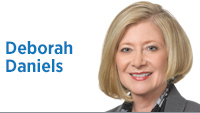 Well, I guess it was inevitable.
The baby boom generation, famous for rejecting authority and laying claim to a lock on the high moral ground, is now being rejected itself, with a two-word pejorative: "OK, boomer."
In a recent column in The Washington Post (Nov. 5), Molly Roberts celebrates what she calls "an epithet rallying the country's young against their forebears in collective mockery." The phrase "is intended," says Roberts, "to disarm oldish people who dispense condescension dressed up as wisdom."
Not surprisingly, being a boomer myself, I was unaware of this phrase, apparently popular in high schools and on TikTok (what??). My reaction to being dismissed by a bunch of 15- to 18-year-olds as essentially ignorant, unaccomplished and totally irrelevant was, well, mixed.
Once I got past the "Who do these punk kids think they are?" stage (probably the first of the five stages of grief related to the inevitable aging process), I gave the use of the term more serious thought.
First, it occurred to me that every generation goes through this. Who, if not the boomers, vehemently rejected authority and the wisdom of their elders? Subsequent generations cannot begin to fathom the depth of the chaos, antagonism and anti-establishment fervor of the 1960s and early 1970s, in the height of the anti-war movement. Even at bucolic DePauw University, where I went to school, our ROTC building was burned down in protest. The Kent State shootings and their aftermath occurred during my freshman year.
And who says today's coming-of-age population has a corner on environmental concerns? Anyone remember Earth Day (April 22, 1970), still celebrated annually today? It was no coincidence that the Paris Accords were signed on April 22, 2016.
On the other hand, in many ways, my generation has made a mess of things. I'm not talking about pervasive climate change: Even accepting the fact of climate change, some suggested solutions would likely disproportionately burden the U.S. economy without any discernable positive impact on the problem. But the draconian measures proposed at least make the proponents feel good about themselves.
What I am talking about is our overall selfishness as a generation: the wholesale abandonment of our responsibility to leave our part of the world a better place for subsequent generations. We have for decades intellectually understood the impending disaster that faces the Social Security trust funds. The gap between revenue and output, according to the most recent actuarial projections from the Social Security agency, will reach $13.9 trillion over the next 75 years. We have been warned repeatedly by these actuaries that the funds will be fully depleted by 2035.
Further, we have long known the steps that must be taken. We should, over the past several decades, have raised eligibility ages, required workers to pay Social Security tax on their total earnings, and decreased benefits for more-well-off Americans.
What have several successive presidents and congresses done about this? Punt. And who will have to pay for that political football? Right—the generations that follow the boomers.
And then there's the inexcusable national debt—$22 trillion and growing. This is nothing less than an existential threat to the nation's future.
It's hardly surprising that those who must pay the bill are pretty disgusted with those who allowed things to reach this point. And if I thought that was the only reason for their disdain, I would fully agree with them.
But lighten up, guys. You will be us someday and will get the same treatment from your own progeny.•
__________
Daniels, a partner at Krieg DeVault LLP, is a former U.S. attorney, assistant U.S. attorney general, and president of the Sagamore Institute. Send comments to ibjedit@ibj.com.

Click here for more Forefront columns.
Please enable JavaScript to view this content.