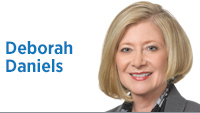 As I survey the angst emanating from both sides in the aftermath of Nov. 3, I am reminded of a line uttered by Emily Blunt's character in the movie "The Devil Wears Prada": "I rarely say this to someone who isn't me, but you have got to calm down."
It is hard to find anyone, on either side of the Grand Canyon-sized political divide in this country, who is not in a state of fury as I write this column.
On one hand, we have President Trump, searching for a way to overturn vote counts using contradictory arguments and apparently evidence-free claims of illegal voting in states where the count is disadvantageous to him. He and many of his supporters may never concede that the election was won fairly by former Vice President Biden and may spend the next four years or more complaining that they were robbed of a victory they deserved.
On the other hand, we have most on the left and in the media acting as though Armageddon will occur if a bit more time is permitted to pass before a winner is declared. One week following Election Day, they loudly despaired the fact that the head of the General Services Administration had not yet set in motion the official transition process. Much hand-wringing is occurring over how this is hamstringing the president-elect.
But we have been here before, and not so long ago.
In 2000, George W. Bush was not declared the winner until Dec. 12; and until then, the formal transition could not begin. He was left with only a 39-day transition period, the shortest in history. Yet his team began its transition planning immediately after Election Day, as former Vice President Biden is clearly doing; and according to the Center for Presidential Transition, the Bush team's efficient and focused planning secured the greatest number of confirmed political appointees in the first year of his presidency than has occurred in any other modern presidential administration.
So the world will not end if some time must pass before an official declaration can be made that Joe Biden has been elected president.
And, though some on the right will probably claim for years that the election was "stolen" from President Trump, we have seen that before too. Again I reference the 2000 election: Many on the left still refer to George W. Bush as an illegitimate president.
I think nearly everyone was surprised by the closeness of the election. Each side thought that its candidate would not only win, but win by a wide margin. The vote reveals the depth of the polarization we face as a nation. One wonders how we will ever get past this period of anger at one another.
I just read a book by Dr. George Friedman, an internationally recognized geopolitical forecaster and the chairman of "Geopolitical Futures," an online publication that forecasts the course of global events. Friedman describes two redundant cycles occurring at regular but different intervals since our nation's founding: one institutional and one socio-economic. He says the two cycles are reaching inflection points at the same time, and we may be shifting from a "technocracy" (reliance on experts) to a different approach. Historical shifts have meant a lengthy struggle between the ascendant governing philosophy and that of the former cycle. Friedman predicts that this clash will continue until 2030.
If he is right, we are facing 10 more years of intense political struggle. So, as another character in "The Devil Wears Prada" famously said, "Gird your loins."•
__________
Daniels, a partner at Krieg DeVault LLP, is a former U.S. attorney, assistant U.S. attorney general, and president of the Sagamore Institute. Send comments to ibjedit@ibj.com.

Click here for more Forefront columns.
Please enable JavaScript to view this content.