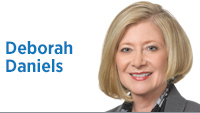 It is often said that it is only through adversity that we find out what we're made of.
As we face a life-threatening global pandemic, are we as capable of sacrifice for the greater good as our predecessors were?
My parents' generation, who came of age in the Great Depression and fought evil in World War II both abroad and at home, understood sacrifice. The rest of us, from the boomers on down, have never really been tested in that way—until now.
There are some interesting parallels between our response to the onset of COVID-19 and their response to World War II almost 80 years ago. How do we stack up?
Before the Japanese attack on Pearl Harbor, the United States was in an isolationist period. People believed we were protected by two oceans from harm, and that America didn't need other countries in order to survive and thrive. But Dec. 7, 1941, changed all that.
Even though they didn't suffer bombing raids like the British, whose very lives were at stake on the homefront, U.S. citizens' lives changed dramatically. My husband still has his mother's ration card from the 1940s, limiting what she was allowed to purchase in order that the war effort be properly supplied. Gasoline was tightly rationed, as fuel was needed for the war effort; food and clothing were rationed for the same reason. Production of household appliances, and even new housing, was banned throughout the war. The Indy 500, this year postponed to August, was canceled for four years so people and materials could be committed to the war effort.
Now, we are facing an enemy that could take four or five times as many U.S. lives as World War II did—but only if it is not carefully managed. A small degree of privation over a far shorter period of time can vanquish this enemy, but we must remain vigilant.
Our state officials have responded in exemplary fashion. Our corporations are helping with the national effort. Thousands have volunteered their services.
Unfortunately, we also see resistance to common-sense precautions.
College kids were flocking to beaches as recently as mid-March, until Florida officials closed the beaches and hotels. Some, including public officials in other states, have actually encouraged people to go out to restaurants. And in a spectacularly selfish and thoughtless move, Sen. Rand Paul of Kentucky continued mingling with other senators and staff, including in the Senate gym and pool, after he knew he had been exposed to the virus.
I was also disappointed to see the gamesmanship that typified the congressional response to the virus. Rather than bipartisan statesmanship, we saw competing ideologies slowing the relief package. Some state officials, notably the New York governor, insisted that the trillions being provided were insufficient and that New York should receive the lion's share of assistance. Even his own pork-prone senior senator disagreed.
During World War II, the media were an important part of the war effort, encouraging support for the government's efforts and asking all to do their part. Now, we see many in the media looking only to find fault with the government's response rather than lauding positive steps when they are taken.
Finally, it is true that a careful balance must be struck on the length of the hiatus in order to protect both lives and the economy, but we need to be willing to put some of our freedoms on hold right now for the greater good. After all, we really are all in this together.•

Click here for more Forefront columns.
Please enable JavaScript to view this content.