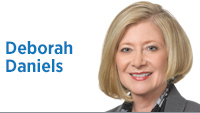 About every 50 years, our nation seizes the opportunity for groundbreaking, even earth-shattering, systemic change.
In 1863, President Lincoln signed the Emancipation Proclamation. In 1920, after decades of struggle by women to gain the right to vote, the 19th Amendment was ratified. In 1954, the U.S. Supreme Court's Brown v. Board of Education decision, followed by the Civil Rights Act of 1964, mandated equal opportunity for African Americans.
As we all know, legislating change did not fully solve the problem of racial inequity in this country. And it cannot if hearts do not also change.
The events of the last few weeks have underscored the fact that there remain significant inequities in the treatment of minorities in the U.S. But, as in the circumstances that led to major changes in the past, the drumbeat of public pressure is beginning to produce a recognition on the part of the majority that inequitable treatment of minorities is not just a myth spread by a bunch of whiners—it is real, it is tangible, and it is damaging the fabric of our nation.
African Americans have tried for decades to get the rest of us to take seriously their claims of disparate treatment, seemingly to no avail. But there is real cause for hope today.
Suddenly, leaders in the sports world are saying, "We get it." Starting with Drew Brees, the Purdue alum who quarterbacks the New Orleans Saints, realization is dawning among whites. Last week, Brees apologized publicly for his prior disagreement with Colin Kaepernick and others, expressing a newly-acquired understanding of the true sentiments of those who choose to kneel. It's not meant as an insult to our flag or our veterans: it is a cry for help.
Here at home, Chris Ballard, general manager of the Indianapolis Colts, discussed his own awakening and increased comprehension of the pervasiveness of racial inequity. Kevin Pritchard, president of the Indiana Pacers, teared up as he confessed he previously had no idea how bad the situation was, even for members of his own team. Even NFL Commissioner Roger Goodell said, "We were wrong for not listening to NFL players earlier."
Leaders of the Indianapolis business community, including Tom Linebarger of Cummins and Dave Ricks of Eli Lilly and Co., are making it clear that racial inequity is real and that it is intolerable. Members of the police force have demonstrated their sympathy for the views of those peacefully protesting over the past two weeks. They, too, recognize the need for greater racial equity.
Some of my fellow conservatives are still not convinced. I would refer them to a thoughtful statement released last week by former President George W. Bush, calling bigotry and racism "stains on our character sometimes difficult for the American majority to examine." Pat Robertson calls for white introspection. Condoleeza Rice suggests each of us must accept individual responsibility to become part of the solution.
People who look like me need to move away from the state of denial we have been in for so long. We need to first acknowledge that we all harbor biases, and our collective bias has endowed some of us with greater privilege while restraining those who are too often seen as "the other." We must listen carefully to our brothers and sisters of color, and we must change the circumstances that cause a disparate impact on minorities and the poor.
Whites must concede publicly that racism still exists, is morally wrong and should be rejected.
If not us, who? If not now, when?•
__________
Daniels, a partner at Krieg DeVault LLP, is a former U.S. attorney, assistant U.S. attorney general, and president of the Sagamore Institute. Send comments to ibjedit@ibj.com.

Click here for more Forefront columns.
Please enable JavaScript to view this content.