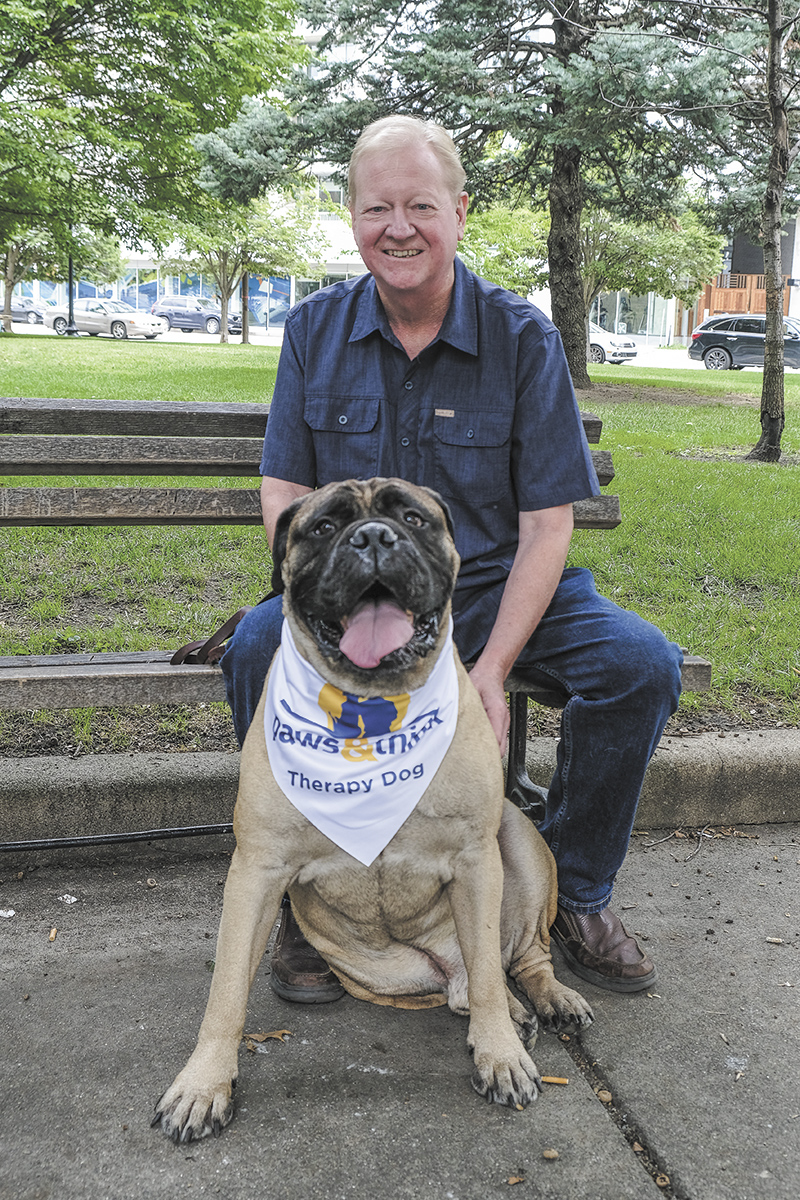 Brad Hoop and his therapy dog Gus have put smiles on the faces of hundreds of people for more than four years as part of Paws and Think, an organization that offers therapy animal services to Marion and its surrounding counties.
What led you to want to be involved in this organization in the first place?
In 2015, I was diagnosed with cancer and ended up going through extensive chemotherapy. One day while I was waiting in line to get my lab work—I was nervous, upset and anxious—one of the Paws and Think dogs came to the hospital. That made all the difference in the world, to be able to pet the dog and take my mind off everything. That's when I decided that, when I got through with my recovery, I wanted to work with the organization.
Tell me a little bit about your dog, Gus.
Well, Gus is a mastiff, and I got him specifically to do therapy. A local breeder who was moving away gave him to me when he was 2 years old in 2018.
What do you consider to be the most impactful aspect of your work with Paws and Think?
Gus and I work in the kids hospitals a lot, so I'm at Riley Children's Hospital and Peyton Manning Children's Hospital quite a bit. The most rewarding part of that is, there's so many smiles on the kids' faces, and the parents often tell me that it's the first time they've seen their child smile in weeks. It's just really rewarding to see, just for a few minutes, these kids forget what they're going through, or it helps with their healing, or even just brightens their day for a little bit. And it does that not just for the kids, but for the parents and the staff, too.
What's it like responding to scenes, as you did to help first responders to the Greenwood Park Mall shooting?
As a therapy dog handler, I've received a lot of special training to do what we do on a regular basis—what we might or might not face. But once we arrive at a scene, Gus does all the work. People just respond to him and other dogs, and you can't just help but smile when they're rubbing their faces on him and getting a reprieve from what they've been going through. They really just responded to Gus in a special way.
Do you think animals like Gus understand the importance of their work and the effect they have on those they meet?
Absolutely. As soon as he walks into a room and sees people, it just clicks—he knows what he's there to do, and his tail starts wagging. Even before that, when I grab the bag that we take with us everywhere, he knows he's getting ready to go help people and he just loves it. I swear he can sense some of the kids at the hospital that might need a little extra attention and he really gravitates toward them, all while still being loving to every other kid in the room.
What drives you to keep working with Paws and Think?
I just love helping other people who might be suffering and giving them a break from that for a little while. The smiles, though—you really do it for the smiles. That's what we're trying to elicit; it's not how many people you see in a day, it's how many smiles you get during the day. That's the biggest thing.•
Please enable JavaScript to view this content.