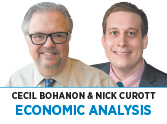 The national debt has exploded and stands at more than $28.7 trillion—about $228,000 per taxpayer. In 2020, the national deficit was $3.13 trillion, the largest in U.S. history. This year's deficit is projected to be almost the same.
Who bears the burden of all this debt? Does it really matter?
The answer was clearly laid out many years ago by James Buchanan, 1986 Nobel laureate in economics. Buchanan began with the insight that the bondholders who lend funds to the government aren't the ones who bear the burden of the debt.
Of course, those who buy bonds sacrifice present consumption, and this act of saving frees up resources, which allows the government to increase its spending. But bondholders expect to be paid back in the future with enough interest to make it worth their while. It was Buchanan's insight that, since bondholders are choosing to make this investment voluntarily, they cannot be the ones who bear the burden of financing today's expenditures.
Rather, the burden falls on future generations. When bond repayments come due, taxpayers in the future must reduce their consumption. This is not necessarily a bad deal if borrowing is used to finance productive investments that benefit those in the future. Unfortunately, borrowing is more likely to fund inefficient consumption. Politicians like to spend public money on programs that benefit their constituents. But their constituents don't like paying higher taxes. Budget deficits allow politicians to shower their constituents with benefits and foist the bill on future generations.
Politicians are content to kick the can down the road and make dealing with the debt some future politician's problem. But our nation's continually growing deficits cannot be extended indefinitely into the future. The Congressional Budget Office projects that, in 30 years, the federal government's yearly deficit will make up 13% of the nation's income, and net interest payments on the national debt will eat up 47% of the federal government's revenue.
At some point, the government will have to significantly reduce programs, raise taxes, or else print money to inflate away the debt, to avoid a default.
Buchanan argued it was immoral to spend beyond our means and foist the burden on our children, sticking them with the Sophie's choice of massive inflation or national bankruptcy. It is never a convenient time to address the national debt problem. But to borrow a phrase: If not now, when? If not us, then who?•
__________
Bohanon and Curott are professors of economics at Ball State University. Send comments to ibjedit@ibj.com.
Please enable JavaScript to view this content.