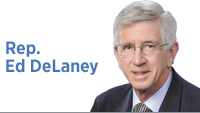 When my Republican opponents fight among themselves, I volunteer to hold their coats. But there has to be a limit. Our Republican attorney general has tried to tell the governor he has no right to pick his own lawyer or to protect his view of our state constitution.
That is a remarkable assertion. In effect, Todd Rokita claims that, if the Legislature wants to violate our state constitution, only Rokita, as attorney general, can referee the matter. A judge has concluded that Rokita's position is "absurd" (the judge's word). More important, the judge points out that Rokita is claiming powers he does not enjoy. Several newspapers are saying the judge "shredded" Rokita's position. That is what one does with trash.
I gave up reading legal briefs when I retired. The saga being acted out by Rokita has drawn me back to this form of literature. Where else could you find an attorney general referring to himself as the "state" and asserting that "he … alone [has] the authority to initiate suits on behalf of the state"?
In Rokita's view, the governor "does not have the right to adopt his own position." Yes, that is a quote! Apparently, Rokita thinks he is an heir to the French king who famously asserted that he was the state. In reality, Rokita was elected to a statutory post with limited powers, limited funds and, it seems, limited competence.
This legal spat arising from this year's legislative session is not the only one. A court has now ruled that a 2021 "anti-abortion" law requiring doctors to peddle an "abortion reversal" medication to women who are halfway through a medication-based abortion violates Roe v. Wade.
Another court overturned a 2021 law designed to make it very difficult for teachers to pay union dues. This was probably a legislative reaction to teachers aggressively seeking to increase their very low pay.
Yet another court says our governor violated a law designed to protect unemployed Hoosiers. That law requires the governor to take full benefit of federal unemployment funds. Gov. Holcomb chose to cut off federal unemployment payments prematurely even though those benefits cost Indiana nothing and helped Hoosiers and the economy.
What is the source of this scourge of arrogance, absurdity and infighting? The answer is clear. Gerrymandering has allowed a modest-sized majority to convert itself to a supermajority. Gerrymandering leads legislators to be concerned only with Republican primary elections.
With gerrymandering, if the Republican candidate can win the primary, the general-election outcome is almost certain to be a victory. Republicans do not have to be concerned about the 75% of the population that does not vote in primaries. They do not have to have a positive agenda. They don't have to improve schools, encourage economic growth or support higher education. The only agenda they need is one that appeals to Republican primary voters, so they routinely pass unconstitutional or poorly conceived legislation to appeal to that small segment of the population.
So maybe "absurd" or "illegal" or "inhuman" is not the right word to describe our present mess. Maybe, the right word is "arrogance." That word describes what gerrymandering and a supermajority allow the Republican-controlled Legislature to demonstrate. Given safe seats, they can posture and preen for the primary. They can ignore the law and the needs of real people.
Unless the supermajority should shock us and draw fair legislative seats, we are in for 10 more years of this arrogance. Of course, we could vote them out. That is our last, best hope.•

Click here for more Forefront columns.
Please enable JavaScript to view this content.