The year is 1977. A preacher reads Scripture from the Book of James to his grandson in a church in Butler, a town of about 2,500 people outside of Fort Wayne. When the young boy walks out of the chapel doors, he emerges as a grown man and joins hands with his wife, their five children at their side.
"A devoted family man and pro-life champion," a male narrator says. "A job creator who has rebuilt communities … a visionary leader devoted to giving Hoosiers an even better way of life, and that's what he'll do as governor."
The 30-second video clip, which began running online and on television stations in Fort Wayne and South Bend last week, is the first TV ad in the 2024 Indiana gubernatorial race. Eric Doden, the subject of the ad, is one of four Republicans competing for his party's nomination in what is expected to be the most competitive GOP primary in 20 years—and likely the costliest.
But money isn't a problem for Doden, who, like his father, Daryle Doden, found success as an entrepreneur. The Fort Wayne developer and former president of the Indiana Economic Development Corp. has raised more than $5 million since announcing his run for governor in May 2021—a full three years before the primary.
His biggest challenge is name recognition, especially in the southern two-thirds of the state, and defining himself with Republican voters before his three opponents do it for him.
To accomplish this, he plans to spend $2 million on ads this fall, well before the traditional barrage of campaign commercials typically hit slightly before the May primary. The ad campaign will paint Doden as a rock-ribbed conservative who can get big-ticket economic development projects off the ground and help small towns turn themselves around.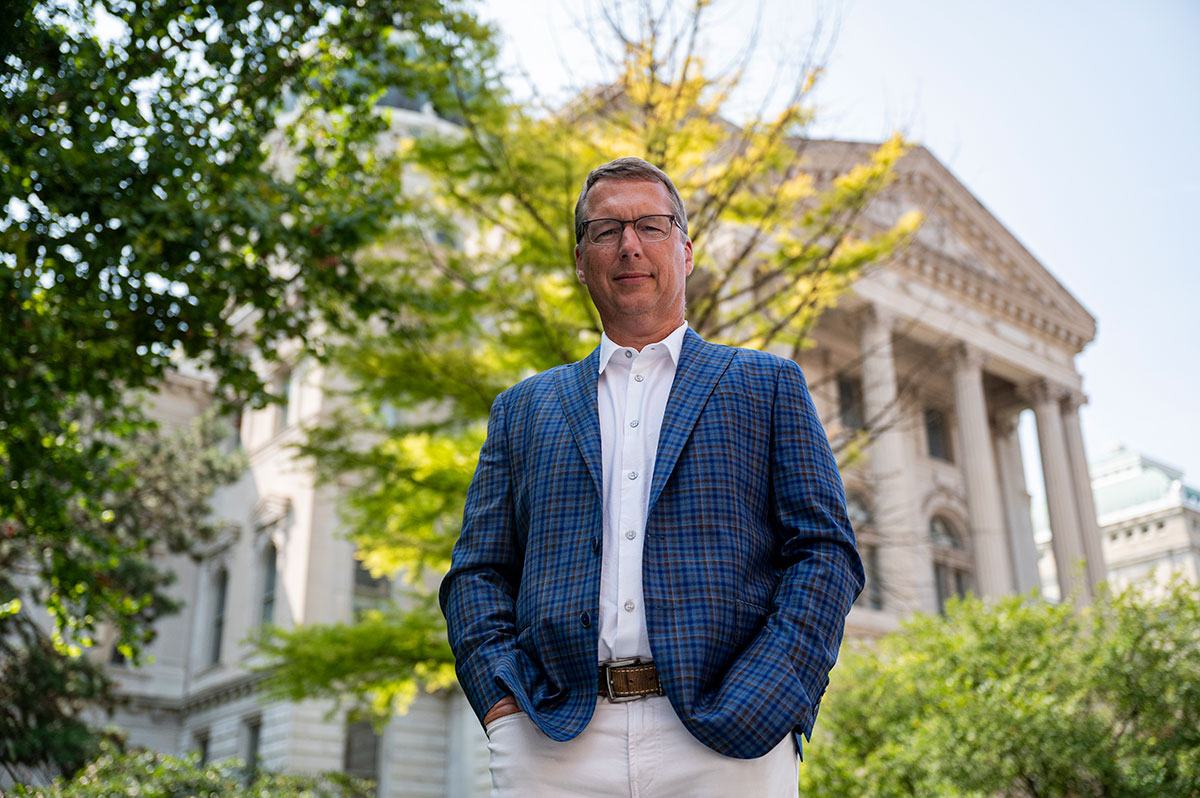 The two presumed front-runners in the GOP primary also have the cash to promote themselves—and to criticize their opponents. But there's no word yet on when they might start running ads.
U.S. Sen. Mike Braun, a wealthy businessman who is vacating his Senate post to run for governor, raised $2.2 million in the first six months of 2023 and has $4.6 million in cash on hand. Lt. Gov. Suzanne Crouch, who announced her run in December on the same day as Braun, raised $1.1 million and reported more than $3.8 million in cash on hand at midyear.
Curtis Hill, the former Indiana attorney general who lost the GOP nomination for re-election to Todd Rokita in 2020 after four women accused him of groping them at a party in 2018, entered the 2024 governor's race after the midyear campaign finance reporting deadline. Hill was not criminally charged and has repeatedly denied the accusations, but the Indiana Supreme Court in May 2020 ruled that he had committed misdemeanor battery and suspended his law license for 30 days.
Jennifer McCormick, the only Democrat running for governor so far, has just over $200,000 in cash on hand.
Some political observers view Doden as a long-shot candidate for the Republican nomination, but don't tell that to his supporters.
"Eric is the one with a plan and the vision and the work ethic—God, he has a work ethic—to really help lead our state through the next century," said Davyd Jones, a Fort Wayne-based financial adviser who raised money for Doden's unsuccessful run for mayor of Fort Wayne in 2011.
Small-town beginnings
One of five siblings, Eric Doden's father is a former minister who founded Ambassador Steel Corp. in 1974. Daryle Doden sold the company in 2008 to Nucor Corp. for $185 million but remains CEO of Ambassador Enterprises, a private equity firm.
After earning a bachelor's from Hillsdale College and a law degree from Valparaiso University, the younger Doden spent five years working for a sporting goods equipment company before working for his father's firm.
When Doden returned to Valparaiso in 2010, he was amazed at the small town's transformation since he left college. Feeling inspired, he decided to forge his own path and run for mayor of Fort Wayne. After he failed to win the primary, he launched his own private equity firm, Domo Ventures LLC, with an eye toward revitalizing distressed rural communities.
In 2013, Gov. Mike Pence appointed him president of the Indiana Economic Development Corp., where he helped launch the Regional Cities Initiative—later rebranded as the Regional Economic Acceleration Development Initiative—a program that leverages state tax dollars to attract private investment in economic development projects across the state.
While the father and son are no longer in business together, Daryle Doden remains his son's biggest campaign contributor, having donated $650,000. His private equity firm, Ambassador Enterprises, also gave $200,000 to his son's gubernatorial bid. His wife, Brenda Doden, donated $50,000.
Eric Doden has thus far given himself $175,000, while his wife, Maci, has donated $100,000 to the campaign.
'A big, white elephant'
Doden told IBJ that his economic development experience has shown him that a community's biggest challenge can become its biggest asset.
It's a mantra that helps explain his passion for rehabilitating dilapidated, historic properties in struggling small towns.
In 2015, Doden departed the IEDC and took a job as CEO of Greater Fort Wayne, which acts as the chamber of commerce and economic development organization for Fort Wayne and Allen County.
He laid out five priority projects for the community, one of which was redeveloping the former General Electric factory in Fort Wayne, which at its peak employed 40% of the city's workforce but had sat mostly idle for years before closing in 2015.
"That old GE building was a big, white elephant," said Chris Mead, who co-authored two books with Doden, one of which focused on his efforts in Fort Wayne. "Nobody knew what to do about it."
In 2016, GE executives were still debating whether to sell the sprawling, vacant campus when Doden took one of them to a minor league baseball game to help close the deal.
In 2017, development group RTM Ventures LLC acquired the property from GE, but development languished for several years as private investors held out for a higher funding commitment from the city.
As Doden tells it, Tom Henry, the Democratic mayor of Fort Wayne, was publicly supportive of the project while privately blocking efforts to fund it. Henry wanted firm deadlines and occupancy commitments, The (Fort Wayne) Journal Gazette reported at the time.
Henry told IBJ he always supported the project but was hesitant to commit $62 million—the reported asking price from private developers—instead of the $50 million offered by the city.
"He's very aggressive—he wants things to move forward at a pace that he has determined should be the right pace for his idea," Henry said. "I know that Eric and some of the others felt that I was dragging my feet and that I was really opposed to it, but these are my [residents'] tax dollars, and I wanted to make sure this thing had the ability to be sustainable."
Doden's tactics were off-putting to some of his peers. In 2016, Fort Wayne City Council President Russ Jehl and 17 other local officials signed a letter to Doden questioning Greater Fort Wayne's lobbying efforts, suggesting that its leaders had at times resorted to tactics that had been "aggressive bordering on intimidation."
In the end, the city ended up contributing $65 million to the mixed-use project.
In November 2022, Electric Works opened to the public, offering a mix of office, retail and residential units along with co-working spaces, coffee shops, food vendors, conference centers, offices and apartments.
Do It Best, a Fort Wayne-based hardware company, recently moved its corporate headquarters to the campus, bringing 400 jobs.
Electric Works might be considered Doden's crowning achievement, but it's only one of several projects he has championed to bolster downtown Fort Wayne, which has seen more than $1 billion in investment over the past decade.
"He has enemies, but even his enemies say, 'Damn, he got a lot of stuff done,'" Mead said.
Doden said the work he has done in Fort Wayne, and in small towns like nearby Van Wert, Ohio, where his mother and grandparents are from, can become a model for revitalizing small towns across Indiana.
"If we can do it here, we can do it all over the state," he said.
"The Restoration of Van Wert, Ohio," a book Doden co-wrote with Mead, tells the story of how, in 2019, Doden helped convince the Van Wert County Foundation to purchase nearly half of its downtown buildings, some of them in poor condition, and transform them into apartments, offices and retail space.
Doden said his passion for revitalizing small towns and providing economic opportunity for residents is what inspired him to run for governor.
"Look, I was from Butler, Indiana. I never dreamed that I could do the things I did. The thought of being the governor was so far-fetched," he said. "But there were people that invested in me when I was 15, 16, 17, that gave me a vision for my life that I never had. That's what gets me fired up and passionate. We want to invest in those kids in those small towns, give them a vision for their future, and then tell them that you don't have to leave your small town to be successful."
Name recognition
Despite entering the governor's race more than two years ago, the name Eric Doden still isn't widely known in Indiana outside of political circles. But in Fort Wayne, Doden is often recognized on the street.
"How's the fight going?" a woman asked him one hot July morning as he led a tour of the Electric Works campus he helped create.
Later that afternoon, in the cafeteria, Doden was embraced by Chip Clark, a local not-for-profit leader and real estate developer who attends the same Sunday services at Blackhawk Ministries, a nondenominational Christian church.
Doden said his religious beliefs form the core of his values. He is ardently anti-abortion and supports "traditional marriage," though he said he recognizes that Indiana is a "diverse group" of 8.6 million Hoosiers. And unlike Gov. Eric Holcomb, he said he would not have vetoed Indiana's 2022 law banning transgender girls from playing girls school sports.
Those positions don't exactly set him apart from the other three GOP candidates, who are all vying to appeal to the conservative base in the May primary.
But Doden has offered concrete policy proposals and has wide-ranging economic development experience.
He released a "Capital Zone Plan" calling for enhanced policing in the Mile Square in downtown Indianapolis through a partnership between the Indianapolis Metropolitan Police Department and Indiana State Police. He has also pushed for zero-cost adoptions, salary hikes for law enforcement officers and tax breaks for teachers.
"His message is out there with just how he plans to handle a multitude of issues," said Steve Shine, longtime chair of the Allen County Republican Party, which does not endorse candidates, though he cautioned that Doden faces an uphill battle.
"We have people in this community who are heavily invested in other candidates, not the least of which are Mike Braun, who I have great respect for," Shine said.
Political observers say it's unclear how Doden's success in the development world will translate to politics, but his outsider status could give him an advantage. And should Brad Chambers, the president of Indianapolis-based developer Buckingham Cos. who recently stepped down as head of the IEDC, choose to enter the race, Doden will need to find ways to distinguish himself as the "economic development" candidate.
"Is it a long shot? Maybe," said Chuck Surack, founder of Fort Wayne-based Sweetwater Sound Inc. "But I think we're also kind of tired of career politicians. I'm supporting him, and I would be excited to have him be our governor."•
Please enable JavaScript to view this content.